Rubber tired loaders, articulated haul trucks, asphalt rollers, and misc.
When
Fri., April 28, 2023 at 9:30am
Auctioneer
Alex Lyon & Sons Auctioneers
Auction Venue
290 Washington Ave.
N. Haven, CT
HIGHLIGHTS INCLUDE: 88 RUBBER TIRED LOADERS: Like New Cat 980, Like New Cat 972, Like
New Cat 972M, Like New Cat 966, 2013 Cat 966K, 2019 Cat 962M, (5)Like New Cat 950M, (2)Like New
Cat 938M, (12)Like New Cat 930M, (12)Like New Cat 926M, (6)Like New Cat 920-14, (2)2022 Cat 914,
2022 Cat 908M, Like New Cat 906, (3)2018 Cat 906M, (4)Like New Komatsu WA270-8, (5)Like New
Komatsu WA200-8, (12)Like New JD 544P, (5)Like New JD 524P, (2)Like New JD 244L, (2)Like New JD
204L, (2)Like New Hitachi ZW95-6C, Like New Hitachi ZW75-6C, (2)2022 Yanmar V100, (5)2021 JCB
409, 7 ARTICULATED HAUL TRUCKS: (3)2021 Bell B30E, (4)Unused Hydrema 912, 25 HYDRAULIC
EXCAVATORS: Like New Cat 330, (3)2020 Cat 320GC, (3)Like New Cat 315GC, 2022 Cat 313 2D, (2)
Unused Cat 313GC, Demo 313GC, 2019 Cat 311FLRR, Like New Komatsu PC238USLC, (2)2022
Komatsu PC210LC-11, (2)Like New Komatsu PC138USLC, 2020 Komatsu PC80MR-5, 2019 Doosan
DX140LCR-5, (2)2022 Doosan DX85R-3, 2020 Doosan DX62R-3, 2021 Kubota KX080-4A2, (2)2019
Kubota KX080-4A, RUBBER TIRED EXCAVATOR: Demo Hitachi ZX220W-7, CRAWLER TRACTOR:
2020 Cat D3K2 LGP, 3 ASPHALT PAVERS: 2016 Leeboy 8510C, 2006-2001 Blaw Knox PF3200, 13
ASPHALT ROLLERS: 2000 Cat CB634, 2003 Cat 534D, (2)2021 Volvo DD35B, (2)Unused Bobcat
ATR26, 2013 Hamm HD110V, 2009 Hamm HDO70V, (4)Like New Hamm HD12VV, 2013 Betuthling
B155, 2 VIBRATORY ROLLERS: (2)Unused Dynapac CA1500D, 16 RUBBER TRACKED SKID STEERS:
(4)Like New Cat 299D3, (7)Like New Cat 289D3, (4)Like New Cat 259D3, Like New JD 325G, 12 SKID
STEERS: (5)Like New Cat 262D3, (4)2019 Bobcat S570, (2)Like New JD 324G, Like New JD 320G, 6
TELESCOPIC FORKLIFTS: (2)Demo JCB 540-170, (4)Demo Manitou MT1440(4×4), TRUCK TRACTOR:
2005 Sterling LT9500(46R), 20 PICKUP TRUCKS: 2022 Ford F350, (14)2019 Ford F350(XLS plow,
sander, 4×4), (2)2019 Ford F250(V plow, sander, 4×4), 2014 Ford F250 Lariat(4×4), 2016 Ford F150
Lariat, 2006 Ford F150, 4 UTILITY TRUCKS: 2016 Ford F350, (2)2011 Ford F250, 2002 Chevy 2500,
SPORT UTILITY VEHICLE: 2015 Lincoln Navigator XL(4×4), EQUIPMENT TRAILER: Landoll 317(48ft.), 3
TAGALONG TRAILERS: 2018-2006-2001 Cross Country(tilt, t/a), CARGO TRAILER: 2016 Integrity(s/a),
2 WATER TRAILERS: 2014-2013 Sure-Trac(t/a), 4 PRESSURE WASHERS: (4)New Easy Kleen Magnum
Gold, ATTACHMENTS: Skid Steer, 50 NEW SUPPORT EQUIPMENT.
SALE SITE PHONE: (315) 633-2944
ALEX LYON & SON
SALES MANAGERS & AUCTIONEERS, INC., BRIDGEPORT, NY 13030
Phone: (315) 633-2944
Go to WWW.LYONAUCTION.COM for more details.
SOMETHING EXTRA SPECIAL
ONE OF THE ALL-TIME GREATEST AUCTIONS
~ Niro Brothers ~
Cat, Komatsu, John Deere, JCB, Hitachi Construction Equipment, Hydraulic
Excavators, Vibratory Rollers, Aerial Lifts, Forklifts, Skid Steers, Rubber Tired
Loaders, Truck Tractors, Articulated Haul Trucks, Equipment Trailers
FRIDAY, APRIL 28TH @ 9:30 AM
NORTH HAVEN, CONNECTICUT
NOTE: Niro Brothers, one of the largest snow and general construction outfits around purchased all new machines for winter 2022-
2023. However they did not get the snow they anticipated and will now sell those very low-houred machines at public auction. This
is definitely a once-in-a-lifetime opportunity to buy these new machines. Majority of the machines are 2021, 2022, 2023 vintage.
ADDRESS: 290 Washington Ave.,
North Haven, Connecticut 06473
For BID ONLINE
technical assistance call
Proxibid: (855) 636-6461
Nextlot: (919) 361-1111
Photos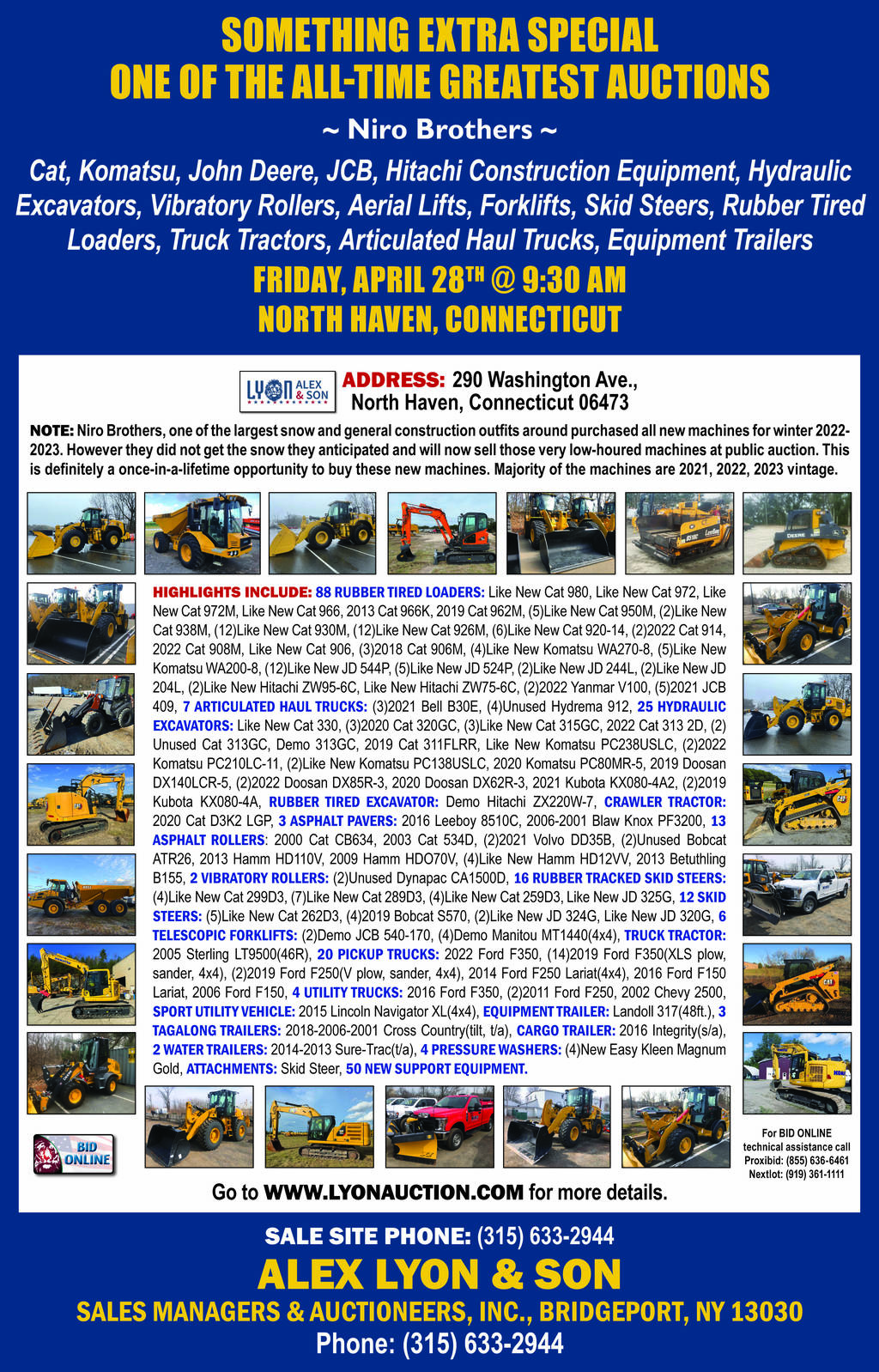 1
View
Map