After the planter has received a thorough cleaning — of all seed tubes and nooks and crannies where seed or dirt could have gotten into — and repairs and maintenance checks have been done, it's time to calibrate the planter.
Without calibration, you run the risk of seed skips, doubles or not getting the seeds planted to the proper depth, which could mean wasted seed and money.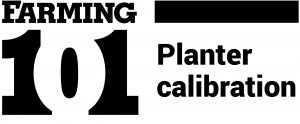 1Read the manual
Always review the operating manual for air pressure settings, seed disc choices, drum alternatives, and other valuable information for the appropriate seed weight. The manual will also provide transmission setting for the desired seed rate. The tag on the seed bag itself will let you know the weight of the bag and the number of seeds per pound.
2Collection
Each seed-dispensing apparatus needs to be calibrated to make sure seeds are dispensing evenly. To do this, producers will need to engage all of the distribution mechanisms and run the machine through a calibration course at operational speed. Seeds can be collected in plastic bags fastened to the end of each hose and counted or weighed.
3Planting depth
Operate the planter in an area that approximates field planting conditions. Dig up seeds and check for accuracy according to desired seed spacing. Row units must have sufficient weight to prevent gauge wheels from slipping. Planting depth should be checked periodically since soil and field conditions are subject to change.
4Population
Knowing the optimum population is critical in achieving potential yield and getting your money's worth out of any seed hybrid. The planter's population monitor can help, but it's important to get on the ground and do spot checks for uniform population and seed depth.
5Under pressure
Make sure row cleaners are not tilling the soil. They are for biomass removal and only need to function or rotate when excessive biomass is encountered.
Sufficient pressure is needed to close the furrow, but should be adjusted to soil conditions. In general, higher pressure is needed in dry soil and light pressure in wet soil to avoid over-compaction.
Gauge wheels should have enough pressure to firm the soil surface but not so much contact that the depth wheels excessively compact soil adjacent to the seed zone.
Sources: Iowa State University Extension, Golden Plains Area Extension, Purdue University Extension, Ohio State University Extension.
(Farm and Dairy is featuring a series of "101" columns throughout the year to help young and beginning farmers master farm living. From finances to management to machinery repair and animal care, farmers do it all.)
More Farming 101 columns:
STAY INFORMED. SIGN UP!
Up-to-date agriculture news in your inbox!