MILLERSBURG, Ohio – In keeping with the theme "Ohio FFA: 75 Years, One Mission, Student Success," more than 400 FFA members, parents and guests met at West Holmes High School April 23 to celebrate another successful year of the school's FFA chapter.

Featured speaker, John G. Roberts, retired agriculture teacher, challenged the FFA members to "find their own passion for success."

Roberts began his career teaching vo-ag at Pymatuning Valley High School in Ashtabula County. He started the Ohio FFA Skills contests and VICA contests and led these career development events from Ohio to the national level.

He also helped to start the JVS movement in Ohio and was the first full-time teacher hired in an Ohio JVS.

Top awards. Special recognition was given to State and American FFA Degree recipients, the highest two degrees an FFA student can achieve.

Carrie Sheldon will receive her American FFA Degree at the national convention in November. Receiving the State FFA Degree at the state convention this week will be Katie Clipp, Curt Lorentz, Danny Hipp, Jayme McCoy, Erin Lowe, and Jodi Reutter.

Star awards. Chapter adviser Jaime Chenevey, presented the Greenhand and Chapter Farmer degrees and recognized the Star Greenhand and Star Chapter Farmer and outstanding members of each class.

Greenhand certificates were presented to 54 greenhands.

Alex Yoder and Keri Rodhe received the Star Greenhand Award and Jesse Hanna and Liz Skolmutch received outstanding freshman awards.

Chapter degrees were presented to 13 sophomores who have completed two years of agriculture education.

The Star Chapter Farmer Degree went to Kristy Pringle. Jessica Hart and Brandon Klintworth received the outstanding sophomore awards.

Danny Hipp and Katie Clipp received the outstanding junior award while Jayme McCoy, Trisha Kick and Kevin Spreng received outstanding senior awards.

Record keeping award recipients were Kevin Spreng and Katie Clipp.

Jayme McCoy received the DeKalb Agricultural Accomplishment Award, which recognizes the top FFA senior in scholarship, leadership activities, and agricultural experience programs.

Curt Lorentz and Trisha Kick were crowned chapter king and queen.

Proficiency awards. Program areas and proficiency winners were: accounting, Katie Clipp, first in the district, and Kevin Spreng, second in the district; dairy production, Kevin Spreng, first in the district; placement in dairy production, Kevin Spreng, third in the district, and Trisha Kick;

Diversified agriculture, Kevin Spreng, first and third in the district and state finalist; placement in diversified livestock, Danny Hipp, first in the district and state finalist, and Trisha Kick; placement in equine production, Jayme McCoy, first in the district; fiber and oil crop production, Kevin Spreng, first in the district.

State contests. Several chapter members were recognized for excelling in competitions.

In the area of public speaking, Alex Yoder placed ninth in the state semifinals in creed speaking; Keri Rodhe placed 10th in the state semifinals in beginning prepared speaking.

Jayme McCoy placed seventh in the state semifinals in extemporaneous speaking.

Kevin Spreng placed first in the state in ag production.

The poultry team of Kevin Spreng, Jessica Hanna, Jenna Boyer, Keaton Lorentz, Liz Skolmutch, Kristy Pringle, Jessica Hart and Brock VanSickle, placed ninth in the state.

The parliamentary procedure team of Jayme McCoy, Trisha Kick, Jessie Hanna, Kevin Spreng, Jodi Reutter, Danny Hipp, Kristy Pringle, Katie Clipp, Keri Rodhe, Josh Skolmutch, and Alex Yoder were second in their preliminary heat at state this year.

In the ag sales contest, the team placed third in the state. Team members are Jayme McCoy, Trisha Kick, Kevin Spreng and Kristy Pringle. McCoy placed fourth in state, individually.

National team. This past fall, four members represented the chapter at the national dairy judging contest in Louisville, Ky. They qualified for the national contest by winning the state contest last spring. At the national contest they placed fifth.

Team members were: Kevin Spreng, ninth individual, nationally; Kristy Pringle, Jodi Reutter and Katie Clipp.

Thanks to others. Distinguished service awards were presented to Ken Janes, Lorna Miller, Paul Weber, and Marlyce Yoder.

Craig Houin, Ron Clipp, Ben and Lisa Hipp, Mike Meyer and Kevin Michalovich received Honorary Chapter Farmer Degrees.

New officers. Retiring 2003-2004 officers installed their successors at the close of the program. The 2004-2005 officers are Katie Clipp, president; Curt Lorentz, vice president; Sasha Lewis, secretary; Alex Yoder, treasurer; Liz Skolmutch, reporter; Danny Pszenitzki, sentinel; and Keaton Lorentz, student adviser.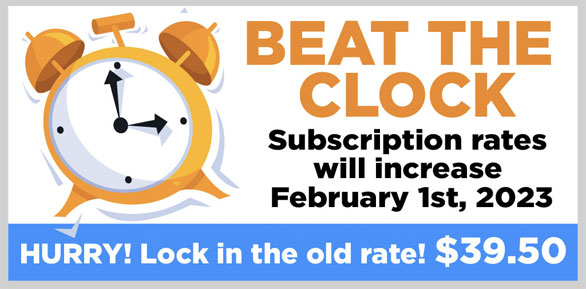 STAY INFORMED. SIGN UP!
Up-to-date agriculture news in your inbox!