MERCER, Pa. – Living near and farming all around the Mercer County 4-H Park, Roy Marsh had a special interest in the Mercer County 4-H program.

He was there when the land adjacent to the extension center was purchased for the 4-H park. He watched and played a huge role in turning the empty field into a grouping of buildings and barns, the horse arena and the playground.

As his children grew up and went through the 4-H program, all his family became 4-H volunteers and he served on the county 4-H development committee. Because they lived so close to the 4-H park, the Marsh family quietly volunteered and took care a lot of minor maintenance jobs around the park. They mowed; they winterized water pipes; they kept a watchful eye on unfamiliar cars.

Even after his children became adults, Roy remained committed to the youth program.

And so, with Roy's death last summer – during the county 4-H roundup – the Mercer County 4-H program lost a great supporter.

But friends and family weren't willing to let that support die with Roy. At the beginning of the 2001 Mercer County 4-H Roundup market livestock sale Aug. 10, county Extension staff members announced the donation of a $10,000 grant made in the name of Roy Marsh and secured by his friends and family.

The money is to be used for maintenance and upkeep of the 4-H park.

Support continues. And as the 4-H market livestock sale of champions began, the Marsh family kept the support rolling. Marsh Busing and Marsh's Twin Pines Farm set a new record of $10 a pound for the grand champion lamb, a 120-pound Suffolk cross raised by Keith Gadsby.

The momentum carried the reserve champion lamb bid to a new record, too. Tractor Supply Company paid $8 a pound for the 122-pound reserve champion raised by Jeremy Barbour.

David Hewitt, who has raised the grand champion pen of lambs in four of the last five years, sold his grand champion pair of Hampshire cross lambs to Auctioneer C. Sherman Allen for $1.80 a pound.

The reserve champion pair of lambs, raised by John Hluska, sold for $3.10 a pound to Quality Farm & Fleet.

Alisha Henry sold her 66-pound grand champion lamb carcass to Pizza Joe's for $15 a pound. The reserve champion lamb carcass, raised by Josh McConnell, sold for $5 a pound to Fairview Cheese.

The 45 lamb lots averaged $1.65 a pound, including champions. The five carcass lambs averaged $5.85 a pound, including champions.

Steers. David Barbour claimed the grand champion steer banner with his 1,224-pound Shorthorn-Angus-Charolais cross steer. Hoss's Steak and Sea House bid $2.05 a pound for the grand champion. The reserve champion, raised by Janice Barbour, sold for $2.10 a pound to Mercer County State Bank, McQuiston Insurance and Sandy Lake Mill.

Reva Douglas' 773-pound grand champion steer carcass sold for $1.40 a pound to Auctioneer Duke Whiting and Sam Whiting. Jerry Taylor Ford paid $1.42 a pound for the reserve champion steer carcass, raised by Sean McComb.

The 27 steers averaged 88 cents a pound; the 12 carcass steers averaged $1.19 a pound.

Hogs. Jordan Powell raised the grand champion hog, which weighed 247 pounds. Greystone Country Estates paid $3 a pound for the champion. Jesse Powell's 234-pound reserve champion hog sold for $2.49 a pound to Cochranton Co-op and Buck's Fabricating.

The grand champion hog carcass, raised by Ross Henry, sold for $3 a pound to Howard & Son Meat Packing and Marsh Busing. The reserve hog carcass, raised by Glenn Hoffman, sold for $3.25 a pound to Hadley Road Giant Eagle.

The 166 market hogs averaged $1.17 a pound, including champions; nine carcass hogs averaged $2.17 a pound.

Small animals. Susanna Seltzer's 67-pound grand champion goat sold for $5.80 a pound to Brownie's Oil Company of Greenville. Elizabeth Seltzer's reserve champion goat, weighing 52 pounds, sold for $8.50 a pound to Walt's Golden Dawn.

Renee Pundzak raised the grand champion fryer rabbit, which sold for $40 a pound, or $180, to Tractor Supply Company. Ashley Saunders' reserve champion fryer sold for $75 a pound, also to Tractor Supply Company.

Saunders also took grand champion pen of rabbits, which sold for $30 a pound, or $405, to Pizza Joe's.

Stephanie Pundzak's reserve champion pen of rabbits sold for $22.50 a pound to Pizza Joe's.

The four market goats averaged $4.36 a pound; single fryer rabbits, $35.46 a pound; and pens of rabbits, $11.88 a pound.

The total gross sale on 279 lots was $110,332. Auctioneers Simon Miller, C. Sherman Allen, Don and Lloyd Braham and Duke Whiting donated their time to conduct the sale.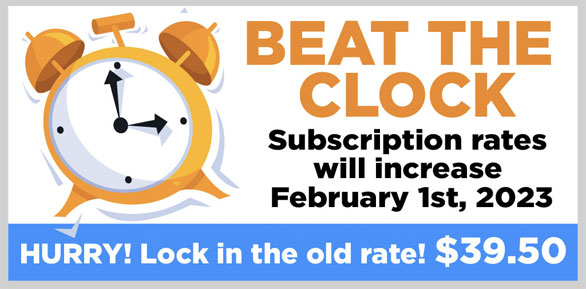 STAY INFORMED. SIGN UP!
Up-to-date agriculture news in your inbox!