They come by car, they come by truck,

To try their seasonal luck.

They've come for their holiday bounty

To Storeyland Christmas Tree Farm in Trumbull County.



Sweet elderly couples hand in hand,

And parents and their little ones, all come with one demand.

They want the perfect Christmas tree, please,

For a perfect holiday season guarantee.



They hop on the wagon and the tractor shifts into gear,

To the fields they go, singing carols of holiday cheer.

"Oh, look at all the pretty trees!" the little ones squeal with delight.

They see spruces, pines and firs, all of varying height.



So many to chose from, they ponder and agonize,

Which one would be just the perfect size?

They pick their favorite and pull out the saw,

Down the tree comes, branches and needles and all.



They haul the tree to the wagon, enjoy the ride back to the barn,

Shake the tree and wrap it tight with a type of yarn.

Now it's ready to haul home and decorate with charm,

But, wait, there's more than just trees at this farm.



The couples and kids are donned in their winter attire,

roasting hot dogs and sipping hot chocolate in front of the fire.

This wasn't just a tree-finding mission,

It's their winter tradition.



But meet the folks behind the tree operation,

The Yeager family, who work to make your Christmas a grand celebration.

It started with Carl, who, as a 12-year-old lad,

Started helping out at Storeyland and what a good time he always had.



Carl grew up, got a full-time job but still offered his evergreen expertise.

Then in 1990, the owners decided to sell their trees.

Carl and his wife, Debbie, talked it over a lot,

"It's beautiful property and it will be such fun," they thought.



They made their purchase and worked until they collapsed,

"By Christmas we knew we'd had a brain lapse."

It was tougher than they'd ever envisioned,

The hours, the labor, yet they knew it'd been the right decision.



It may be a demanding job, especially in the snowy weather,

But it brings the whole family together.

The children and grandchildren arrive each weekend as planned,

Making wreaths, driving the tractor, all just to lend Grandma and Grandpa a hand.



Despite the hustle and bustle and being as busy as Santa's little elves

The Yeagers must make time for themselves.

Making Grandma's holiday rolls and decorating the tree with bygone treasures,

All are their own special holiday pleasures.



So before the Christmas season gets too harebrained,

The family puts on their snow boots and drives down the tree lane.

They're off to pick their own evergreen

Just like all the other families they've seen.



"Whoa," daughter Tracy shouts.

"I think I see the kind of tree I like, but about the size, I have doubts."

Little Rory jumps off the wagon with a measuring stick,

Six feet, it will be a perfect fit.



And off toward home they go,

With their perfect Christmas tree in tow.

On the way back, the kids chatter with anticipation and enjoy a snow squall,

The Yeager family's Christmas isn't so different after all.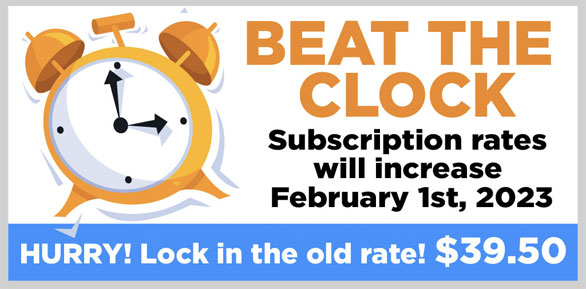 STAY INFORMED. SIGN UP!
Up-to-date agriculture news in your inbox!