(Scroll down for a slide show of the livestock sale champions, or you can click on the individual exhibitor's name to see a larger photo. You can also watch a Facebook Live video of the sale of the grand and reserve champion steers.)
Sept. 1, 2, and 4, 2016
Sale Total: $457,724.85*
Total Lots: 553*
STEERS
Number of Market Lots: 62
Average: $2.12/pound with champions; $2.02/pound without
Grand champion/intermediate showmanship: James Moore
Bid: $6.50/pound              Weight: 1,375 pounds
Buyer: Sarchione Chevrolet
Reserve champion: Cody Wise
Bid: $4/pound              Weight: 1,355 pounds
Buyer: Sarchione Chevrolet
Rate of gain/senior showmanship: Nora Yankovich
Junior showmanship: Conor Henderson
Junior skillathon: Conor Henderson
Intermediate skillathon: Autumn Ridson
Senior skillathon: Kacey Cusik
HOGS
Number of Market Lots: 178
Average: $2.90/pound with champions; $2.74/pound without
Grand champion: Katie Campbell
Bid: $20/pound              Weight: 269 pounds
Buyer: Sarchione Chevrolet
Reserve champion: Abby Hemphill
Bid: $13.50/pound              Weight: 272 pounds
Buyer: Leonard Truck and Trailer
Senior Showmanship: Abby Hemphill
Intermediate showmanship: Emily Hemphill
Junior showmanship: Katie Campbell
Beginner showmanship/skillathon: Kristen Campbell
Senior skillathon: Samantha Snyder
Intermediate skillathon: Kaylee Stratton
Junior skillathon: Emily Algaier
LAMBS
Number of Market Lots: 37
Average: $4.10 with champions; $3.56 without champions
Number of Carcass Lots: 26
Average: $3.95 with champions; $3.74 without champions
Grand champion: Lindsay Smith
Bid: $15/pound              Weight: 131 pounds
Buyer: Sarchione Chevrolet
Reserve champion: Abigail Gay
Bid: $12/pound              Weight: 137 pounds
Buyer: Sarchione Chevrolet
Grand champion carcass: Jessie Cummings
Bid: $8.25/pound              Weight: 135 pounds
Buyer: Rulli Brothers Market
Reserve champion: Samantha Millison
Bid: $4.75/pound              Weight: 132 pounds
Buyer: Rimedio's Bakery
Senior Showmanship: Annamarie Duda
Intermediate Showmanship: Jessie Cummings
Junior showmanship: Kristen Campbell
Intermediate skillathon: Dylan Fair
Junior skillathon: Timothy Combis
GOATS
Number of Dairy Market Lots: 4
Average: $3.14 with champions; $2.14 without champions
Number of Market Lots: 6
Average: $3.01 with champions; $2.44 without champions
Grand champion market: Savanna Mellott
Bid: $8.50/pound              Weight: 91 pounds
Buyer: Green Gate Farms
Reserve champion market: Sami Jarvis
Bid: $4/pound              Weight: 64 pounds
Buyer: Atty. Lynn Maro
Grand champion dairy: Cherokee Mellott
Bid: $6/pound              Weight: 75 pounds
Buyer: Judge Mary DeGenaro
Reserve champion market: Savanna Mellott
Bid: $4.75/pound              Weight: 84 pounds
Buyer: Jon Oliver Construction
DAIRY BEEF FEEDERS
Number of Lots: 39
Average: $1.61/pound with champions; $1.56/pound without
Grand champion: Tyler Chismar
Bid: $3/pound              Weight: 646 pounds
Buyer: Millstone Farm and Garden
Reserve champion/senior skillathon/senior showmanship: Claudia Criss
Bid: $1.75/pound              Weight: 644 pounds
Buyer: Damascus Livestock Auction
BEEF FEEDERS
Number of Lots: 19 heifers; 29 beef feeders
Heifers average: $2.35/pound with champions; $1.89/pound without
Feeders average: $1.91/pound with champions; $1.84/pound without
Grand champion heifer: Kristen Campbell
Bid: $8/pound           Weight: 449 pounds
Buyer: North Star Hardware and Implement
Reserve champion heifer: Josie Baird
Bid: $4.50/pound              Weight: 489 pounds
Buyer: Baird Bros. Sawmill
Grand champion feeder: Cheyenne Heffner
Bid: $3/pound           Weight: 560 pounds
Buyer: Zach Morehead
Reserve champion feeder: Haley Lengyel
Bid: $2.50/pound              Weight: 582 pounds
Buyer: Prozy Family Farm
Junior showmanship: Josie Baird
Intermediate showmanship Frank T. Prozy
Junior skillathon: McKenzie Whitted
Intermediate skillathon: Autumn Ridzon
CHEESE
Number of Lots: 18
Grand champion: Connor Ruthrauff
Bid: $1,650 Weight: 12.34 pounds
Buyer: Beloit Fuel, NOVA Veterinary Associates
and Renaissance Feed
Reserve champion: Emmy McCracken
Bid: $750 Weight: 11.74 pounds
Buyer: Meissner's Tire & Auto
RABBITS
Number of Pens of Meat Rabbits: 18
Average: $51.36/head with champions; $41.50/head without champions
Number of Pens of Fryer Rabbits: 18
Average: $55 with champions; $43.44 without champions
Grand champion meat rabbits: Kearstin Rummel
Bid: $600             Weight: 15.85 pounds
Buyer: Atty. Lynn Maro
Reserve champion meat rabbits: Brittany Siembieda
Bid: $300              Weight: 15.6 pounds
Buyer: Bednetz-Ruzek Funeral Home
Grand champion fryer rabbit: Kearstin Rummel
Bid: $175             Weight: 5.4 pounds
Buyer: Atty. Lynn Maro
Reserve champion fryer rabbit: Hannah Ritchie
Bid: $120              Weight: 5.25 pounds
Buyer: Atty. Don Duda
DAIRY GOAT MILK FUDGE
Number of Lots: 12
Average: $268.75 with champions; $245 without champions
Grand champion: McKayla Boyd
Bid: $400              Weight: 6 pounds
Buyer: Snyder's Antique Auto Parts
Reserve champion: Cherokee Mellott
Bid: $375              Weight: 5 pounds
Buyer: Snyder's Antique Auto Parts
CHICKENS
Number of Pens of Two: 45
Average: $94.91
Grand champion: Kieran Pellin
Bid: $450              Weight: 15.05 pounds
Buyer: Family Farm & Home
Reserve champion: Aiden Pellin
Bid: $300              Weight: 13.85 pounds
Buyer: Atty. Lynn Maro
DUCKS
Number: 14
Average: $94.91
Grand champion: Alexia Shehan
Bid: $275              Weight: 8 pounds
Buyer: Pamela Manchester
Reserve champion: Kearstin Rummel
Bid: $275              Weight: 6.5 pounds
Buyer: Ryan's Pizza
TURKEYS
Number of Lots: 45
Average: $144.18
Grand champion: Emma Reph
Bid: $800              Weight: 25.5 pounds
Buyer: Dean's Funeral Home
Reserve champion: Thomas Kemp
Bid: $900              Weight: 25 pounds
Buyer: Dean's Funeral Home
Auctioneers and Ringmen:
Kenny Baer, Bill Baer, Wade Baer, Mark Harding, Don Braham, Randall Kiko, Steve Moff and Barry Pidgeon
Junior Fair Royalty:
King: Karl Reph        Queen: Renee Reisner
Outstanding Youth: Scott Erb and Erin Styka
Scholarship donations:
Jim Baer Scholarship Fund: $6,469.25
Darrel Bacon Scholarship Fund: $2,073.25
Martha Thullen Fund: $353
Tom Koch Fund: $765
George Grim Fund: $955
*Sale total and total number of lots is for the Sept. 1-2 market livestock sales only.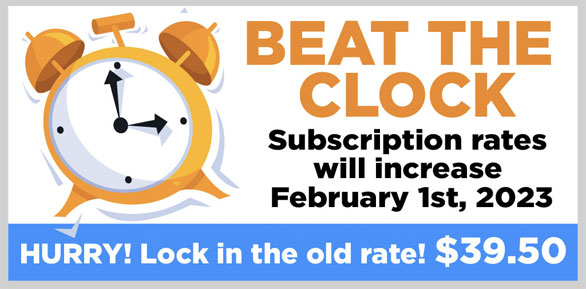 STAY INFORMED. SIGN UP!
Up-to-date agriculture news in your inbox!