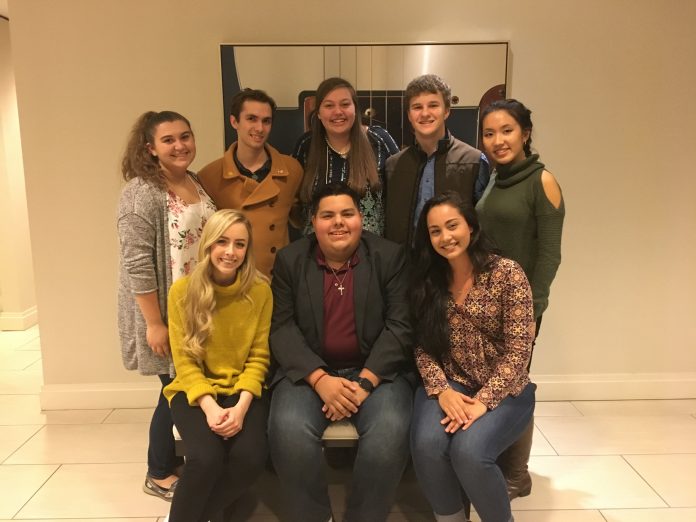 NEW GALILEE, Pa. — Emily Young is using her 4-H design skills in more ways than one  — as a fashion design major at Kent State University and as a member of the 2017 National 4-H Congress Design Team.
Young, a Lawrence County 4-H member, was selected out of 52 applicants to represent Pennsylvania on the design team, which plans the annual congress.
Being part of the design team is the only ticket back to congress — usually a once-in-a-life-time experience, said Young.
Young is from New Galilee, Pennsylvania, which is in Beaver County, but she spent her 4-H career in Lawrence County were her grandparents live.
4-H roots
Her parents, Brian and Sandy Young supported her decision to join 4-H, nine years ago, as her father is also a 4-H alumnus.
She started as a member of the Little Beaver Club, which focuses on cooking, gardening, sewing and crafts.
Of all of the projects she has taken, she has enjoyed sewing the most.
"Sewing is definitely one of my favorites. That project started my love for fashion design and sewing — a big reason why I'm here (at Kent State University) today," said Young, who is in her first semester at Kent.
She expanded her projects to hogs, photography, shooting sports and teen council.
Teen council
The Lawrence and Beaver County Teen Council is made up of at least one member from each club. That person is a link to county 4-H news as well as regional, state and national 4-H events.
The teen council is about building leadership in young adults, Young said. "We focus on service, parli pro, public speaking, building our resume and putting on workshops."
Her experience in teen council expanded her view of 4-H and allowed her to attend regional summer camps, leadership events and eventually the 2016 National 4-H Congress.
Ticket to congress
In 2016, she applied for the Lawrence County Outstanding 4-H Member. From this application process, two members are awarded the trip to the national congress.
"A huge take-away is seeing how states view 4-H.. Some states don't have the same projects," she said. "Like a friend I met from Hawaii has different project options. It is just neat learning about the diversity in people and projects."
Young is now using her creativity — which was encouraged through 4-H at a young age in her sewing, crafts and photography projects — to showcase the diversity of 4-H at this year's national congress.
Design team. The team is composed of representatives from Arkansas, Hawaii, Indiana, Kansas, New Jersey, Pennsylvania, Puerto Rico and Virginia.
Young enjoys the close-knit team, she said. With a team member from Puerto Rico, the team has been especially concerned about his safety and how he is doing in the current crisis in the wake of Hurricane Maria.
Planning
The team met in Atlanta in January to being the planning. That was their only face-to-face meeting prior to this year's congress.
The design team gets to plan various aspects of the congress. Every other year, a new theme is selected for the event. This year, they have selected the theme Be true. Be you.
Young and the rest of the team, including the seven additional 4-H youth members and 13 adult members will plan and execute the congress for about 1,000 4-H members and 400 adult chaperones this November in Atlanta, Georgia.
"I am most excited to open the event," she said. "We will have great speakers, including a returning speaker who lived through the Holocaust."
Other highlights include the tours, she said. Last year she toured the Atlanta Zoo, others toured the Coke factory, an aquarium and CNN.
"It is an awesome event, something you don't get every day. It exposes you to the bigger picture," Young said. "It helps you realize that 4-H is not only national, but international — it is so diverse."
Young will continue planning with the design team over emails and conference calls until the event kicks off Nov. 24.
View Emily's National 4-H Congress Design Team application video.
National 4-H Week stories:
Farm and Dairy readers thank 4-H
Nancy Craig, Ohio 4-H volunteer, serves for 55 years
From 4-H'er to 4-H leader
STAY INFORMED. SIGN UP!
Up-to-date agriculture news in your inbox!