WINDSOR, Ohio — Portage and Mahoning counties will hold a joint junior 4-H camp July 8-14 at 4-H Camp Whitewood in Ashtabula County.
You do not have to be a 4-H member or live in one of these counties to attend this camp, which will include hiking, swimming, boating, crafts, archery and shooting sports, conservation and recreation.
Cost is $315 and additional information is available by calling 330-533-5538 or 330-296-6432. You can also register online at www.4hcampwhitewood.com.
• • •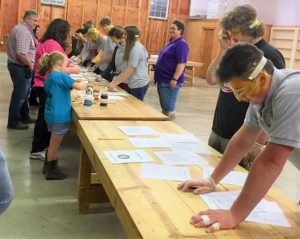 CANFIELD, Ohio — The Mahoning County Junior Fair board hosted their annual picnic at the Canfield Fairgrounds May 18. Guest speakers were Dave Kohout from Talk Is Cheap and Beth Smith the 4-H educator for Mahoning County.
The group received papers to help with keeping records of awards, community service and other events you completed in your youth organization.
Following the picnic, a sensory training program was led by Kori Kemp, 4-H adviser. The training was to simulate having different disabilities or limitations and how to cope with them.
Upcoming activities include the Small Animal Fun Show, June 9, and the Market Livestock Skillathon, June 27.
Both events will be on the fairgrounds and participation in the Canfield Fourth of July Parade.
The junior fair board will have its next meeting June 28 in the Junior Fair Restaurant on the fairgrounds. There will be makeup pictures and meeting to follow at 7 p.m.
• • •
SALEM, Ohio — 4-H'ers Unlimited met April 22 for its monthly meeting. President Justine Knauf reported on the success of the annual 4-H Easter Egg Hunt. Over 10,000 eggs were put out and collected by area youth.
Safety Officer Katherine Pomponio discussed the importance of using sunscreen. Health Officer Jenna Vrabel gave a report on laughter.
Recreation Leader Lindsey Knauf led the club in a game of Ships and Sailors and the Cloverbuds learned about birds native to Ohio.
Cloverbuds also made bird feeders out of bagels, pinecones, shortening, and birdseed.
• • •
NORTH BENTON, Ohio — The Village Varieties 4-H club held its monthly meeting May 8, 7 p.m., at North Benton Church. Tami Bardo, the guest speaker, talked about making maple syrup.
Remington Jones gave a health report on 10 signs of a healthy rabbit, gave a safety report on swimming and demonstrated how to make paper bookmarks.
Brooke Manley gave a safety report on how to stay safe outside and Maddie Manley also gave a safety report on swimming. Tomy Kemp demonstrated things to check for before starting a tractor.
The next club meeting is June 6 at the North Benton Church at 7 p.m.
STAY INFORMED. SIGN UP!
Up-to-date agriculture news in your inbox!