When the leaves start to turn and the air gets a little cooler, people start getting ready for fall.
Decorations go up, and the kitchen fills with smells of all those hearty soups and things that we avoid in the summer months. Children look forward to trick or treat, with costumes and party planning getting underway.
But for farmers it's about getting to reap the rewards of all their hard work over the past year.
Farmers start gearing up for harvest, the equipment is ready, the schedules planned, just waiting for all the right things to fall into place so they can get started.
It varies across the state but harvest has started in many towns in Ohio.
It's a lot of hard work but there is a level of satisfaction when fields are all cleaned up and the equipment is tucked away again.
In the FSA offices we are getting ready for Marketing Assistance Loans which many farmers take advantage of after fall harvest.
Stored grains
Loans are available to farmers on farm stored grains at low interest rates.
It is a nine month loan and allows the farmer the ability to hold their grain longer taking advantage of typically better market prices later in the coming year, while still affording them the ability to take care of expenses that need to be paid before the end of the calendar year.
In addition to loans, offices throughout the country will begin fall payment cycles.
Producers need to be aware that payments are not always issued at the same time when it comes to certain programs such as the Conservation Reserve Program payments issue date is often varied due to the different sign-up periods.
It is anticipated that county offices will begin processing payments for the ARC/PLC Program sometime in mid-October.
Producers are encouraged to contact the office if they have any changes in banking information that could impact their payments.
Improvement
For the farmer who is wanting to take on a new project for fall, there is always the option of building a new grain bin purchased through our Farm Storage Facility Loan Program.
FSFL loans provide low interest financing for producers to build or upgrade farm storage handling facilities to store eligible commodities they've produced.
A producer may borrow up to $500,000 per loan, with a minimum down payment of 15 percent.
Loan terms are up to 12 years, depending on the amount of the loan. Producers must demonstrate storage needs based on three years of production history.
Producers looking for financing options under $50,000 might consider the microloans that are now available. Microloans have shorter loan terms and a reduced minimum down payment of 5 percent.
Both Farm Storage Facility loans and microloans require a nonrefundable $100 application fee.
Variables
The use of a facility loan may vary from grain bins, to upgrading a new/used facility providing the useful life of the upgrade will exceed the length of the loan.
There are many variables when it comes to utilizing the FSFL loan, in addition to grain bins and upgrading equipment, there are storage and handling trucks, including refrigerated trucks, bulk tanks, cold storage buildings and many other examples that can be utilized with the microloan.
Producers are encouraged to contact the local county office if they would like more information on the available FSFL options.
Here's to a happy harvest!
FSA Andy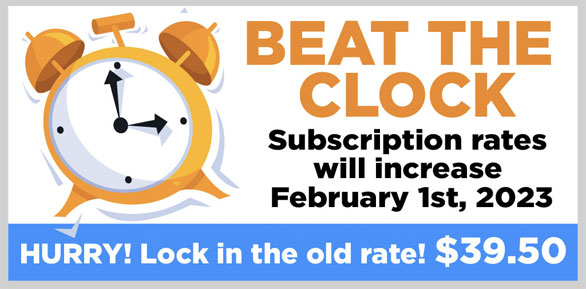 STAY INFORMED. SIGN UP!
Up-to-date agriculture news in your inbox!