BURBANK, Ohio — If you can't take the farm out of the boy, then it's good if the farm has an abundance of wild mushrooms.



The mushrooms made it possible for Tom Wiandt of Burbank to get himself back down on the farm after spending a number of years working in Wooster as an engineer.



Walking across his front yard, Wiandt can point out several varieties of mushrooms growing wild. They are just a few of the more than 50 varieties he has identified on the land.



That one, he says, pointing to an undistinguished yellow cap, is called Chicken Fat, and it grows only under white pine trees.



It is this fascination with mushrooms that led Wiandt and his wife, Wendy, toward the mushroom growing business that now keeps them full-time on the farm where he grew up.



A year into the business and the Wiandts are growing white, gray, blue, yellow and pink oyster mushrooms, Hen of the Woods and Winecaps. They are beginning to grow shiitake, and are experimenting with Lions Mane.



Their goal is to have a dozen varieties so they can expand their business into a "Mushroom of the Month" venture.



They currently harvest up to 200 pounds of exotic mushrooms a week, which they have been selling to restaurants and, starting this summer, in farm markets.



As far as Wiandt can see, there is no end to the possibilities. The direction their business takes, he said, depends on which of the many possibilities they decide to concentrate on first.



This business, however, is not an overnight success.



First, they explored different types of ventures that might be possible with the resources they had on their Wayne County farm.



Wiandt said they were determined to find something that would allow them to quit off-the-farm jobs and spend more time at home.



Working off the farm, he said, especially in the winter, meant leaving home in the dark and coming home in the dark. For him, that was just not an acceptable way to live.



Raising mushrooms seemed the best fit of the many ideas they considered and stems, in part, from their passion for wild mushroom hunting.



And, Wendy said it was while looking through their first book on mushroom growing that she got more and more excited.



Reading about the culturing procedures necessary to spawn mushrooms from culture, she discovered she already knew how to handle most of the procedures described.



By 1995, they had done enough research and experimenting that they had convinced themselves they just might be able to pull it off. They formed a company, Killbuck Valley Mushrooms Ltd., and began planning.



They were both still working. Tom Wiandt was a mechanical engineer with American Augers, designing tunneling equipment; Wendy Wiandt was a medical laboratory technician.



He thought he could probably design and construct the facilities and equipment they would need. She knew she could handle the laboratory work involved.



Using everything they could save from their double income, they started putting all the pieces together. Over five years, they invested about $55,000 in the enterprise.



Tom Wiandt rebuilt an old summer kitchen on the farm, and turned it into a sterile spawn laboratory. Then he designed and constructed climate- and temperature-controlled growing rooms inside the barn.



At the same time, they began identifying the quality mushroom growers and dealers for culture, and started experimenting with mushrooms they might want to grow and the best ways to grow them.



Tom said it is not difficult to get a growing culture from a wild mushroom, and they did try that with some of the species they collected on the farm.



But the chances of finding a mushroom that tastes right and has marketable characteristics, he said, are slim. Of the 40 or so they tried, there is only one oyster variety that he might be able to put into production.



The process of growing mushrooms is relatively simple. Wendy does the lab work, Tom takes care of the growing.



Wendy grows the culture into spawns in a rich broth medium, then transfers the spawns into a mush of rye seed where the mycelium begins to develop.



The infused seed is then mixed into straw that has been sterilized to remove any stray fungal material, and the mixture is stuffed tightly into 6-foot lengths of soft plastic tubing.



Holes are punched into the plastic in a 6-inch grid pattern, and the punching bag-like columns are hung from the ceiling and left to develop.



In a couple of weeks, mushrooms start growing out of the punched holes.



Since the mushrooms grow so fast, the Wiandts have to harvest some of the columns twice a day.



A column will produce for about two months, but as the nutrient within is used up, the mushrooms become smaller, more widely spaced around the column, and less well-developed.Wiandt said one of the ideas he has for expanding the business is to use the mycelium-rich straw after each column has reached its peak to start growing escargot.



"You are always seeing snails on mushrooms in the wild," Wiandt said. "It's their preferred diet. If we started producing them, we could use what we have left over for something besides mulch."



In the meantime, he said, they have started selling culture to hobbyists who want to start from scratch, and small seeded bags or half columns to people who want to grow mushrooms in their basement.



When they went into commercial production last fall, Wiandt said, they had identified gourmet restaurants as their logical market, but it has been a tough market to enter.



To get your foot into that market, he said, you have to get in the door and talk to the chef personally. You have to know his name, and you have to sell him on why your mushrooms are better than those he can get at the wholesale house for $2 less a pound.



Even if they can get the same exotic varieties, he said, there really is a difference in the big, meaty fresh mushrooms he can supply and what is available wholesale.



"I know personally that there is a difference in taste when the mushrooms are fresh," he said.



"We have been using the beat-up, broken ones that are left over from the market. But one night Wendy went out and got two big, fresh mushrooms off the column. There was all the difference in the world."



By the beginning of this past summer, the Wiandts had built a respectable route of 20+ restaurants they were supplying.



Then they discovered the world of the Cleveland and Shaker Heights farm markets. While they had been selling to restaurants at a discount from the full retail price they had set of $7.50 a pound, in Cleveland they got full price. And they were selling 60 pounds a week in four or five hours.



By the end of the summer, they had repeat buyers who came back each week to get another supply.



"Now, with the end of the market season on the horizon," Wiandt said, "they are beginning to ask where they are going to get their mushrooms. They are putting pressure on the local markets in that area to begin stocking them."



While their mushroom business will keep supplying the restaurants they have now, Wiandt said he and Wendy are thinking that future marketing efforts will go toward direct sales.



"We need to get a little store started here," he said. "We know exactly what we want, but we haven't had time yet to get that project started."



"Isn't this paradise?" Wiandt said, as he stepped out of the mushroom chambers and into the outdoors.



"I knew when I decided I was going to major in engineering when I was in high school that I didn't really want to be an engineer," he said.



Even though the old dairy farm where he lives had gone out of production 50 years ago, and his family had only done some "hobby" steer and hog raising, he still knew that he wanted to farm.



With a growing business as a commercial mushroom producer, he may not be plowing any fields, but he is not commuting to work, and he is watching something living grow and harvesting the results every day.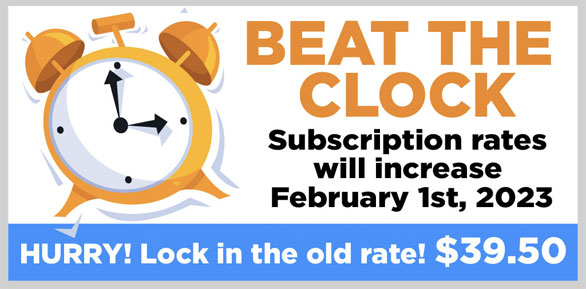 STAY INFORMED. SIGN UP!
Up-to-date agriculture news in your inbox!