MILLERSBURG, Ohio — Farmers invest a lot of money each year in equipment and tools, as well as improvements to their buildings. With some basic steps, they can help themselves and law enforcement crack down on the amount of theft and mischief to their property.
Holmes County Sheriff Tim Zimmerly recommends farmers do regular inventories of their farm equipment and tools, recording serial numbers and engraving personal markings on equipment that may be unmarked.
These markings can some day be the ticket to solving a crime, or returning property to the rightful owner when it is found stolen.
"A good inventory of your property is important, make, model and serial numbers," he said. "It's a little time-consuming to do, but once you get your inventory list then as you buy new equipment just make sure you take the time to (update) your list."
Marked for good
Engravings are not easily removed, he said, unless it's with a grinder, which leaves an obvious scar on the object and sends a red flag to anyone who tries to buy the item.
Zimmerly is in the process of helping to solve a three-year string of theft that occurred in his county and surrounding Ohio counties. Working together, deputies are peeling back the layers of a theft spree involving more than 100 locations in Holmes, Wayne, Ashland, Knox and Coshocton counties.
Two suspects have been arrested and a warrant has been issued for the third. One of the arrested suspects is leading Zimmerly's staff around to the various places where he stole, helping document the sites.
They're finding they actually have more thefts than were ever reported. That's why Zimmerly encourages property owners to make reports of theft whenever they notice something missing, because all information is useful.
Helping out
And, they should also make reports to their local law enforcement when they notice something out of the ordinary. This is how many crimes get solved, he said.
"People who live in their own neighborhood know it better than anyone else, and they know what looks out of place," he said.
Zimmerly also encourages businesses and any would-be buyers of tools and equipment to pay attention to its condition. If there's anything suspicious about it, that also warrants a call, he said.
Law enforcement can check the serial number of property anywhere in the nation by using national databases, and if it's stolen, the results will show.
His office was able to make an arrest in the years-long theft scandal because the suspects tried to sell stolen tools to a local business. Deputies were notified and on hand for the sale to make the arrests.
Matter of time
Crimes of theft can take a long time to solve, but by using inventories and recording serial numbers, it's often a matter of time before a stolen item surfaces. For property owners, this means a chance for justice and to get back what was taken.
"Some day there's a good chance that that serial number is going to get ran, and if we have that and we have it entered (in our database) we're going to get their equipment back for them," Zimmerly said.
Some basic things to follow:
• Conduct regular inventories of your property — both large and small items. Record serial numbers and make additional markings on tools that may not be identified. "It's a little time consuming to do, but once you get your inventory list then as you buy new equipment just make sure you take the time to your list," advises Holmes County Sheriff Tim Zimmerly. Keep your property locked up when possible, and out of sight.
• Avoid parking equipment near the road, especially where it's visible and unattended. Remove keys when possible.
• Consider a loud, audible alarm. Although silent alarms can be effective, the thief and the stolen property often are gone before law enforcement can arrive. An audible alarm scares the thief and often results in nothing being taken.
• Make it look like someone is home. Set lights with automatic timers, keep window curtains at normal length and avoid letting newspapers and mail pile up outside. Thieves look for the most opportune time to strike.
• Security cameras can do wonders, but invest in high quality cameras that capture clear images at night. Video of the person's face is often needed. Prices on cameras vary.
• Post signs like those supplied by the Ohio Farm Bureau Federation information reward program, no trespassing signs and security signs.
• Keep in touch with your neighbors and contact your local law enforcement if you see anything unusual or suspicious. According to Holmes County Sheriff Tim Zimmerly, thieves often plan their strategy during the day, and a strange or out-of-place vehicle could be a lead to a crime. "People who live in their own neighborhood know it better than anyone else, and they know what looks out of place."
• Record and report the license plates of crimes in progress. This usually is enough to make an arrest.
• Report stolen property. The reports can be useful in solving your own theft case, or cases it may be related to. Reports also help property owners receive their stolen property, if it is found.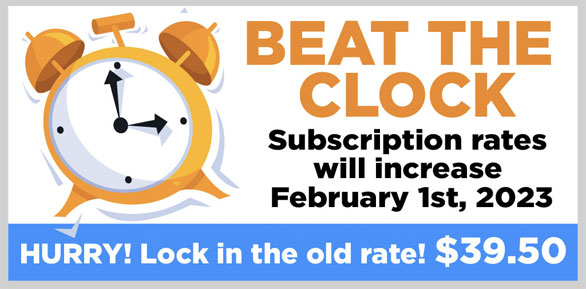 STAY INFORMED. SIGN UP!
Up-to-date agriculture news in your inbox!