CANFIELD, Ohio – The Mahoning County Farm Bureau reviewed achievements of the past year at its annual meeting Sept. 27.
There were 150 members and guests attending the event, held at the Avion on the Water banquet center.
County awards. County president David Kenreich and state trustee Frank Burkett III presented state Standards of Achievement, or Star, awards to nine of the 10 committee leaders. The committee chairmen included the following:
Jim Moore, advisory council/young farmer; Ralph Wince, agricultural ecology; Sharen O'Brock, government affairs; Andrea Zippay, information; Marjorie Yerman, Nationwide promotion; ken O'Brock, policy development; Shirley Kellgreen, promotion and education; Lola Ann Kurtz, safety; and Aimee and Tim Hum, youth.
Moore introduced Michael Miller, the county's Outstanding Young Farmer winner. Miller farms in a family dairy partnership in Goshen Township. A graduate of Ohio State University's Agricultural Technical Institute, he currently serves on the county Farm Bureau board and is also active in the state Holstein association.
Jenifer Weaver received dual honors. She is one of the four state semi-finalists in the Farm Bureau discussion meet and will compete in the final round during the state annual meeting in Columbus. Weaver is also the county's Excellence in Agriculture winner. The grain manager at Deerfield Farms Service, Weaver also helps on the family cow/calf operation. She is also a member of the county Farm Bureau board.
Policy development. Members also voted on proposed public policies on the local, state and national levels. County issues ranged from support for the local OSU Extension and Soil and Water Conservation District offices to a push for an ag representative on the county planning commission.
Members also voted on 20 state policy recommendations, including the support of raw milk retail licensing, several proposals dealing with animal welfare and legal liabilities, and a push for Nationwide Insurance to broaden its farm insurance portfolio.
First in state. The county Farm Bureau youth group was recognized for its creation of a safety skit that won the state competition. The sketch, "A Night to Remember," dealt with teen drinking and driving.
Youth leaders Aimee and Tim Hum also announced the youth awards and scholarships. Kristi Moff and Nicole Glista were the county Farm Bureau's representatives in the Canfield Junior Fair outstanding youth award contest.
Glista, currently a student at the University of Findlay, also received the county's agricultural scholarship award of $300.
Christine Toporcer, a student at Youngstown State University, received the $300 Alan J. Withers Agriculture and Leadership Scholarship.
Membership. Although the county's membership team didn't meet all the state's requirements for a Standards of Achievement award, the county attained farmer-member gain. Margie and Jay Stanwood chaired the membership committee.
Total membership in 2006-2007 stood at 7,324 members. Of those, 947 are "active" farm member families.
Tom Koch, John Martig and Sharen O'Brock were recognized as each signing up 13 new members. Marjorie Yerman was the top signer, recruiting 30 new members.
New leaders. With the state-driven revamping of the county leadership structure, the county Farm Bureau's existing 10 committees will merge into three. Marjorie Yerman will be leading the public policy action team; Jenifer Weaver will chair the communications team; and Ralph Wince will lead the organization team.
The members also adopted a code change regarding trustee election and representation. One trustee can be elected from each active advisory council; six "at large" trustees will be elected at the annual meeting; and three to six trustees will be appointed by the executive officers.
Newly elected at-large trustees include: Marguerite Gillern and Elaine Less, one-year term; Brenda Markley, Robert Michael, two-year terms; and Lola Ann Kurtz and Sharen O'Brock, three-year terms.
Delegates elected to the 2008 annual meeting include Tom Koch, Ralph Wince and Marjorie Yerman.
(Farm and Dairy Editor Susan Crowell can be reached at 800-837-3419 or at editor@farmanddairy.com.)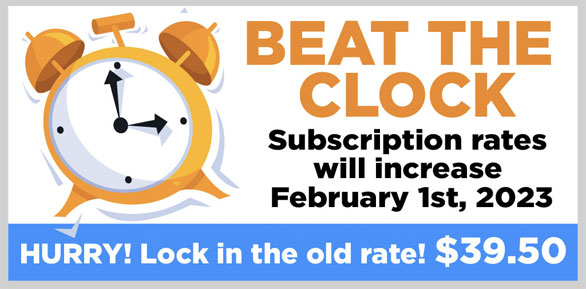 STAY INFORMED. SIGN UP!
Up-to-date agriculture news in your inbox!