UNIVERSITY PARK, Pa. — After celebrating the centennial of the national Cooperative Extension System in 2014, Penn State Extension is working hard to be relevant for the next 100 years.
Penn State is restructuring its Extension staff to reflect a for-profit business model, dividing responsibilities into educational programing and customer service.
In May, Extension will also launch an new online system to enhance digital resources and programs.
The system will bring customers an Amazon-like experience, according to Dennis Calvin, director of Penn State Extension and associate dean in the College of Agricultural Sciences.
The system will allow users to find what they want, when they want it, see what is related to the topic they search and view recommendations.
The change comes on the heels of the university-wide early retirement offer — accepted by 68 faculty, staff and Extension educators in the College of Agricultural Sciences.
Why change
"Things are rapidly changing and we need to prepare ourselves with the capability to meet the needs of the younger and future generations," said Calvin.
Moving forward, online digital education will expand the reach and distribution of Extension products and services, making them available when, how and where customers want them, he said.
Resources like videos and online courses will allow agents to spend less time assisting with basic questions and more time with specific or urgent issues, and developing relationships with county leadership or local businesses.
Administrative changes include moving from 20 districts with one director each, to 10 districts, each with a business operations manger and a client operations manager, said Calvin.
"The regional directors of client relations will be out there in their districts mingling with stakeholders, county commissioners and other entities to keep close relationships over time," Calvin said. "The business operations person will be responsible for effective and efficient operations of the office."
Individual counties will work with their district offices to run local programs, but each agent, like they are now, will be part of a statewide team to bring subject experts together to help anyone across the state.
The seven teams, each overseen by an assistant director of programs, are: 4-H Youth Development; Agronomy and Natural Resources; Animal Systems; Energy, Entrepreneurship, and Community Development; Food Safety and Quality; Food, Families, and Health; and Horticulture.
Executive leadership
Tara Mondock is the new associate director for client relations, and Jeffrey Hyde was named associate director for programs. Together, with Calvin and a soon-to-be-named associate director for business operations, the four positions comprise Penn State Extension's executive leadership team.
Mondock, the new client relations director, will focus on developing long-term relationships with customers and key stakeholders to match their priorities with Penn State Extension products and services.
Those on her team, for example, could build relationships with a local business with an environmental science as a focus. The client relations associate would help the business understand Extension programs in that specific area and help them get involved, be a judge or sponsor such a program.
As associate director for programs, Hyde will provide leadership for the development and delivery of Extension programs, as he works to expand their reach in the online space.
Extension hopes to be the leading online provider in scientific news and information, to be the go-to site for topics such as what types of grass seed to plant to information on health and nutrition, Calvin said.
Dan Eichenlaub, an external stakeholder, related it to the difference in Sears 50 years ago sending out the big catalog to its customers and today, practically off the map. He attributed this to companies such as Amazon, who saw the changing need to meet their customers where they are: online.
"We are plowing new ground, leading the nation in the changes we are making," Calvin said.
Online platform
"I know they [PSUE] have a strong science-based brand," said Eichenlaub, who is also a member of the Penn State Ag Council, a group helping to steer the direction of the college as a whole.
"They translate science to application, now with advanced search capabilities and delivering these resources at 11 p.m. at night, or whenever customers are looking," he said
The online platform to manage this renewed emphasis on customer relations has merged approximately 800 databases kept by Extension professionals around the state. They eliminated duplicate names, cleaned them for errors and now have all their contacts in one system, said Calvin.
The challenge will be re-engaging customers with Penn State Extension and providing them with a positive experience to get them coming back to the site, Eichenlaub said.
"This system gives the people the power," Calvin said. "Once they set up an account, they will be able to see what they have read in the past, search resources and events by topic, location and fees."
Each customer has been asked if they still want to receive information from Extension and can choose what types of information they want to receive.
For those who don't have email or haven't supplied it, they will receive a survey via hard copy.
"This new platform will allow us to manage powerful and engaging long-term relationships," Calvin said. "It is a new era for Extension in Pennsylvania."
The online platform will launch in May, but the changes in administrative structure will not be in place until July 1.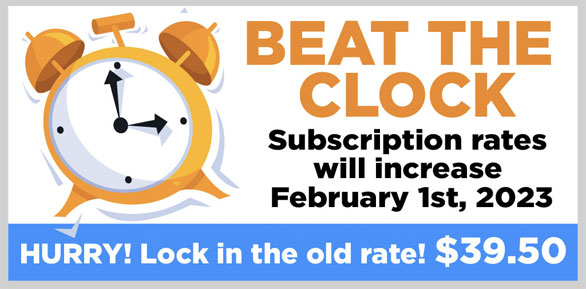 STAY INFORMED. SIGN UP!
Up-to-date agriculture news in your inbox!