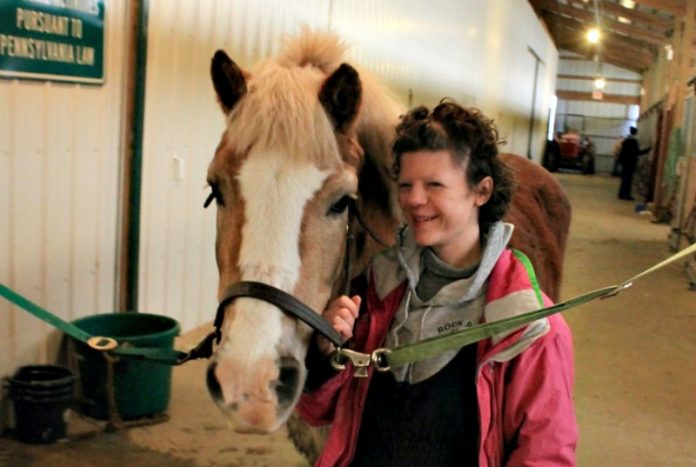 SLIPPERY ROCK, Pa. — The bond between a horse and a human may go unspoken, and often the touch of trust and look of understanding can heal deep within. On a hill above the softball complex at Slippery Rock University sits a center where these connections are made.
The Storm Harbor Equestrian Center, built in 2005, offers equine-assisted programs to all ages.
The center recently received a $88,000 grant from the Horses and Humans Foundation to further investigate the effect riding has on the stress levels of young adults with autism spectrum disorders.
Autism
According to Betsy Kemeny, Ph.D., assistant professor in the university's recreational therapy program, one in 68 children are on the autism spectrum, ranked as the most prevalent developmental disorder.
The symptoms are deficits in social communication and interactions, sensory issues, and restricted or repetitive behavior.
Limited research has found a link between horses and human stress levels, and Kemeny hopes to add to the knowledge base.
"Horses are relaxed, have an unconditional acceptance of the person, which may ease social anxiety," she explained.
Horses and Humans Foundation is a national non-profit foundation, funding horse research and potential impacts on the health and wellness of people.
Research
Kemeny and her team will study two different therapeutic interventions, therapeutic riding and stress management training, comparing the methods to see which is more effective in reducing stress.
The 30 participants, 13-25 years old, will be randomly assigned to a therapeutic riding protocol, the stress management training or no treatment, as a control group.
The researchers will record cortisol, an adrenal hormone that reflects a person's stress levels in saliva; heart rate; social responsiveness; social anxiety/stress; and perceived stress — all of which measure stress levels.
These measurements will be collected before and after the 10-week intervention periods. In addition, saliva and the heart rate will be collected before and after each session.
"Self reporting or observation can be helpful, but these biometrics will hopefully give us a better look," said Kemeny, the principal investigator.
The research is a crossover study where each participant will be compared to himself.
The study, which began in early March, will continue in varying stages for 18 months.
Center benefits
As part of Slippery Rock University, the center works with several collegiate classes, as well as youth and adults with autism, veterans and the community at large.
In addition to the research study, the equestrian center is home to lots of other learning and development programs, and sees about 120 riders with disabilities per week.
"If you've met one student with autism, you've met one student with autism," said Kemeny, describing how different those on the autism spectrum can be.
The goals of the therapy depend on each student. At the center, they work on physical, social and mental skills and each student receives an individually prescribed therapy — no two ASD cases are the same.
Kemeny also uses the center for as a laboratory with her recreational therapy classes twice a week, teaching college students how to work with people with disabilities, horsemanship skills and recreational therapy methods.
"It is encouraging when someone on the autism spectrum, who doesn't communicate with us, will [communicate] with the horse," said Courtney Gramlich, the equestrian director of Storm Harbor. "If you ask them a question, they won't respond, but if you ask them to tell the horse, they may look it right in the eyes and share."
The center uses 12 horses of multiple breads and sizes, and all the horses have been donated by community members.
"I learn about where the horse is coming from and what experiences it has had before accepting them into the program," said Gramlich, who is a certified therapeutic recreation specialist.
She works with the horse for 30 to 90 days before allowing anyone in the program to ride it.
Most of the individuals they service are from a seven- to eight-county radius around the campus in Butler County.
"Participants come to us from a large area, really from Washington to Erie counties and everywhere in between," said Gramlich.
Gramlich also works with the New Castle School District to assist students with job skills, focusing on barn management and social skills.
"In our programs, the participants and volunteers do a lot of work, orientations, learn horsemanship skills and clean the barn before they ever ride. Riding is the reward," said Gramlich.
Education
Of Slippery Rock's more than 8,000 students, around 180 major in recreational therapy. Fifty-six will graduate this year, Kemeny said, and job placement is high.
"Our majors get jobs working with youth and adults on the autism spectrum, in children's hospitals and veteran programs, to name a few of the major employers," Kemeny said.
Some majors at Slippery Rock require volunteer hours — for example, a social work student needs 50 hours — so the equestrian center is a place for them to put in their hours and learn valuable skills, Gramlich added.
The Reserve Officer Training Corps at Slippery Rock helps out in many ways, too, engaging with the center's veterans program.
Gramlich also works with other professors for an all-hands-in approach.
"We try to interweave learning into everything we do. We have public relations students helping us with PR campaigns and our social media.
"Our next big communications project is to update our training video and a communications major is going to assist with that," she said.
Teams
The center also houses the university's equestrian teams. The English team practices there and hosts competitions at the center; the Western team practices off campus, but works with the center for competitions, said Gramlich.
Donors
Paul and Carolyn Rizza, alumni of Slippery Rock and both former professors at the university, donated the money to get the center built, and the rest of the funds over the years to sustain it have come from community support, said Gramlich.
The center is named after one of Carolyn's prized horses, Storm Harbor. It includes an outdoor arena, indoor arena with radiant heat, classroom with viewing window of the indoor arena, wheelchair lift and 13 acres of pasture.
Future goals
Gramlich said they are in the beginning stages of adding on to the center. "We want to add six more stalls, another classroom, extend the viewing area, add additional storage and more rest rooms," she said.
It is anticipated that the current research project will be completed by the summer of 2018. Updates and additional information can be found at the Horses and Humans Research Foundation website www.horsesandhumans.org.
STAY INFORMED. SIGN UP!
Up-to-date agriculture news in your inbox!