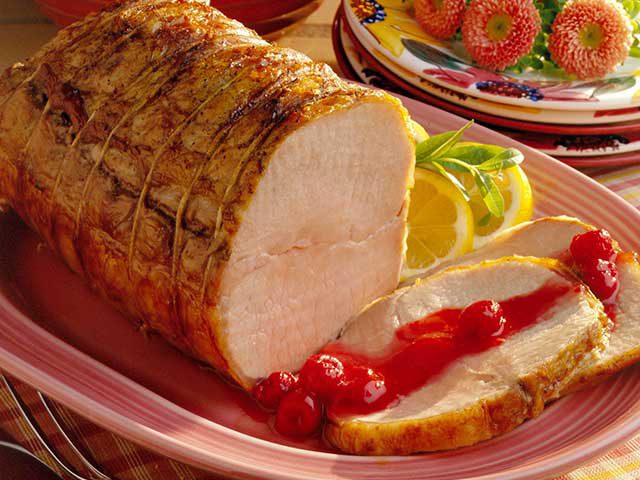 Ingredients:
3-4 pound pork loin roast, boneless
1 teaspoon salt
1 teaspoon ground black pepper
1 teaspoon ground sage
1 12-oz package frozen raspberries, thawed
1 1/2 cups sugar
1/4 cup white vinegar
1/4 teaspoon ground cloves
1/4 teaspoon ground ginger
1/4 teaspoon ground nutmeg
1/4 cup cornstarch
1 tablespoon lemon juice
1 tablespoon butter, melted
3 to 4 drops red food coloring
Directions:
Heat oven to 350 degrees F.
Sprinkle roast with salt, pepper and sage.
Place roast on rack in shallow roasting pan.
Roast for 1 to 1 1/2 hours (20 minutes per pound) or until meat thermometer registers internal temperature at 145 degrees F.
Remove roast from oven; let rest about 10 minutes.
Meanwhile, drain raspberries; reserve liquid, adding water, if necessary, to make 3/4 cup.
Combine 1/2 cup raspberry liquid with sugar, vinegar, cloves, ginger and nutmeg in a medium saucepan.
Bring to a boil.
Reduce heat; simmer, uncovered, 10 minutes.
Blend cornstarch and remaining 1/4 cup liquid; add to saucepan.
Cook over medium heat, stirring constantly, 1 minute or until thickened.
Stir in raspberries, lemon juice, butter and food coloring.
Place roast on a platter; serve with sauce.
Makes 10 servings.
STAY INFORMED. SIGN UP!
Up-to-date agriculture news in your inbox!