Somewhere in my parent's home exists a photograph of them standing stiffly on either side of my oldest brother, Rich, in front of a flaming yellow, full-bloom forsythia bush outside the big, brick Lutheran church of my youth.
My mother (I think I'm remembering this correctly) wears a stylish dress she likely made herself and a round, white hat that, if turned upside down and used as a bucket, could easily hold a half-gallon of wild raspberries. Dad wears his Sunday uniform: suit, tie, easy smile.
The occasion for the photo is telegraphed by what Rich wears. Dark trouser legs peek out from an angel-like gown whose yards of whiteness are broken only by his folded hands holding a black hymnal. It's Confirmation Sunday — either Palm Sunday or Easter Sunday — 1965 and Rich is a newly-minted communicant.
The formality of the photo shows just how important this day is for them. He's firstborn, the pathfinder for the following five; likewise, their firstborn is moving toward high school and manhood. Together they stand atop one of life's important peaks and the pride of getting there comes through.
I also recall a tiny glint of satisfaction in Rich's eyes. It's a knowing sparkle, perhaps, to the fact that he survived eight years of Lutheran grade school and Luther's Small Catechism and now can shake the dust of both off his shoes forever.
It's a look you see only in youth, though, because none of us — Rich then, Peggy in 1966, David in 1967, me in 1969, Perry in 1971, and Christian in, ah, 1979? — ever did.
Each may have thought Confirmation Sunday as parole day from catechism purgatory but (as our gray-haired elders predicted back then) it would become the first step on a journey of deeper understanding and deeper commitment.
(As one of those gray-haired elders now, I confidently told a minute's-old confirmand last year that this day would become very important to him. Like me 40 years earlier, the young man looked briefly at me as though I had one eye in the middle of my forehead and said, "Yeah, sure.")
I remember more of that big day. I remember walking to our grandparent's house, just three blocks from the church, to a big party in Rich's honor. Grandma, apron already on, was stirring a roaster of gravy; Grandpa, suit coat already off, was stirring a whiskey sour for the gravy maker.
Aunts and uncles were everywhere and all slowly wandered into the living room where Rich, like a newly-crowned Saxon prince, held court. All told him "how proud you must be" while revealing how proud they were (of what, I wondered, they hadn't done anything) and then handed him an envelope.
At dinner, of course, heaven's newest heir ate with the adults in the dining room while the rest of us unwashed whelps were sent to Siberia, the back room off the kitchen. It had no guards so, later, we snuck out the back door to enjoy spring. Rich, however, was trapped by another hour of dessert, coffee and adult chatter.
I remember, too, Pastor Gross, our stony-faced minister and Grandpa's Missouri Synod soul mate, at the party. Every time I had seen him in church or at school he was the stiff-collared, thunder-and-lightening voice of fear. That day, however, I saw and heard him laugh. Gee, pastors laughed?
Four years later, a photo was snapped of Mom, Dad and me in front of that same flaming forsythia. I wear a flowing white gown, a black hymnal and big smile; they, tired smiles and no hats.
They had changed and I was about to. They knew it; I didn't.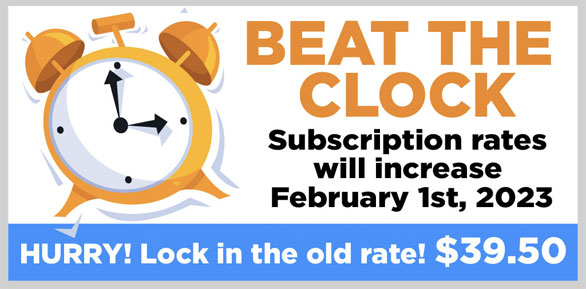 STAY INFORMED. SIGN UP!
Up-to-date agriculture news in your inbox!