Hello again, steam friends and fiends.
Today I want to tell you a bit more of the great British Steam Engine and Cultivating Machine Company based on Michael Lane's book The Story of The Steam Plough Works that was published in 1980.
As I related in the earlier article, John Fowler started in business to solve the particular cultivation problems in England. They have mainly a heavy clay-based soil condition that is liable to compacting. For that reason, Fowler developed the cable ploughing system so that the heavy traction engines did not pack down the soil.
Railroads
Railroad development was a major activity in many parts of the world at this same time and other locomotive builders like Stephensons and Kitson had full order books. So in 1866, Fowler started building locomotives and over the next 20 years or so built some 600 engines. The first batch of six wood burners went to Mexico's Imperial railways.
Many of their locomotives went to various railway companies in England and many others went to India, Ceylon, Egypt and Brazil, as well as other locations in Africa and South America. A considerable number of designs and wheel arrangements were used and different guages of track were also used as ordered.
Later quite a number of small locomotives were built for contractors, quarries and such with narrow guages of 2 or 3 feet. These also went to some very distant locations.
Along with engines, they built track especially for the smaller engines with metal ties riveted on to the lighter rail stock so they could be laid down quickly and moved readily.
The sales amounted to some 500 miles of track and along with 8,000 wagons or cars, and amounted to some 200,000 pounds of sales.
Company leadership
The leadership of the company had been in the hands of William Fowler who was getting on in age and suffering poor health. At this point, Robert Henry Fowler, a nephew, came on board and for the first year or so he traveled widely and sent home orders from the far east for both railroad equipment and cultivating machinery largely for sugar plantations.
He developed a personal friendship with Kalakaua the "Mery Monarch" of Hawaii which was at this time an indepent nation.
A first set of Ploughing tackle was shipped to Hawaii at this time and a profitable connection was established.
Part of the improvement in the financial picture was due to diversification into several other products. Industrial engines were built for some of the mines, for electrical generating stations and other mills and plants. They also went ino the production of heavy duty insulated and lead coated electrical cables and other electrical apparatus. The company grew steadily from this period until the disruptions of the first World War.
Meanwhile much equipment was being exported to the continent of Europe. A branch was set up in 1872 in Madgeburg, Germany, to expedite this trade and in 1873 some 90 sets of ploughing tackle were in use. And by 1878, 10 times as many were working there.
In 1870, the volume of external trade for the United Kingdom exceeded the similar sales of Germany, France and Italy combined and was four times the external trade of the United States. But such prosperity was not to last.
Business partners
Robert Henry Fowler, a trained and able attorney came on the board of directors in 1888. Meanwhile, a number of other able men contributed to the growth of the company, including Max von Eyth and David Grieg. In 1883, Reginald Wigram, became a partner with the payment of some 20,000 pounds into the company capital. The youngest brother of the family, Barnard Fowler, also came on board with the company.
Wigram took charge of the pattern and moulding shop and soon modernized and improved those operations greatly. Foundry work was a major part of the work in heavy industries at this time.
By 1900, employment at the Steam Plough Works numbered some 1350 men.
Peak sales occured in 1909. Sales centers were also established in Prague, Vienna, Budapest and Kiev to cover the major agricultural area of eastern Europe. In the peak year of 1909, continental sales amounted to 245,000 pounds or 67 percent of Fowler's sales.
Depressions in 1875 and 1884 and poor harvests in 1875 and 1877 and the worst seasons of the century in 1879 to 1881 cut into the progress. By 1910, the United Kingdom's share of agricultural machinery sales was down to 5 percent.
Road engines
About this time, a decision was made to concentrate on road engines and less on stationary and electrical equipment. This concentration on road engines and the developments they pioneered made Fowler, the most popular of the class. Special engines for the Showmen's trade were developed in the period 1886 to 1892.
Center engines
Also special units called, Center engines were built for merry-go-rounds and similar showland rides. Brackets were built on the roof for attaching the moving parts of the ride and the chimney was offset and brought up through the middle so as not to interfere with the moving parts. They are a weird-looking machine and not too succesful and not too many were built.
Another adaptation was the crane engine that was a great help with the heavier parts of some fairground rides. The crane jib was commonly fastened to the front axle and stayed by rods to the motion plates. The power was taken off the crank shaft or second motion shaft within reach of the platform and the cable drum mounted in front of the chimney operated by a long shaft and gears along side the engine proper.
Rollers
Many rollers for road improvements were built after 1892, following to some extent the designs of David Aveling. Prior to 1892 only 42 were built, but from 1892 to 1900, some 220 were built. The peak year was 1898 when 59 rolers were completed.
Many were kept on as standby equipmnent for peak work times in summers well into internal combustion era and many are still active in preservation.
Red Flag Act
In 1898 the royal assent was given the "Locomotives on Highways Act," which removed many obstructions to use of engines on the common roads. Along with registration changes and licensing requirements, it repealed the "Red Flag Act," which had required a man on foot carrying a red flag to precede all traction engines.
Still, an extra man had to be made available to assist horse-drawn carriages meeting or overtaking an engine on the road. Also a man had to be always in attendance on a stationary engine in steam. Two men were required when in motion, plus the extra man to assist carriages etc. Lights were required between sunset and sunrise.
There are 12 sections of the law mentioned in the book.
Steam car
Robert Henry Fowler was an avid cyclist and on a trip to the U.S. bought a Locomobile steam car to use in London. In high wind, the burner under the front drivers seat, sometimes burned the driver's legs. It also frightened horses and caused other disruptions and was replaced by a better behaved White steam car for use in London.
Steam experiments
In the late 1800s, the War Department started experiments with steam traction for hauling heavy guns during the Boer War in Africa. The Boers were surprised by the speed and agility of steam power and some 60 or 70 engines were engaged in war work.
In 1900, Lord Roberts ordered four Armoured road trains for this work to help protect the crew from gunfire. They carried some four and a half tons of Krupp armour plate.
Import duty
American and Canadian competition froze them out of North America and to some extent South America as well. The U.S. levied a 45 percent import duty on agricultural equipment.
Overseas trade in other areas remained important though. The India office in Bombay did 31,00 pounds worth of business in its first full year and Australia and the islands took ploughing engines for Sugar plantations.
At home, heavy haulage with three engines became common. Two engines in front pulled and one in the rear was used for braking. Fowler also supplied wagons and bogies for this trade.
Boom years
All this contributed to what is called the boom years to 1914. Several significant changes in personnel happened in these years, as older men died and in some cases were succeeded by their sons.
An interesting account is given of an agent named Julius Saxon's work in eastern Europe where roads and other transport were less developed but his perseverance kept Fowler in the forefront of power farming in those areas.
As we have mentioned the very considerable business done through the Madgeburg works in Germany, one can easily imagine the blow Fowler took when the First World War disrupted their co-operation.
In some ways they were never as profitable again.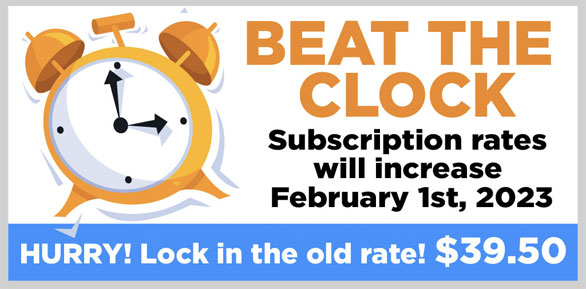 STAY INFORMED. SIGN UP!
Up-to-date agriculture news in your inbox!