Hello Again,
Is it spring or summer? The beautiful, warm and relatively dry weather lately has really confused me! It is only the beginning of May and some days it already feels like summertime. I'm not going to complain about it and I don't think the farmers will either.
While the weather is cooperating and farmers are hard at work planting this year's crops, Farm Service Agency wants to remind them of an important upcoming deadline. May is the final month for producers to apply for Marketing Assistance Loans or Loan Deficiency Payments for corn, soybeans and grain sorghum produced during the 2009 crop year.
If you still own some harvested grain that is stored and need some cash flow for your operation, you may want to stop in the office for a Marketing Assistance Loan.
MAL's are nine month commodity loans that are available to producers who share in the risk of producing the crop and who have maintained beneficial interest in the crop through the term of the loan.
These loans do require repayment of principal and interest, but the interest rate for a May loan is only 1.50 percent. Alternatively, Loan Deficiency Payments are available during difficult times to producers in lieu of securing a loan. LDPs are triggered when the Posted County Price falls below the county loan rate.
Each option requires eligible producers to comply with conservation and wetland protection requirements, file a crop and acreage report on the farm and ensure that the commodity meets CCC minimum grade and quality standards.
Eligible commodities must have been produced by an eligible producer, be in existence, and be in a storable condition. The quality of the commodity in farm storage must be maintained throughout the term of the loan.
The 2008 Farm Bill included several changes to Marketing Assistance Loan and Loan Deficiency Payment provisions. Beginning with the 2009 crop year through 2012, these benefits are no longer subject to payment limitation or do not require an actively engaged determination for producers.
The average adjusted gross nonfarm income cannot exceed $500,000 in order to receive market loan gains or LDPs. Lastly, farms enrolled in the 2008 Farm Bill's ACRE program are subject to the loan rate for quantities produced on that unit being reduced by 30 percent.
Other terms and conditions apply to Marketing Assistance Loans and Loan Deficiency Payments, so call your local FSA office for additional information. The final availability date of June 1 is the last chance for eligible producers to receive financing and marketing assistance for their 2009 coarse grain crops.
So, stop in and see us!
That's all for now,
FSA Andy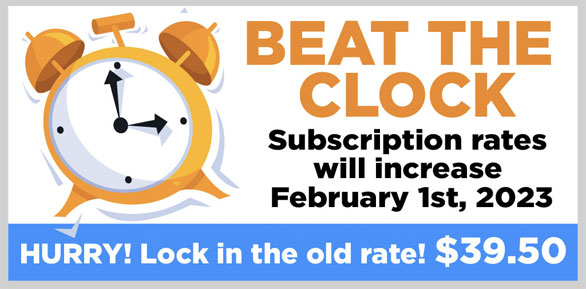 STAY INFORMED. SIGN UP!
Up-to-date agriculture news in your inbox!