Hello from Hazard!
W. Dave Marshall, of Seaman, Ohio, was quick to tell us what Item No. 1057 was: It's a clinch cutter, made by the (then) Champion Bolt & Clipper Company of Meadville, Pennsylvania.
Marshall, who has been shoeing horses for 59 years, says a clinch cutter is used to cut the horseshoe nails off at the top of the hoof.
Most examples of old clinch cutters have tools on both ends, i.e. a hammer head or a pick. Our example was shared by Dick Kind, of Slippery Rock, Pennsylvania.
There's some great history with this company, which we discovered on the Channellock company website. Back in the 1880s, "George B. DeArment, a blacksmith from Evansburg, Pa., began hand-forging farrier's tools in a small factory. Then he would sell them from town to town out of the back of a wagon. Eventually, the business became known as the Champion Bolt & Clipper Company."
In 1893, "The company lost all of its cash assets when a local bank teller stole the bank's funds; however, DeArment raised enough capital to get the company up and running again by 1894."
The company moved to Meadville, Pennsylvania, in 1904. DeArment's two sons took over the company and after one brother died in 1927, Almon DeArment changed the company's name to Champion-DeArment Tool Company.
In 1933, "Chief Engineer Howard Manning developed the concept of multi-position, tongue and groove, slip-joint style pliers. The pliers were named 'Channellock,' and a patent and trademark protection were granted in 1935.
In 1963, the DeArments "changed the company name to Channellock to protect its valuable trademark."
Today, Channellock is run by the fifth generation of the DeArment family.
Which means we think Kind has a very interesting piece of western Pennsylvania history!
---
Since you all were so quick to identify that mystery, we'll give you one more from Wayne Cooper, of Fombell, Pa. He says the two cutting wheels are about 2 inches.
July 13, 2016 update: We haven't heard anything yet on this one, so we're showing it for a second week.
Email responses to editorial@farmanddairy.com; or respond by mail to: Hazard a Guess, c/o Farm and Dairy, P.O. Box 38, Salem, OH 44460.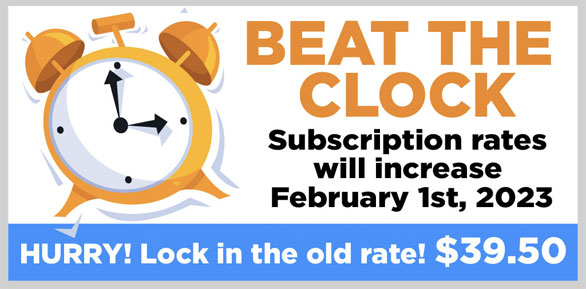 STAY INFORMED. SIGN UP!
Up-to-date agriculture news in your inbox!