"Use it up; wear it out; make it do; do without. Host a harvest party to the harvest moon, use up apples in a bobbing contest for the little ones, serve cider to all. High spirits will carry a community through the hard, lean times."
— Mildred Barrington, 1929
>On the days when I no longer want to climb, struggle, juggle, balance it all, it is so fun to imagine being someone else for a day. That is the allure of costume parties.
Our farm was the setting for the big event of the season last night. It was Halloween Eve, and it was Caroline's birthday. What better reason to throw a costume party? People of all ages turned out for the fun, and the costumes made for some great laughs.
Costumes, costumes, costumes. My best friend Cindy showed up as the recycling queen, complete with an empty Pepsi can necklace, wearing an eye mask cut out of an old cereal box. Her hubby, Phil, was the teen heartthrob of the moment, Justin Beiber. My nephew, Luke, had worked a full week on his costume, winning the prize for most diligently creative. He was a garden gnome, a hula hoop and foam board making up his round mushroom base.
His adorable wife Lisa was right off the pages of "Where's Waldo," decked out in the round, black eyeglasses and red and white striped shirt, carrying Waldo's walking stick. Her sister was a grease monkey mechanic. Another of my nephews, Scott, showed up as a good doctor.
Caroline looked sweet and fitting as the tooth fairy, her date dressed as a tooth. Cort was a glimpse back in time as a leisure suit dude with an afro and a bad mustache. Their friends included '80s girl singer Blondie, Olive Oyl looking for Popeye, the blue and green character from the movie Avatar, a circus conductor, Tom Cruise from the old movie Risky Business, Lady Gaga, soccer star Beckham, a 1950s husband and wife, a lady pirate, a lovely mermaid.
Soul medicine. Listening to the laughter was medicine for the soul. We have all been working hard at busy jobs and endless farm chores, and it was great to just be silly for a spell.
As a kid, I remember that trick or treat in our small hometown meant the chance to dress up in whatever get-up we could put together with stuff lying around. There was no such thing as buying costumes, not even masks.
We had a little room off of our kitchen that we called the back room, and odds and ends ended up in the storage cupboards there.
One year, I decided I could spin myself into Phyllis Diller with some silly clothes and a crazy, colorful hat, messing up my hair as best I could to complete the look.
Another year I wore a cow chain with an ID number hanging from it, glued what I hoped looked like cow ears to a black stocking cap and wore a white shirt with a few black markings on it to turn myself in to a Holstein.
Celebrations. When summer ends, crops are taken off, livestock readied for what we know will seem like a long winter, there is nothing more fun than to plan a party, giving everyone something fun to look forward to, getting together to laugh with one another like a bunch of kids reliving childhood in a wonderful way.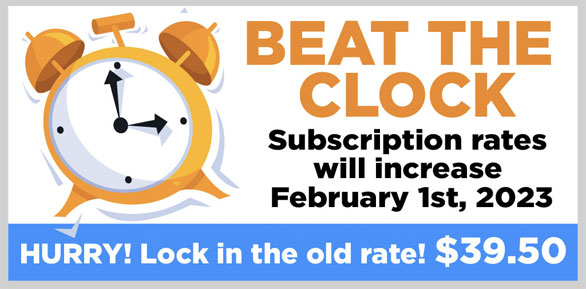 STAY INFORMED. SIGN UP!
Up-to-date agriculture news in your inbox!