"Because life on the prairies was often harsh and filled with long, tedious days of nothing but sunup-to-sundown hard physical labor, holidays were eagerly looked forward to as a time of respite when neighbors and relatives could get together, swap hard times, stories, and do a little joshing in an atmosphere of good fellowship and good food." — Carrie Young
This morning, searching for a particular book among my favorites, something in those titles struck a chord, and made me think of hundreds of conversations I've had with our oldest generation.
Nothing to Do but Stay, is one such title, the true story of homesteading in the west by Carrie Young, whose mother had, as a young, single woman, laid claim to a rough North Dakota prairie completely on her own in 1904.
Carrine Gafkjen's toughness of spirit, her ability to cope with terrifying wildlife, unforeseen daily challenges and work harder than we can even imagine, earned her a plot of land after staying long enough to earn the deed.
Eventually, she would marry another homesteader, and raise 6 children. Another book, Nothing to Tell, is sub-titled Extraordinary Stories of Montana Ranch Women, by Donna Gray.
Major accomplishments
It shares some amazing tales of women born near the turn of the century who accomplished more in one day than most can even imagine ever doing in today's world.
From a very young age, each of these women had to do the milking, tend the hen house, keep a garden going to fight off starvation, cook three meals a day even if it meant using only potatoes, onion and eggs for each of them, fight the dirt, snakes and bugs, coyote and bear.
They sewed clothing out of feed sacks, and prayed money could stretch for shoes for their children.
Nothing but Dreams is a very small, worn book that was given to me by a World War II veteran, saying I should have it, because he knew no one else who would value it.
He had carried it with him in a pocket throughout the war, and considered it the talisman that kept him going, praying the farmland of home would once again greet him when the war was done.
It chronicles those who came to America, the land of the free, with nothing but dreams for better. The author's name only appears on the title page, and is nearly impossible to read: T.L. Chomentesski.
The list goes on, but what strikes me is this: though these lives were filled with much more grit, adventure and accomplishment than any pinnacle we can ever hope to reach, the common denominator is that they so humbly felt they had nothing.
Pushing to survive
Nothing much to tell, nothing much in the way of choices except to push on and survive, nothing much to go on but guts. Certainly nothing much that could make a book.
Instead, their lives stand in sharp contrast to this perception. Undefined, unknown, often only faint glimpses of a foreign land through the words of others was enough to give these amazing souls the courage to set off to build a life, leaving the only place they knew.
There was no one to depend on for anything once they started this journey to the unknown: no doctors or hospitals, no corner markets, no butchers or bakers, no builders or contractors once they got there, no one but themselves.
"We had a new 12-by-4 tent which we were really proud of," says Helen Clark Wonder of her first home as a newlywed in the remote mountains of Montana. "We had spent our honeymoon back in the mountains. Denny was hunting bear for the government," she tells of her groom, a World War I veteran who had spent two years in hospitals for mustard gas injuries.
The great outdoors is where he wanted to be, Donna Gray writes in Nothing to Tell. Marriages lasted, I am convinced, because two people relied on each other to survive, and took pride in their daily accomplishments as a singular team.
Interesting lives
Over the years, I have interviewed many interesting people who were nearing the end of their lives. In nearly every case, they have wondered what I found worth writing about.
As the unfolding memories are told, making something out of nothing was exactly what made their life stories so incredible. Imagine starting out with only a tent, a bed made of fir boughs, a table and bench made out of poles, and a meager income which relied on a bear showing up, needing to be shot.
Nothing to tell? I could listen to those stories of nothing all day log.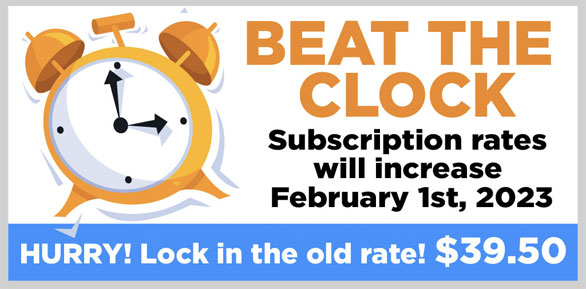 STAY INFORMED. SIGN UP!
Up-to-date agriculture news in your inbox!