Fireflies and foxfire . . . four-leaf clovers and bare feet . . water striders and pollywogs . . . baby rabbits and big black and yellow spiders centering their webs . . . crayfish in the creek scuttling backward to hide beneath a rock . . .
Fortunate the child — as was I — growing up knowing all these things and so much more about the natural world we lived in then, and "then" seems a long time ago, which it was.
And I wonder if any youngster today even knows what foxfire is, or that to catch the crawfish you had to have it back up into your hand and you had to know how to make fish bait using just the tail. Do today's kids know that a four-leaf clover means good luck and would one ever sit in the grass for hours trying to find one? And they surely don't know what foxfire is. (Do you?)
All little girls knew how many children they would have simply by pulling a plantain leaf and counting the broken stem's "strings." If you wanted to go fishing in the morning, you took the hose the night before and soaked a place in the lawn. By morning the big nightcrawlers would be almost waiting for you on the surface.
If you wanted to fish with minnows, you took two long stout branches and carefully nailed a width of burlap (could you even find a piece of honest-to-gosh burlap today?) between them to make a seine. You used nails to sew small pebbles in a fold at the bottom edge to keep it from floating upward and letting your trophy escape.
Of course in the spring, if you were fishing from the top of the bridge for mud-suckers, you didn't need bait. You had to snag the bottom-feeding fish and if you managed that, the trick was getting it safely up to the bridge without it falling off the line. You had to literally lift it because there was no such thing as a reel — simply a long cane pole.
You wanted a pony but had to make one since it was Depression time (what was Depression time, you wanted to know). So you borrowed your dad's sawhorse, cut out cardboard to make a two-sided horse's head profile to nail to the front, found a discarded mop to make the tail and for a saddle (bareback was too sharp!) you borrowed one of your mother's pillows with promises to bring it back when you returned from your gallop.
Fascinated with Indians (you didn't know they should be called Native Americans) you made bows and arrows from the willow tree down by the creek. A length from the string-holder in the kitchen made the perfect string.
Finding a piece of willow straight enough to be an arrow wasn't easy but somehow there was just the right one. Learning to shoot was tricky and more than once the inside of your upper arm was scraped raw while you learned.
Along with learning to shoot was learning to walk Indian-fashion, toe to heel, in order to be silent as you went down the trail. If you had to be indoors because of weather — there were "sun-spot summers" in those long ago days before the jet stream and other marvels of weather forecasting — you made a drum from a section of hollow log and stretched your mother's chamois skin (for window cleaning) for the top, to be anchored down with more string from the string holder. A wooden spoon was perfect for beating on your tom-tom.
I didn't really mean to get into all this but once I got started I kept thinking about more non-electric ways a yesterday's child could amuse herself. I'm sure I could remember more if I didn't have a deadline!
Here are three appropriate quotations I found in the National Wildlife Federation calendar — you'll notice "going green" is not a "new" notion.
"Look deep into nature and then you will understand everything better." — Albert Einstein
"We will be known forever by the tracks we leave." — Native American Proverb
"Those who contemplate the beauty of the earth find reserves of strength that will endure as long as life lasts." — Rachel Carson.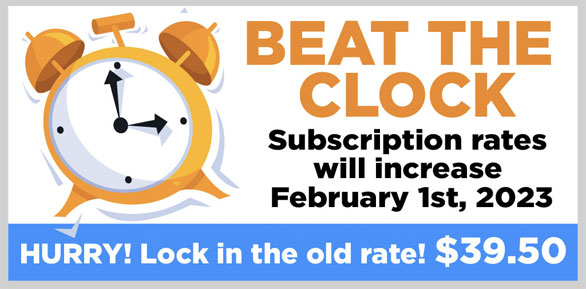 STAY INFORMED. SIGN UP!
Up-to-date agriculture news in your inbox!