After 44 years of working in the soil and water conservation world, I plan on ending my employment with the Medina Soil and Water Conservation District at the end of June.
Career
I started in Richland County Soil and Water Conservation District, then with the Ohio Department of Natural Resources Division of Soil and Water Conservation for the majority of my career and at last with the Medina Soil and Water Conservation District.
I did want to share some stories involving three soil and water supervisors I met over the years with unusual historical events in their lives. I believe they are all deceased now.
First was Wade Bascom from Leavittsburg in Trumbull County. He told me he was a squadron commander on an aircraft carrier during the Cuban missile crisis.
He explained how they were flying near Cuba circling the island and loaded with nuclear weapons. Fortunately, for everyone, they were not needed.
He also shared he was in flight school with John Glenn and recalled the time John bailed out of an airplane and landed on a barn roof.
Second was Franklin Floyd from Hunting Valley in Cuyahoga County. He explained how his family owned a vacation compound across the street from the Kennedys on Martha's Vineyard.
He felt the Kennedy boys were spoiled brats.
Third was Harold Smith from Mahoning County. He had designed the defensive Hercules Rocket that was dispersed around Cleveland and Cuyahoga County in the 1950s.
Some of those batteries sites still exist without rockets today.
I found their stories interesting from a historical perspective and their conservation interests as board members for soil and water conservation districts. I found there are really good people throughout northeast Ohio and a large number of them try to do the right thing with their properties.
They are no strangers to conservation and use of their resources.
Mother Nature
Probably the biggest obstacle to most people is what Mother Nature dishes out as a landowner.
Such variable weather, and what I believe to be true, increase rainfall intensity. Hard to plan for big events not knowing when they might occur and where.
I certainly would like to thank the current Medina Soil and Water Conservation District board of supervisors, staff and the local people. Great to work with.
To Farm and Dairy, you have been really great to allow many of us to write and contribute to your publication. Thank you to all.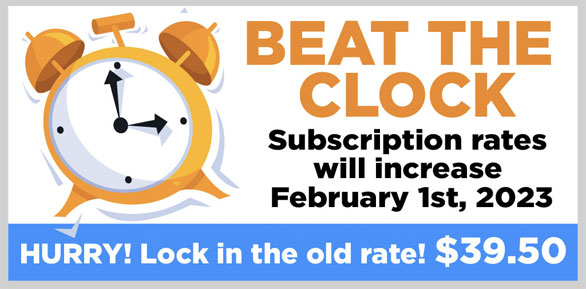 STAY INFORMED. SIGN UP!
Up-to-date agriculture news in your inbox!