HERSHEY, Pa. — A Westmoreland County dairy farmer received the Pennsylvania Farm Bureau's highest honor at the group's annual meeting last week.
Rick Ebert, former Pennsylvania Farm Bureau president, received the Barnraiser Award in recognition of his many years of service "advocating for Pennsylvania agriculture at the county, state and national level."
The award is not given out annually but only when a worthy nominee is put forth.
"This award is reserved for individuals who truly exemplify excellence in leadership and service to agriculture and Rick is a perfect example of that," said Pennsylvania Farm Bureau President Chris Hoffman, during an awards banquet, held Nov. 14.
Ebert served as Pennsylvania Farm Bureau president from 2014-2022. He co-owns Will-Mar-Re Farms in Blairsville, where they milk Holsteins, grow crops and recently got into raising sheep.
He also served as vice president of the state farm bureau for 10 years and represented District 16 on the state board of directors from 1996 to 2004. He was president of the Westmoreland County Farm Bureau and vice chair of the Young Farmers and Rancher Committee, now called the Young Ag Professionals.
Local award winners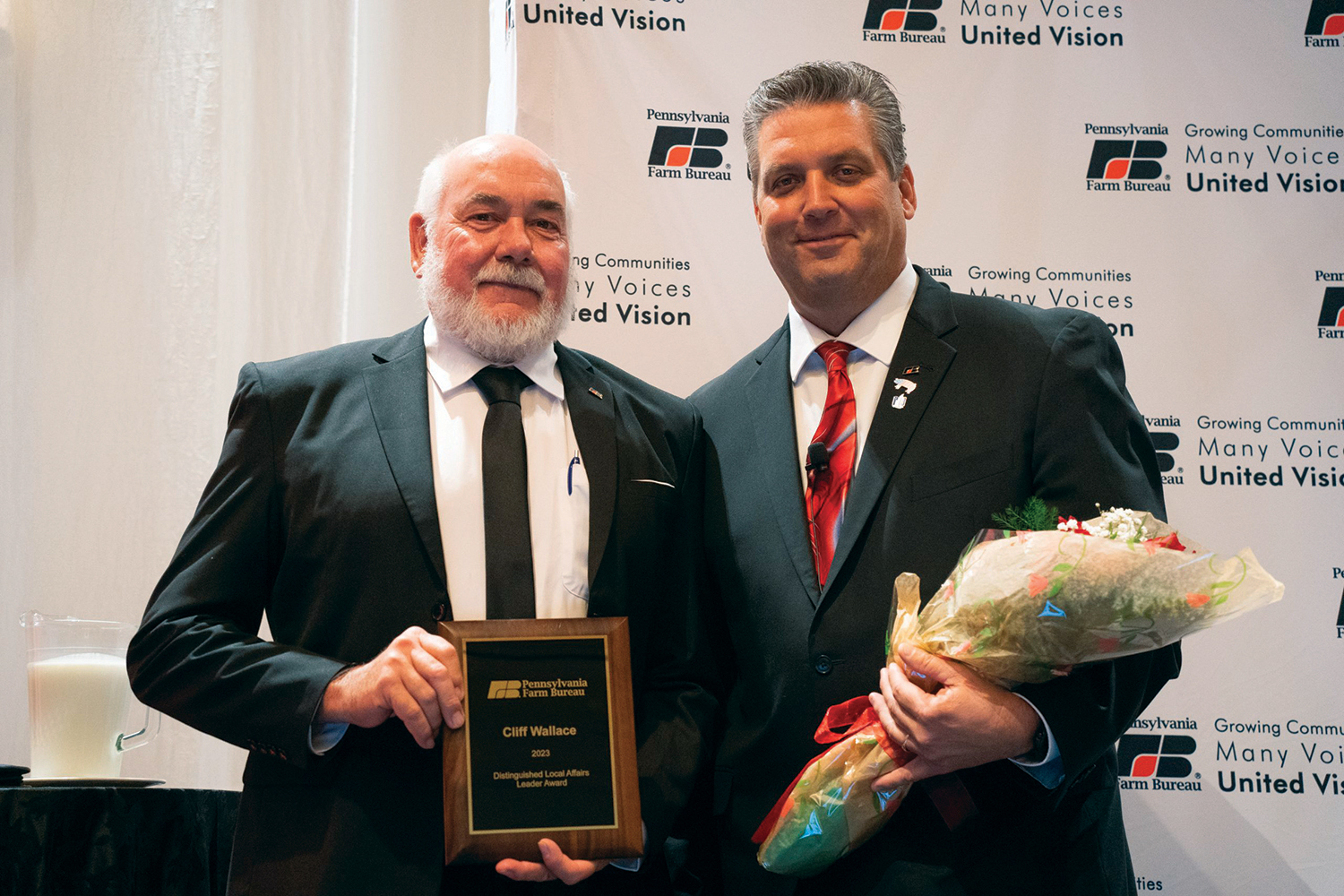 Cliff Wallace, president of Beaver-Lawrence Farm Bureau, was awarded the 2023 Distinguished Local Affairs Leader Award for his work advocating for local farmers and rural residents in the aftermath of a train derailment and chemical spill that took place in East Palestine, Ohio, near the Pennsylvania-Ohio state line.
Wallace collected information on how chemical burnoff after the derailment impacted farms around the area and pushed government agencies to take soil samples to ensure local farmland was not contaminated.
Wallace taught agriculture for more than 30 years at Mohawk School District. He runs a beef cattle operation in Enon Valley, Pennsylvania with his son, where they also grow corn, soybeans and hay.
Ernie Mattiuz, a longtime Elk County Farm Bureau member, received the 2023 Distinguished Service to Agriculture award. Mattiuz, of Kersey, Pennsylvania, owns and operates Earleyville Farm, which started as a cow-calf operation. He adapted over the years to selling raising hogs and selling pork directly to consumers and later transitioning into grains.
He's been involved with the farm bureau for more than 35 years. He served on the state's board of directors for eight years. He was involved with getting grant funding to get the Pennsylvania Friends of Agriculture Foundation's Mobile Education Ag Lab into local schools. He also was instrumental in getting a tax exemption for loggers passed into law, as well as getting the Pennsylvania Game Commission to update its red tag law.
Other awards
Ryan and Andrea Brown, of Cumberland County, received the 2023 Young Ag Professionals Achievement Award. They will go on to represent the state at the national Young Farmers and Ranchers competition at the American Farm Bureau Federation Convention in Salt Lake City in January. The couple bought Ryan's grandfather's farm in 2014 where they raise beef cattle and show goats, as well as farming corn, soybeans, wheat and hay.
Darla Romberger, of Cumberland County, won the 2023 Young Ag Professionals Discussion Meet. She will also represent the state at the national conference in January. The Columbia County Farm Bureau won the Premier County Award. Bonnie LaTourette, of Wayne County, received the 2023 Outstanding Woman in Agriculture Award.
The Pennsylvania Friends of Agriculture Foundation honored two educators with Teacher of the Year Awards. Blythe Heisey, a teacher at South Lebanon Elementary School, was named Teacher of the Year. Jenna McIntire, a teacher at Big Spring Middle School, was named runner-up.
Priorities
Hundreds of farmers from all corners of the commonwealth attended the 73rd annual meeting, held Nov. 12-15 at the Hershey Lodge and Convention Center to set policy for the statewide organization on issues impacting farmers and rural families.
President Hoffman, a Juniata County hog and chicken farmer, said priorities for the group this year include pushing for whole milk in schools, reforming the state's over-order premium for milk, advocating for responsible large-scale solar development and developing new measures to control wildlife and respond to wildlife damage on farms.
He said they're excited about the Agricultural Conservation Assistance Program, which pumped $154 million into 66 Pennsylvania counties to fund projects that reduce pollution in waterways. More than $40 million has been awarded to 359 projects so far, Hoffman said.
They're still working on a legislative fix to Prop 12, a controversial California rule that requires farms to meet certain animal welfare standards to sell meat in the state. The U.S. Supreme Court ruled in favor of Prop 12 in a May decision, which requires more space for breeding pigs.
Hoffman said he had his farm Prop 12 certified, but called the rule a "dangerous precedent for animal agriculture across the nation."
Also during the meeting, Cambria County farmer Tommy Nagle was re-elected as vice president of the Pennsylvania Farm Bureau. He was previously appointed to the position by the PFB board of directors to fill a vacancy following last year's annual meeting. Nagle raises beef cattle and grows crops on his farm in Patton.
(Rachel Wagoner is Farm and Dairy's editor. She can be reached at 724-201-1544 or rachel@farmanddairy.com.)
STAY INFORMED. SIGN UP!
Up-to-date agriculture news in your inbox!