REYNOLDSBURG, Ohio — The Ohio Department of Agriculture has canceled all 2015 live bird exhibitions to help protect Ohio's $2.3 billion poultry industry from Highly Pathogenic Avian Influenza.
The ban, announced June 2, includes county and independent fairs, the Ohio State Fair, and all other gatherings of birds for show or for sale, including auctions and swap meets.
"This was a difficult decision because it means young people can't show their birds at fairs, but it's in the best interest of an industry that literally thousands of Ohio families and businesses depend on," said Ohio Department of Agriculture Director David T. Daniels. "The right move isn't always the easy move, but this is the right move, especially when you see just how devastating the virus has been to other big poultry states like Iowa and Minnesota."
Ohio is the second largest egg producer in the country and home to 28 million laying chickens, 12 million broilers, 8.5 million pullets and 2 million turkeys. Similar bans have been enacted in other poultry states, including Ohio's neighboring states of Indiana, Pennsylvania, West Virginia and Michigan.
Not detected in Ohio
So far, Ohio is virus-free and the move is intended to continue that status. Highly Pathogenic Avian Influenza (HPAI), also called the avian or bird flu, is an extremely contagious virus that primarily affects domestic poultry and is believed to be spread by wild, migrating birds.
"4-H is about fun, but underneath it all, it's about learning and education. Our members who have chosen poultry projects this year have a fantastic learning opportunity in front of them," said Tom Archer, state 4-H leader for Ohio State University Extension. "Yes, they won't be showing a live animal, but they will be learning about how a disease can affect an animal and an industry."
In 2015, 9,113 4-H youth across the state are taking poultry-related projects out of the 69,653 total youth enrolled in 4-H organized community clubs. Ohio 4-H programs are run by Ohio State University Extension, the outreach arm of the college. Lucinda Miller, 4-H youth development specialist for companion and small animals programs, said the state 4-H office will put together resources and activities and make them available to educators, 4-H youth and fair board members online.
State fair
In 2014, there were 3,708 poultry entries from 214 exhibitors at the Ohio State Fair, with approximately 25 percent of those entries coming from youth exhibitors.
 Virgil Strickler, Ohio State Fair general manager, said developing a program to recognize junior fair poultry exhibitors is "of the utmost importance."
The state fair is working with the Ohio Poultry Association, 4-H and FFA to find ways to highlight youth poultry projects at the fair, he added. Exhibitors who have already submitted entries for the 2015 Ohio State Fair poultry show will be issued full refunds. To date, 10 entries have been received.
Local fairs
The state agriculture department is working with fair boards to identify options that will keep youth who are already raising poultry from losing their opportunity to have a fair project. The recommendations include amending the deadlines for students to switch projects and allowing the use of props or photos in place of live birds. Junior fair programs are coordinated by the individual county or independent fairs, and the Ohio Fair Managers Association supports the ODA's decision.
"Our state, county and independent fairs will continue to educate the fair goer on the benefits and safety of the poultry business via the best possible means without the live animals at this year's fairs," said Howard Call, executive director of the Ohio Fair Managers Association.
OSU's Miller said there are a number of alternative ways by which youth with poultry projects can participate in the fair and show what they have learned — including interviews with judges, demonstrations with props or pictures, skits, skill-a-thons, or "Avian Bowl" contests.
Spread by contact
The United States Department of Agriculture's Animal and Plant Health Inspection Service (APHIS) first confirmed the virus in the U.S. beginning in late 2014. Since that time more than 44.6 million birds at more than 200 locations have been affected. One of the ways avian influenza spreads is by direct contact with contaminated materials coming from other infected birds. This means that exhibitions, auctions and swap meets where birds are co-mingling pose a high risk of unintentionally spreading this disease.
Minimize risk
"Until we can be sure that there has been no transference from the wild bird population migrating through the state, we need to do all we can to minimize the exposure for our domestic birds," said State Veterinarian Dr. Tony Forshey.
The Ohio Department of Agriculture is working closely with the state's poultry producers and the USDA to provide training and to closely monitor the health of poultry in the state. Despite the severity of the outbreak in birds, no human infections have been associated with HPAI and the Centers for Disease Control and Prevention considers the risk to people from these viruses to be low.
Biosecurity
Forshey is reminding all bird owners, whether commercial producers or backyard enthusiasts, to continue to practice good biosecurity, prevent contact between their birds and wild birds, keep birds inside as much as possible, and report sick birds or unusual bird deaths to their veterinarian immediately. Also, monitor flocks for unusual signs of illness such as "snicking" (sneezing), a 1 percent or more decrease in egg production, or an increase in mortality. Other signs to look for are wheezing, lethargy, and depression.
Sick birds or unusual bird deaths should also be immediately reported to the Ohio Department of Agriculture's Division of Animal Health at 614-728-6220 or through USDA APHIS's toll-free number at 866-536-7593.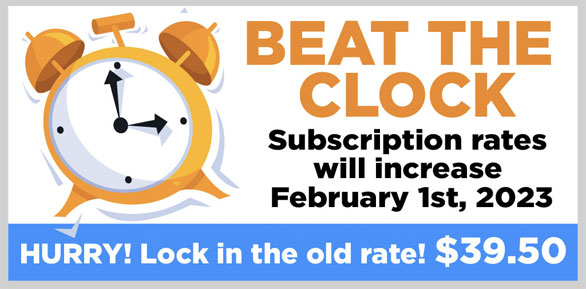 STAY INFORMED. SIGN UP!
Up-to-date agriculture news in your inbox!