CARROLLTON, Ohio — Garner's Auction Center held its 27th annual Farm Toy Show and Auction Nov. 24. Approximately 305 people attended the show, which featured 60 dealer tables.
The toys offered at auction were owned by Mr. and Mrs. John Kime of Canton, Ohio and the collection consisted of 578 lots, including approximately 70 pedal tractors.
Kime collected for about 40 years and due to health problems, decided to sell his collection.
Prices realized were as follows: A Massey Harris 44 pedal tractor sold for $4500, a custom Oliver 88 Hi-Crop pedal for $1900, a custom Cockshutt 660 fetched $1800, a custom MM 445 pedal sold for $1450 and A-C D-14 pedal sold for $1400.
In the one-sixteenth scale farm toys, a handmade case pull type combine brought $300, a U-Haul box trailer sold for $70, Oliver side delivery rake went for $90 and Oliver 77 with man by Slik toys sold at $100.
A Tru-Scale loader, new in box, went for $60, a Tru-Scale 2 btm. plow, new in box, sold for $160, an IH Loadstar truck with gravity box bed sold for $85, a Tru-Scale IH grain truck went for $140 and a bidder paid $125 for a Ford Structo Hyd. Dumper Truck.
Part two of this collection will sell New Year's Day.
* * *
MEDINA, Ohio — Estes Auctions held a vintage radio auction Nov. 17 in Burbank, Ohio. Early radio items did well at the auction, with bidders from 17 states and Canada in attendance.
Highlights include an 1897 APS Marconi Spark Coil that sold for $19,000. A Stearns telegraph system sold at $9,000 and a 1924 Phonolier lamp radio went for $5,000.
A bidder paid $3600 for a Zenith 835 radio and a Western Electric RA-1142 microphone sold for $3000.
An RCA 77-A microphone went for $2700, an RCA DX microphone sold at $2,000 and an AIG microphone was sold for $2100.
Other items included a Federal telegraph key that sold for $1700 and 1929 Bell Anniversary phone that went for $1900. An RCA 44BX microphone sold for $1400 and many other items sold over the $1,000 mark.
* * *
CARROLLTON, Ohio — Garner's Auction Center in Carrollton, Ohio, held an auction of old advertising signs Nov. 17. The collection contained lighted signs, neon signs, lighted clocks and vintage signs.
A porcelain, two-sided John Deere Quality Farm implements sign from the 1940s sold for $3900, a lighted John Deere counter hanging parts sign sold for $2100 to a Pennsylvania buyer, $700 took a new, lighted IH clock and a four foot 52-inch neon IH Dealer sign sold for $1500.
A lighted Meadow Brook Daisy sign went for $325, a Diamond Portland Porcelain sign was $170, a DeLaval signs with a "We Use DeLaval " with original shipping papers sold for $170, a Goodison Oliver "Finest in Machinery" sold for $310 and an Oliver Plows & Implements Dan Kinsey, Winesburg sold for $600.
Clocks sold from $600 for the No. 2 John Deere 4-legged to $170 for a lighted Kendal Oil clock.
Garner Auctioneers LLC next advertising auction will be in the fall of 2013.
(Auction Roundup is a free weekly feature offered by Farm and Dairy. Any auctioneer interested in submitting information from a recent farm, household, real estate or antique/collectible auction that was advertised in Farm and Dairy should e-mail editorial@farmanddairy.com, fax 330-337-9550 or call 800-837-3419. Auction reports should be brief and are subject to editing based on available space.)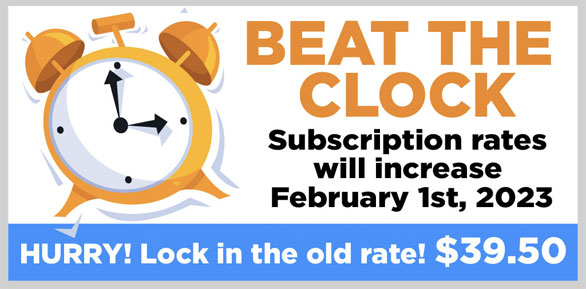 STAY INFORMED. SIGN UP!
Up-to-date agriculture news in your inbox!