SALEM, Ohio — Five sisters gather around a kitchen table in Salem, Ohio, to recount the stories of their grandmother, Mary Eliza Filson Shaw, a school teacher in Columbiana County.
The sisters — Eleanor Bates, Ruth Anne Bailey, Marjorie Pannier, Joanne Harris and Sandra Boyce — reminisce with memories of their grandmother, an influential mentor and pioneer in the agricultural community.
Through the years, Shaw taught at Mount Hope, Chandler and Bowman; all one-room schoolhouses just outside of Lisbon in Columbiana County.
She would travel from her home to the schools in a wagon, known as a buckboard, pulled by Daisy, the pony.
A buckboard is a four-wheeled wagon of simple construction. The "buckboard" is the front-most board on the wagon that could act as both a footrest for the driver and protection for the driver from the horse's rear hooves in case of a "buck."
When Shaw's wagon was no longer needed in the early 1900s, it was placed on the ceiling rafters of a garage on the farm.
The farm was sold in 1995 and the wagon was moved by Shaw's great-grandson Mike Bates. Mike kept the disassembled wagon for more than 20 years before offering it to his brother, Jim, to restore.
"I was excited to get the wagon," Jim Bates said. "Throughout my childhood, I'd look up at the wheels and other parts and wonder what it would look like together."
The wagon had been dismantled for more than 100 years, and as Jim talked with his mom, Eleanor, and all five of her sisters, he began to piece together the life of Mary Shaw, as well as the wagon.
Piecing it together
Mary Shaw traveled using the wagon in the late 1800s, after she was educated to be a school teacher at Rogers Academy in Rogers, Ohio.
She married James Thompson Shaw on Jan. 1, 1903, and in 1905, they had one son, Clifford Shaw, the sisters' father.
After only being able to bear one son, they took in foster children, said granddaughter Marjorie Pannier.
Their grandmother would read the girls poems and teach them English composition using diagrams and phonics. The sisters remember their grandmother's teaching of phonics as a "no-no," as during that time the schools were teaching students to read by sight words.
Eleanor Bates did eight years of schooling in seven years, crediting her advancement to her grandmother's tutelage.
History
Mary and James Shaw bought nearly 80 acres in Center Township, Columbiana County in 1915.
They had 10 registered Jersey cattle, four Percheron horses, raised Rhode Island Red and Leghorn chickens and pigs, along with crops.
The were leaders in community and agricultural organizations, and were charter members of the Lisbon Grange and the Mount Zion Lutheran Church. They advised one of the first 4-H clubs in Columbiana County, the Lisbon Junior Livestock.
Mary was active in the Columbiana County farm women's group organized by Extension, and the sisters remember her attending Camp Whitewood annually with this group.
Pannier and Harris both took after their grandmother as 4-H advisers.
James Shaw was also a member of the local USDA Agriculture Stabilization Conservation Service committee. As an off-the-farm job, he sold Oliver machinery.
When Clifford took over the farm, he increased it to 240 acres, married Alma Stapleton and raised six daughters. He was posthumously enshrined in the Columbiana County Agriculture Hall of Fame for his leadership. All six daughters still live in Columbiana County less than 7 miles from the farm.
The farm is an Ohio Century Farm and is now owned and operated by Larry and Nanette Bates, Larry is the oldest son of Eleanor Bates. They now farm mostly grain crops.
Restoration
Starting the restoration, Jim Bates found himself engrossed in the history, and proud of family's accomplishments, but totally confused how the pieces of the wagon should go together.
As many might do in this age of technology, Bates started Googling wagons in this era to get an idea of what it would have looked like.
In his internet searches, he came across a man in South Dakota who restores similar wagons and had pieces and parts he would later need.
"I called this guy in South Dakota and talked to him about how to restore it, he helped a lot with little things a first-timer would never know," Bates said.
The only thing Bates did to the wagon that wasn't part of the original design, was add an oak ridge to stabilize it for safety, as he knew his own grandchildren and family members would want to climb up in it.
The wagon is now composed of 70 percent original wood and hardware.
"The thing about the wagon that surprised me the most was the high step, to get in," Bates said. To which his Aunt Marjorie added, "it was to keep the women spry."
Bates removed the seat of the wagon to do some repairs and found another piece to the puzzle. The bottom of the seat was signed: "Dennis Duffer Esquire, Lucerne, Ohio." He is the man believed to have built the wagon.
Pride
The wagon now resides in Salem, Ohio, and is a point of pride and discussion for the family. It is great to get these sisters together, said Bates, talking about his mother and aunts.
These are the stories and people who built agriculture and community in Columbiana County, he said.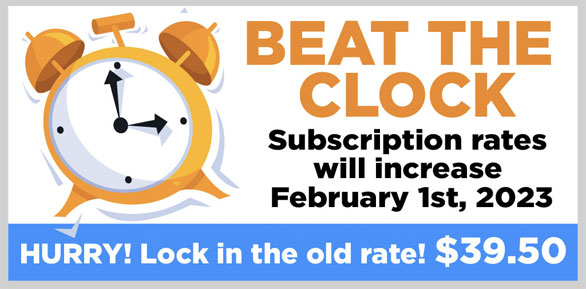 STAY INFORMED. SIGN UP!
Up-to-date agriculture news in your inbox!