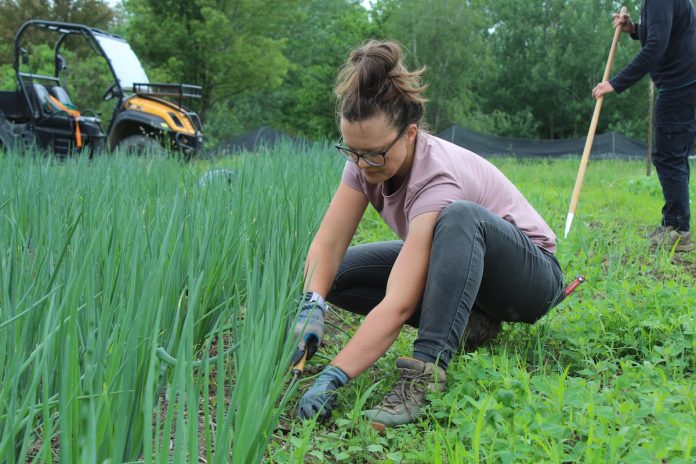 Organic sales in Pennsylvania grew 48% from 2019 to 2021, according to a recent U.S. Department of Agriculture survey. 
Pennsylvania farms produced and sold $1.09 billion in organic commodities in 2021, said King Whetstone, director of the USDA's National Agricultural Statistics Service, Northeastern Regional Field Office. That's up from $742 million in organic sales in 2019. 
This puts Pennsylvania behind only California and Washington in value of organic sales. 
Most of that growth came from organic poultry sales, according to the results of the 2021 Certified Organic Survey, released on Dec. 15. Broiler chicken sales made up over half of Pennsylvania's organic sales in 2021, and the state was the top seller of organic broilers in the country.
The staggering growth proves that organic is not just a fad, said Andrew Smith, chief operating officer at Rodale Institute, the longtime organic farming research and education nonprofit.
"That was 20 years ago people were talking about it being a fad," Smith said. "We've seen double digit growth in the organic industry from that time. It's the fastest growing sector in the ag industry."
Chickens
Pennsylvania had 102 broiler farms in 2019, with 10.9 million birds at the peak that year. Sales for organic broiler chickens hit $360 million.
Just two years later, the number of farms grew by 17. There were 16 million birds at the peak in 2021. Sales grew to $638 million.
Thousands of organic broilers in barns may not inspire the same warm fuzzy feelings that a small organic vegetable farm does, but organically raised poultry are required to have access to the outdoors. Also, the Pennsylvania farms raising these chickens are getting their feed from organic farms.
Sourcing organic grain domestically has been a challenge, but at least one Pennsylvania-based poultry producer is trying to change that. 
Smith pointed to Bell & Evans, a poultry producer based in Fredericksburg, Pennsylvania, that invested $500 million in transitioning 50,000 acres of U.S. corn and soybean to organic production. The company, which is committed to buying only U.S.-grown grains, said it procures more than half the total organic soybeans grown in the U.S.
In a news release announcing the program, Bell & Evans said it experienced 25% growth in organic chicken sales in 2020 and projected growth of 27% in 2021 and 17-20% each year after that, through 2024.
Bell & Evans finalized a long-term sourcing agreement with Cargill for organic grain. Under the agreement, Cargill will pay farmers to transition acreage to organic and Rodale Institute will provide organic crop consulting services.
Rodale Institute also provides organic consulting services to Pennsylvania farmers for free, thanks to funding from the Pennsylvania Farm Bill.
A look around
Pennsylvania ranks fourth overall for the number of organic farms, with 1,125 certified organic farms.  Pennsylvania had 104,805 certified organic acres of land in 2021, a drop of 2,745 acres. The state ranks 18th for certified organic land. 
The top commodities by sales in Pennsylvania are: broilers, $638 million; eggs, $104 million; mushrooms, $95.4 million; milk, $71.8 million and turkeys, $69.1 million.
Pennsylvania has long had strong support systems in the world of organic, Smith said, which may explain why organic sales are growing steadily. When the National Organic Program was started at the federal level in 2000, Pennsylvania already had its own organic certification program in place. Rodale Institute, the nation's leader in organic research, is headquartered in Kutztown, Pennsylvania.
"There's always been a strong foundation in Pennsylvania," Smith said. "I think it will continue to grow."
Ohio ranks fifth in the country for number of farms with 800 organic farms. Ohio has 111,293 acres of organic land, ranking it 16th in the country. It also ranks 17th in organic sales, with $177.5 million in 2021. Its top organic commodity was eggs, which brought in $73 million in sales in 2021. Field crops and milk were also big sellers, bringing in $48 million and $42.4 million, respectively, in 2021.
The sale of organic commodities hit $11.2 billion in 2021, an increase of 13% from $9.9 billion in 2019. The top commodities were milk, broiler chickens, eggs, apples and corn for grain. 
The number of certified organic farms across the country has consistently grown since the USDA began conducting the survey in 2008. At that time there were 10,903 organic farms nationwide. Now there are 17,445.
The amount of organic land nationwide actually dropped by 11% from 2019 to 2021, from 5.4 million acres to 4.9 million acres.
(Reporter Rachel Wagoner can be reached at rachel@farmanddairy.com or 724-201-1544.)
STAY INFORMED. SIGN UP!
Up-to-date agriculture news in your inbox!