BUTLER, Pa. — Dawson and Marcia Dibbern moved from Massachusetts in 2000 to find land with cheaper taxes. They found their paradise on 80 acres in Butler County
The property is full of rolling hills and segregated pastures, and the long winding drive way up a steep hill leads you to the retired couple and their 17 cows. The heard is 3/4 to 7/8 Angus.
The Dibbern's live on a set retirement income, so the goal is to keep inputs low. He accomplishing this by experimenting with adaptive grazing, and with a little help from his fellow farmers and NRCS, he is changing the face and method of his farm.
Grass farmer. "Birdsfoot trefoil is my best friend, I'm a grass farmer," said Dibbern
He started off rotating the cows to a new pasture once a week, then once every three days, then once a day, and now he is rotating them twice a day.
"I've spread seeds of Trifolium, Litem Clover and Birdseed Trefoil in the bare spots where the waterers have been and it comes up nice and thick," he said.
The longer grass has kept the fly problem at bay, he said. As well as rotating the cows so often, he stays ahead of the larva.
Benefits
He has 40 paddocks to build in more rest for the forages. Each paddock is an acre and a half.
"This method allows you to graze cows with much taller pastures. Our standard method is to put in at 13 inches and take out at 3. The more you leave behind the more regrowth you will see," said Andy Graver, district conservationist with the Natural Resources Conservation Service.
It is important to keep the pasture's temperature below 80 degrees so cool season grasses can grow. The tall grass and native plants provide shade for the ground.
Tall grass and rotating pastures allows Dibbern's calves to get to market weight as fast as grain-fed cattle.
"I just took a bull to slaughter that was 20 months old and weighed 840 pounds," Dibbern said. "Feeding no grain at all."
Dibbern is sold on this method of grazing, "As a farmer I can't decide the market value of the animal, feed is the only cost to cut," he said. "My pastures experience 66 days between rotations, giving them a chance to grow." Of the 80 acres, 40 of it is fenced and in the rotation.
"My fields look like an abandoned strip mine, but with this strategy I could have one cow per acre or more," Dawson said. He admits to now needing more cows to eat the crop of foliage he has established.
Soil enhancement
We aren't grain farmers or dairy farmers, we are all farming sunshine, Graver said. The more sunshine you harvest the thicker your forages.
"In this method we bank on feeding what is left over to the microbes and enhancing the soil."
Russell Wilson, a farmer in Forest County, Pennsylvania, shared with the group that he hasn't mowed his pastures in four years. What you have above ground is what you have below ground, if you have a foot above ground the roots are likely a foot deep, Wilson said.
"Another benefit of this adaptive grazing method is that it is essentially drought proofing the farm, with a 1 percent increase of organic matter the soil can hold an additional inch of water," Graver said.
Dibbern turned his animals out in May this year, and the pasture was shoulder high to them.
Questioning the method
A question came from the crowd about getting rid of the native thorns. Dibbern shared his experience of reading about and training his cows on how to get cows to eat weeds. They will eat anything you just have to train them, he said
What about digestive issues? The protein values in many of these forages are higher than alfalfa he shared, he has not seen any digestive issues.
How does the beef taste? With the right finish you can't tell the difference from grain feed. Wilson went on to clarify what the right finish means, "Taking them to market at the correct weight and marbling.
For more information about adaptive grazing, contact your local NRCS and start a grazing plan, www.nrcs.usda.gov.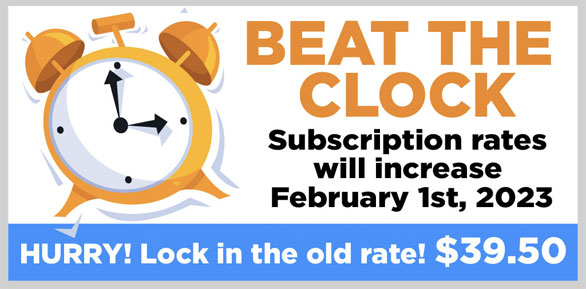 STAY INFORMED. SIGN UP!
Up-to-date agriculture news in your inbox!