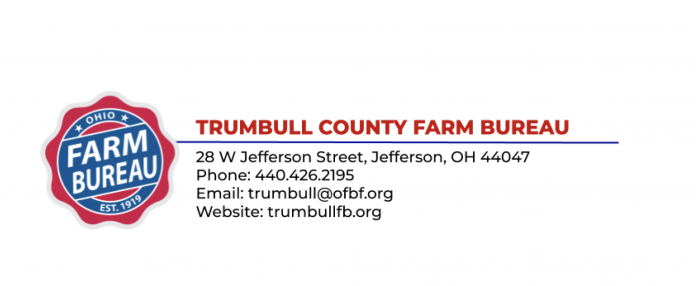 Trumbull County Farm Bureau is offering scholarship opportunities to students pursuing post-high school education. The scholarship amount is determined by the number of acceptable qualifying applications. 
The applicant's parent/stepparent/legal guardian and/or the applicant must be current Trumbull County Farm Bureau members at the time of application and at payout. Applicants must prove enrollment in a 2- or 4-year degree program and can apply for an undergraduate degree only. Applicants must be considered full-time students by his/her college, university or technical school. Applicants may reapply yearly for the scholarship but are limited to two (2) Trumbull County Farm Bureau scholarships. Recipients or representatives must attend the county Farm Bureau Annual Meeting in the fall. The award will be given following the completion of one quarter/semester of school and grades have been submitted to the Farm Bureau office.   
The fillable form is available online at https://bit.ly/2023TCScholarship, on our website at www.trumbullfb.org, or by emailing trumbull@ofbf.org. No handwritten forms will be accepted.  
Applications must be submitted by 11:59 PM on March 31, 2023.
For more information, contact the county Farm Bureau office at 440.426.2195.
STAY INFORMED. SIGN UP!
Up-to-date agriculture news in your inbox!