Editor's note: The Ohio FFA Convention recognizes students for their accomplishments as a part of the Ohio FFA association. The 2016  Convention kicks off today and continues through May 6, at the Ohio State Fairgrounds in Columbus, and a couple chapters in our readership are receiving some big awards this year.
The South Stark Career Academy, in Canton, is recognized as a new chapter (see story here)  and Firelands FFA chapter, in Oberlin, has three star finalists and eight proficiency finalists.

OBERLIN, Ohio — Firelands FFA chapter in Oberlin, Ohio, is having a record year. Last October, at the National FFA convention, the Firelands FFA chapter was recognized as the National Model of Innovation in Community Development for a unique school project — crocheting.
The Crocheting for a Cause project got students at Firelands High School to put down their phones and pick up a hook and yarn. They were able to donate 71 handmade items, including blankets, scarves and hats, to families in need during the holidays.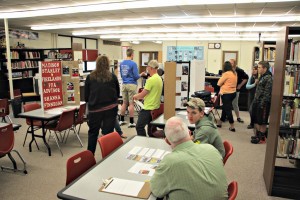 Star students
This year, chapter adviser Shanna Finnegan is excited to have three finalists for Star State FFA degrees and eight proficiency finalists headed to the Ohio FFA Convention in Columbus, May 5 and 6. "We are the only school to have finalists in three of the four (star state degree) categories," said Finnegan. Of those three finalists, only one will have the opportunity to compete for first place in their category at the convention.
In order to practice for the upcoming interviews state finalists have to participate in, Finnegan brought in alumni to ask the students questions about their projects and shake out any public speaking nerves that may be lingering.
Star farmer
Kathleen Tuggle will be competing for the Ohio Star Farmer award with her sheep project. Tuggle raises three different breeds of sheep on her family farm in New Russia Township, and her flock includes 39 breeding ewes, five stud rams and up to 49 lambs during the lambing season.
She keeps records of her breeding and market stock in two different record books for her supervised agricultural experience (SAE). Accounting and record keeping were essential to Tuggle's project, and she developed a system combining both paper and electronic records.
Tuggle said the project has set her up for future success. "It helped prepare me for not only keeping records in my personal SAE, but also for any records I may have to keep in my future whether they are animal-related or not," she said.
Flock challenges
One of the biggest challenges she faced was dealing with unpredictable and often cold, northeast Ohio weather during the lambing season. Sometimes lamb and ewe health could be compromised. "By raising animals, I've learned a lot of skills that can be learned in other areas but are primarily strengthened in an agricultural field," she said.
Those skills include dedication and self discipline — to always go out and take care of the animals even if the weather isn't the most favorable — and the importance of accuracy and avoiding shortcuts.
Star placement
Alexandra Sabine, a finalist for Star Agricultural Placement, worked for Hillcrest Orchard and Aufdenkampe Family Farm (both in Lorain County) during her summer breaks. At both places, she worked in customer service as well as the handling and harvesting of produce.
She recalled one example where she worked closely with a couple who were looking to buy apples to make caramel apples at their wedding. Sabine talked them through size and quality to help them pick out the best apples for their project and their budget.
Sabine wants to take what she has learned and pass it on to the students she hopes to teach one day as an agricultural educator. While Sabine is a finalist in a star category, she did not qualify to compete for the top spot in agricultural placement this year.
Beef proficiency
Michael Anadell is a finalist for the beef production placement proficiency. Working for HD Born Farm, Anadell was in charge of 40 head of cattle and 10 feedlot steers. From cleaning pens to feeding cattle, to vaccinations and even breeding, Anadell learned the ins and outs of a beef operation. Anadell hopes to take what he has learned to start his own beef operation in the future.
Sales proficiency
Katie Fath was one of the first employees to join the Liberty Ag Feed and Supply in Lorain County. Being a small company, Fath helped out in every aspect of the store, from customer service, to managing supplies and loading feed for customers. She was able to take her experiences and turn it into a agricultural sales proficiency, in which she is a finalist at this year's convention.
Finnegan said this is the chapter's first year to have a state star finalist, and she couldn't be prouder of her students.
Young entrepreneur
While not a member of the Firelands chapter, Kyle Urig is the first student from the Lorain County JVS to make it as a proficiency finalist. He participated in interview practice with the Firelands chapter in late April.
Young aspirations
At just 10 years old, Urig knew what he wanted to be when he grew up. He worked closely with his father, doing landscape and excavation work until he decided it was time to branch out on his own. The 10-year-old would pick up jobs doing landscape work for the neighbors, driving his small tractor around the town of Avon. When he was old enough, he bought his first bulldozer from his father, learning to make small payments when he had the money.
Growing business
Now, at 17, Urig has a thriving landscape business, Kyle's Excavating LLC, where he has had up to five full-time employees, 25 seasonal employees, and around 10 pieces of equipment from bulldozers to dump trucks and trailers. He specializes in landscaping, drainage correction and grading in residential areas in Lorain County.
Time management
"My life is my work," said Urig, who says time management is often his biggest challenge.
Being a full-time student, a full-time entrepreneur and farming around 300 acres on the side, Urig has his plate full, but he is not complaining. Urig said he also handles all the office and book work so he can keep his employees out in the field.
He said he keeps busy by word of mouth. "If you do a job right the first time, they tell another person," said Urig. And with average yearly sales around $200,000-$250,000, Urig has plenty of work to keep him busy seven days a week.
Urig is a finalist for the state FFA Environmental Sciences and Natural Resources proficiency award.
STAY INFORMED. SIGN UP!
Up-to-date agriculture news in your inbox!