For those who like to finish their turkey, stuffing and pumpkin pie early to get ready for one of the busiest shopping days of the year, Black Friday is a much anticipated day that seems to be starting earlier each year.
Seasoned shoppers may have a game plan for snagging the best deals, while others make it a leisurely trip. Regardless of your style, here are some tips to consider before you get in line for Black Friday deals:
Take advantage of sales before Thanksgiving
Black Friday is commonly mistaken as the best day to get good deals, but stores offer many other sales throughout the holiday season. In the weeks leading up to Black Friday, check store ads for sales on items you want to buy. You might end up getting something at a better price a week before Black Friday than if you wait.
Know when stores open
Some stores open on Thanksgiving to kick off Black Friday sales, while others remain closed until midnight or later to observe the Thanksgiving holiday. Even if a store isn't opening until 2 a.m., shoppers will be in line outside the store hours in advance in order to give themselves a better chance at getting the items they want.
Figure out when stores open so that you can plan your shopping route. Also, keep in mind that shopping will take longer than usual due to high volumes of people in long checkout lines.
Do your research
Know the items that you are going to shop for. Look at store ads to decide which stores have the products you want to buy, and for the prices that you are willing to pay.
Consider planning your route so that you go to the stores that are open earliest first, then check out the stores that open later.
Be safe
Secure your cash and credit cards. Carry them in a purse that zips or buttons shut to lessen the chance of someone pickpocketing you.
Also, be wary of other customers. Without even noticing, someone could have an eye on your credit card number while you're swiping it at the register.
With more shoppers comes much more traffic around shopping centers. Be alert when driving, especially if you're driving late at night or in the early hours of the morning.
Shop online
If you don't want the hassle of Black Friday sales in person and don't mind paying shipping charges, shop from home.
Cyber Monday
The next big shopping day (if you're up for it) is the Monday following Thanksgiving. Though solely for online shopping, retailers offer deals on Cyber Monday. Plus, it saves the hassle of going to stores after a tiring Black Friday experience.
Whether you plan to brave the crowds in the early morning hours or shop from home on Black Friday, plan your shopping ahead of time to make the most of the sales.
Are you a Black Friday shopper? What are your survival tips?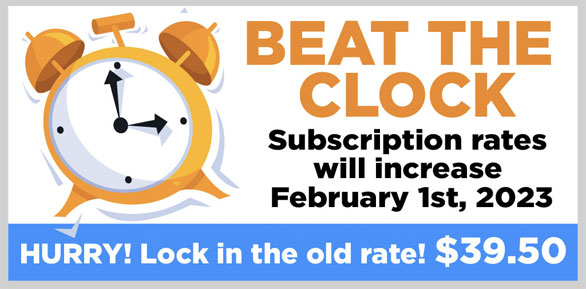 STAY INFORMED. SIGN UP!
Up-to-date agriculture news in your inbox!