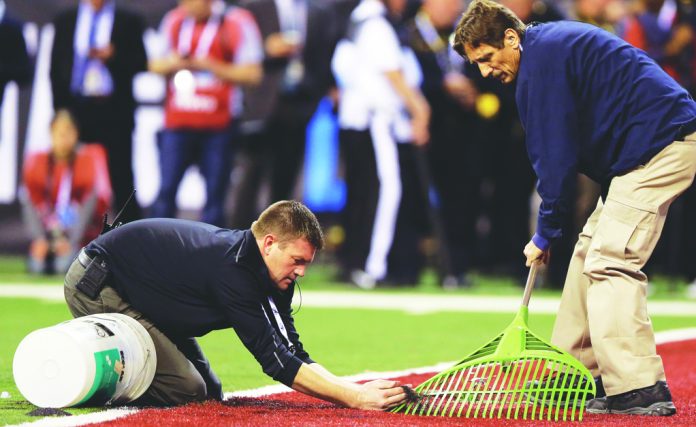 (Reprinted with permission from Ohio State University's Spring 2018 AgriNaturalist.)
By Ryan Vonderhaar / Ohio State University

Erik Harlow loved watching football. From the time he was a child, sports have always drawn his interest, but he never knew how much of an impact they would have on his life.
One day in August, alongside a couple buddies, spectating and taking in the whistles and impacts of a summer Indianapolis Colts training camp, he first laid eyes on his desired vocation.
"They [the players] would come out and sign autographs and then we'd stay for the afternoon session. In-between the two practices is when the field crew would come out and start prepping the field for the afternoon," said Erik Harlow, now field manager of the Indiana Convention Center & Lucas Oil Stadium.
"I'm sitting in the stands and I'm watching them and I think to myself 'you know what? That would be an awesome job. That was really the beginning of everything'."
Step by step
Harlow received his bachelor's degree in turf management and science from Purdue University. His love of sports took him around the country, interning with the Philadelphia Flyers and Washington Nationals Major League Baseball clubs.
"It was a step-by-step process. Each experience I had gave me a few more tools, a little more knowledge, and a couple more contacts in my network, and I just took each additional step when I had the opportunity," said Harlow.
Moment in spotlight
But it is his current position in Indianapolis that most Ohio State football fans may remember him for.
With 12 minutes and 39 seconds left in the fourth quarter of the Big 10 championship game, Ohio State was backed up on their own 1-yard line against Wisconsin.
During that 1-yard-run by Wisconsin, resulting in a touchdown against the Buckeyes, a large piece of field turf detached from the ground, stopping play (fair or unfair, the Wisconsin touchdown still counted).
"Field crew is needed on the field," came over the stadium speaker system. And Erik Harlow and the entire turfgrass management major became the stars of the B1G championship for almost 12 minutes.
"When something happens on the field like that, number one, you feel horrified because it reflects badly on the field, you never, ever want the field to reflect negatively on the game. You never want the field to influence the game or be a part of the game," said Pamela Sherratt, turfgrass specialist and lecturer at The Ohio State University.
"He was awesome. I don't know him, but he looked professional and acted professional, he ran on and got it fixed immediately. He became quite the hero on Twitter for the couple of days after."
Hurrying onto the field to fix a piece of the turf was not something Harlow had expected he would need to do that evening, but luckily he was prepared.
"So it was out of the blue when I got the call that the game had been stopped because there was an issue with the field. I didn't hesitate. As soon as I got that call, I ran out there," said Harlow. "Luckily I was able to determine quickly that [the turf] had just come unzipped.
"There was no actual damage to any of the panels or anything, and then at that point I just had to stay focused."
So focused, in fact, that he didn't feel too nervous during his time on the field.
Social (media) impact
"Luckily for me at the time, I was so involved in my work that I wasn't thinking about the 60,000+ people that were watching me. I had no idea, thankfully, that the sky-cam was on me and that it was being broadcasted over the air," said Harlow.
During the ordeal, tweets poured in from people watching at home on TV, and the hashtag #TurfGuy started trending.
"It was 10 minutes after it happened and my heart rate had started to die down a little, that I got a quick call from my wife," said Harlow. "I talked to her for a few minutes, and that's when I realized the scope of it.
"She was telling me it was on TV the whole time and everyone had been calling the house, and it's all over Facebook and Twitter."
This moment didn't just affect the game in Indianapolis, the people in the turfgrass industry in Ohio took note.
"It was a great moment in the turfgrass industry. It was awesome to see all these people all over Twitter and Facebook showing support for the groundskeeper," said Tanner Turner, turfgrass management alumnus of Ohio State.
"Turfgrass management is often an unknown major at universities across the country. It was awesome to see it getting all this attention and interest and making people aware of the opportunities that it can give to you," said Turner.
All of that attention ended up actually being one of Harlow's favorite parts of the experience, but not for himself.
"The part about it I loved, were all the tweets and all the comments about how [people] didn't know that turfgrass management was a real thing. Then there were people actually going to Purdue's turfgrass website and taking a screen shot of the website and then tweeting and saying, 'yeah here it is, it's a real thing'," chuckled Harlow.
"I thought that was really neat, that I was able to inadvertently bring all the attention to Purdue and to turfgrass management as a whole, which was my favorite part."
Thinking back, it really is amazing to see the impact being passionate about your vocation can make. It all started with a young man enjoying his time with friends and watching an Indianapolis Colts training camp.
More than 10 years ago, he watched their field crew and dreamed about how fun it would be to work there.
Now he runs it.
***
(Preble County native Ryan Vonderhaar is graduating this spring from The Ohio State University. A member of the ATX FarmHouse international fraternity, he also served as an ambassador for the college of agriculture. The AgriNaturalist, published within Ohio State's College of Food, Agricultural, and Environmental Science, is the oldest student-run magazine nationally. The magazine gives students, like Ryan, an opportunity to be a part of the production of a magazine from start to finish.)
STAY INFORMED. SIGN UP!
Up-to-date agriculture news in your inbox!