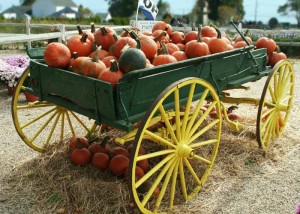 We all remember heading down to the farm or market as children to pick out that perfect pumpkin to carve and light for Trick-or-Treat. Sometimes, we even entered them into pumpkin carving contests, where the prize would be (you guessed it) obscene amounts of sugar and chocolate.
Neither my brother or I ever won any of those contests, but regardless, the fun we had doing it was worth all the prizes in the world. And what kid doesn't like making the mess? What kid doesn't like to "accidentally" fling some of it on another kid? (Insert mischievous laugh here.)
Even now, as a thirty-something adult, I admit to getting excited about carving Jack-O-Lanterns. Do you use a serving spoon to dig out the guts? I don't. I still love the mess. I love the goo, and I love squishing it between my fingers and making a disgusted face while doing so. It vividly brings my childhood back, if only for a moment.
My little brother, Mike, and I would pick out a pumpkin to carve every year. It was a Halloween ritual, just as important as our costumes. Dad would lay out newspapers, set up the sawhorse table in the garage and line it with newspaper too, while we were out getting them with mom.
Mom would bring out her big green Tupperware bowl for us to scoop the guts into, along with several random spoons, pencils, scrapers, knives etc.
Dad always cut the top off, while mom stood by with a camera and wash cloth, ready for whatever tom-foolery was about to happen. We happily froze our fingers digging into it, and again after the Jack-O-Lanterns were done as we separated the seeds from the guts.
Goal number one: awesome Jack-O-Lanterns. Goal number two: roasted and salted pumpkin seeds to snack on. Check and mate.
Go make something awesome,
Jen
Roasted Pumpkin Seeds
1 quart water
2 Tablespoons salt
2 cups pumpkin seeds
1 Tablespoon vegetable oil or melted, unsalted butter
Preheat oven to 250°F.
Pick through seeds and remove any cut seeds. Remove as much of the stringy fibers as possible.
Bring the water and salt to a boil. Add the seeds and boil for 10 minutes. Drain, spread on kitchen towel or paper towel and pat dry.
Place the seeds in a bowl and toss with melted butter.
Spread evenly on a large cookie sheet or roasting pan.
Place pan in a preheated oven and roast the seeds for 30 to 40 minutes. Stir about every 10 minutes, until crisp and golden brown.
Cool the seeds, then shell and eat or pack in air-tight containers or zip closure bags and refrigerate until ready to eat.
Get more "Ask Jen" in your inbox each week by getting Around the Table.
It's a FREE weekly e-newsletter all about food. Sign Up Today!