Fences. They not only make good neighbors, but they also make excellent protectors for your garden or small crop that is less than one acre in size. They work to protect your crop from those pesky vermin like deer, rabbits, groundhogs, raccoons and even your neighbor's goats.
There are many types of fences to choose from to keep those pesky critters out. There are many price ranges and different types on the market today. A lot depends on what you are protecting.
For example, something that needs protection year round, such as fruit trees, blueberry bushes or thornless blackberries, need a little more permanent type of fence that can withstand the year-round elements and abuse. This type of fence will be a little more costly and take a little more time to construct.
Example
The fence I am going to talk to you about in this article is something that I use and works really well for me in my situation; the three-strand peanut butter electric fence. This type of fence is a lot cheaper and a lot less labor intensive to construct.
The results have been unbelievable for me and other people who have installed it around their gardens, small scale orchards and even pumpkin patches. The first time I heard of the peanut butter fence I thought the same thing you're thinking right now. Yeah right! A peanut butter fence! There's no way that will work.
It will work if installed correctly and at the right time. The right time would be immediately after planting. It is vital to put the electrical charge on the wire as soon as the wire is put up and properly baited with peanut butter. It is very important that the first time a deer or animal comes into contact with an electric fence it gets shocked.
Important step
Baiting the fence is very simple and critical in making the fence successful. All you need is some of the cheapest peanut butter you can find and a roll of aluminum foil. Tear the foil into strips wide enough to put a glob of peanut butter in the middle and then bring each end of the foil up around the top strand of your three-strand fence and crimp the ends of the foil together. Allow it to hang from the wire. Do this fairly often all the way around the perimeter of the fence. You may have to re-apply about mid season because of wind and birds knocking it from the wire.
I have mentioned three-strand fence throughout my article. Two strands will work fine for deer. The third strand is usually 4-6 inches off the ground for your smaller critters like coons, groundhogs and rabbits. The spacing for your other two wires should be 23 inches from the ground and 48 inches from the ground.
People have a tendency to think they need all kinds of tools, heavy equipment and tons of money to build a fence. This is not true anymore. There are a lot of temporary fence supplies and suppliers on the market today that have made farming and intensive grazing systems a lot easier.
Recommendation
Throughout my article I have mentioned wire. The best wire and post to use for this type fence is called "poly wire" or "poly tape" or even "electro-netting" along with the temporary step-in fence post or plain old metal t-post.
These items are very user-friendly and easy to store from year to year. If you have access to the Internet just do a search on temporary or portable fencing. If you don't have Internet access you can contact your local farm store for these items. I always tell people it depends on how much you are willing to spend to protect your investment.
I don't know how many times I hear people say. "It's cheaper to go to the store and buy it." And I agree it is — sometimes. But, if you want the self satisfaction of growing your own food and knowing that it wasn't sprayed with chemicals or possible contaminated with E-coli then take the plunge and invest in a three-strand peanut butter fence.
Calculate the savings
Just sit down and figure what you save by growing your own. Now figure how much the deer and other wildlife eat each year. This will be your deciding factor as to how long it will take to pay for itself.
Plus, temporary fencing can last for many years if properly stored and taken care of each year. I have heard lots of people say, "I shouldn't have to fence in my garden to keep the deer out." That's right. You shouldn't. We don't like paying our homeowner and automobile insurance either. But every time we pay we are protecting our investment!
Don't forget either that hunting and the harvesting of antlerless deer is the best means of controlling the deer population.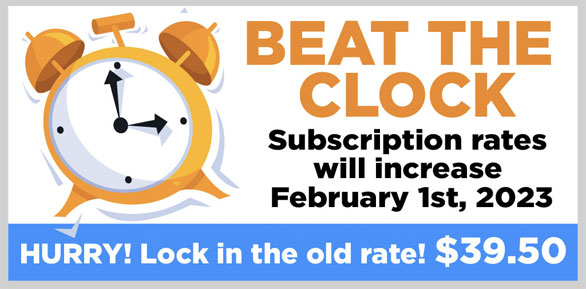 STAY INFORMED. SIGN UP!
Up-to-date agriculture news in your inbox!