Riddle me this: What do lizards, pelicans, porpoises, and sheephead fish that are prized for their taste and texture have in common?
That's easy, they don't exist in northeast Ohio.
Geckos
Let's start with the first — lizards that are as common here on Florida's Gulf Coast as well, Ohio starlings.
The correct name is gecko, pronounced with a short "e", like in the word "bet".
These minute lizards are quick as a flash bulb, and as still as death when they want to be ignored. They are literally everywhere.
Geckos are cute enough, if you like that sort of reptilian creature.
I suppose that the gecko that serves as spokesman for an insurance company may have had something to do with the cute part, but they are entertaining and harmless.
Little intruders
We are staying in a one-bedroom cottage that features a jungle-like garden area complete with a palm tree canopy and other tropical plants as well as countless geckos.
According to easy to find online references, these little guys were displaced here from more equatorial regions by hitch-hiking on ships that traded in the region.
The following is information I dug up: Most geckos cannot blink, but they often lick their eyes to keep them clean and moist. They have a fixed lens within each iris that enlarges in darkness to let in more light.
Geckos are unique among lizards in their vocalizations. They use chirping sounds in social interactions with other geckos.
They are the most species-rich group of lizards, with about 1,500 different species worldwide.
Geckos are usually nocturnal and most have excellent night vision; their color vision is 350 times more sensitive than human color vision.
Most gecko species can lose their tails in defense and are well known for their toe pads that enable them to climb smooth and vertical surfaces, including crossing indoor ceilings with ease.
Geckos are well-known to people who live in warm regions of the world where several species of geckos make their home inside human habitations.
But, they are not welcome in our tiny rental.
Porpoises and birds
There is a non-stop parade of porpoises in the near-shore Gulf surf, especially during the period of an approaching high tide.
These graceful animals are steady customers as the incoming tide carries forage fish into the jetties and rivers.
And just above them is another non-stop flying stream of pelicans that may appear a bit goofy to comic book readers but to one who values all wildlife, pelicans are graceful hunters.
They spot their prey from above, then dive like laser guided lawn darts to snatch unlucky fish from the salt water.
Fish
Ohioans know sheephead fish as Lake Erie's trash. Certainly they provide unwelcome fishing action as anglers pursue the more desirable walleyes.
But here on Florida's Gulf coast a zebra-striped fish also known as sheephead, is common and the target of everyday, shore fishermen who smile as they prepare to use them for table fare.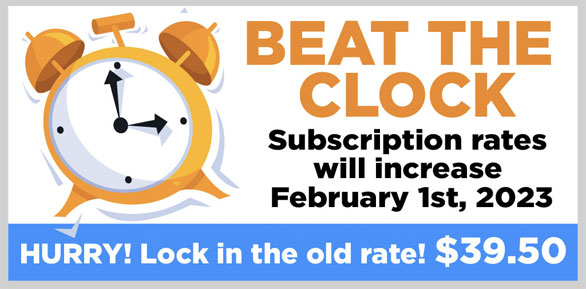 STAY INFORMED. SIGN UP!
Up-to-date agriculture news in your inbox!