Hello from Hazard!
We've heard from several other readers who identified Item No. 1049 as a yarn bowl. If you're doing crochet or knitting work, you can place your ball of yarn in this bowl to keep it from rolling around the room. The two extra holes allow more than one ball of yarn or thread to be used, or to hold the knitting needles when not in use.
Other readers who knew how the item was used include: Donna Hafley, North Royalton, Ohio; Carolyn Hoffart; Joelle Petek, Medina, Ohio; and Ann Hyland.
---
Phil Meriac, of North Royalton, Ohio, and Jerry Foor, Pataskala, Ohio, were the first to weigh in on Item No. 1050, which we first showed last week. The item is marked "Master Kicker," and is indeed a set of hobbles, or cow kickers, to prevent a cow from kicking when milking.
Our thanks to Erika Rosendale for submitting the photo!
---
Item No. 1051 is a mystery item for Diane Reiber, who sent it to us last year. It's approximately 8-by-12 inches, metal, but a magnet won't stick to it. She said it was painted, and most of the paint has peeled off. What is it?
If you know how it was used, email responses to editorial@farmanddairy.com; or respond by mail to: Hazard a Guess, c/o Farm and Dairy, P.O. Box 38, Salem, OH 44460.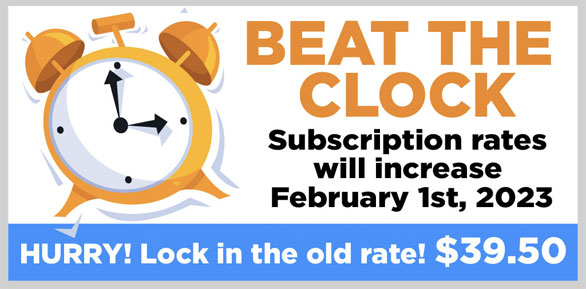 STAY INFORMED. SIGN UP!
Up-to-date agriculture news in your inbox!