Editor's note: It is with great sadness that we share the news of the death of our longtime columnist Dr. George Hazlett. Read his obituary. 
Rev. Hazlett started writing his "Think About It!" columns for Farm and Dairy, as best as we can determine, Dec. 30, 1982. And for more than 30 years, he shared his brief commentaries, exhorting us at the end of each column to simply "think about it." He compiled a book of his columns in 2011.
In 2008, sometime after he retired from the pulpit and active ministry, Rev. Hazlett started representing Farm and Dairy at a booth at the Hartville Marketplace and Flea Market, selling papers and answering questions. It was a perfect marriage.
He loved Farm and Dairy and he loved visiting with people. He also represented us at an exhibit at the Northeastern Ohio Grazing Conference and the annual Family Farm Field Day, and loved the people he met through those connections.
Like many, our hearts are heavy with sadness, but take great comfort in Rev. Hazlett's own words, written in December 2009.
"I was thinking recently that I am closer to heaven today than I was yesterday. What a day that will be when we all get to heaven. Life will take on new meaning. There will be no more sorrow or heartache. When we get to heaven there will be no more tears or parting. Keep your eyes open, Jesus is coming soon. It will be worth it all when we see Christ. THINK ABOUT IT!"
It should be no surprise that even while hospitalized in the week leading toward his death, Rev. Hazlett made sure his daughter sent us several weeks' worth of columns. When Karen told us of his death, she suggested the column that follows might be fitting as her father's final words to his Farm and Dairy family.
Our condolences to the entire Hazlett family.
A GOOD LIFE
"I am come that they might have life, and that they might have it more abundantly" [John 10:10].
God wants all of us to have a good life and enjoy it. He has given us one life on this earth to live. Following this life, he has promised us eternal life in heaven.
However, to have this eternal life, all of us (without exception) must be born again.
"Nor is there salvation in any other, for there is no other name under heaven given among men by which we must be saved" [Acts 4:12].
"The gift of God is eternal life" [Romans 6:23]. 
"The truest end of life is to know the life that never ends" [William Penn].
Every day you live is important. Remember, you only have one life, so live it to its fullest in the will of God.
The following are nine requisites for contented living:
Health enough to make work a pleasure.
Wealth enough to support your needs.
Strength to battle with difficulties and overcome them.
Grace enough to confess your sins and forsake them.
Patience enough to toil until some good is accomplished.
Charity enough to see some good in your neighbor.
Love enough to move you to be useful and helpful to others.
Faith enough to make real the things of God.
Hope enough to remove all anxious fears concerning the future.
–Johann Wolfgang-Von Goethe
Life is too short on this earth to fail God and act like He does not exist.
Take care of your life; and the Lord will take care of your death" [George Whitefield].
"Rejoice in the Lord always: and again, I say rejoice" [Philippians 4:4].
The next time you see a friend or a neighbor take time out of your life to tell them,
"Have a nice day!"
THINK ABOUT IT!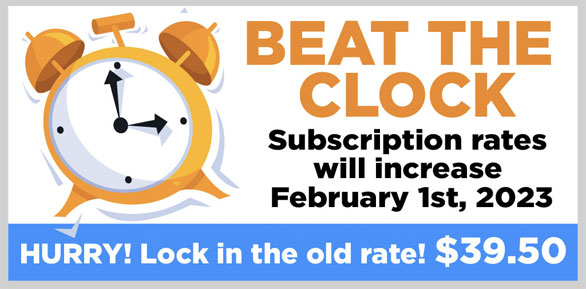 STAY INFORMED. SIGN UP!
Up-to-date agriculture news in your inbox!