The 14th annual Great Backyard Bird Count takes place Feb. 18-21. A joint project of the Cornell Lab of Ornithology, the National Audubon Society and Bird Studies Canada, this popular citizen science project is an opportunity for all to discover the wonders of nature we call birds.
Begun in 1998, the GBBC enlists birders of all skill levels in an effort to keep common birds common. Last year GBBC "citizen scientists" turned in a record 97,331 checklists reporting a total of 603 species consisting of more than 11.2 million individual birds.
"Whether people observe birds in backyards, parks or wilderness areas, the Great Backyard Bird Count is an opportunity to share their results at www.birdcount.org," said Judy Braus, Audubon's vice president of Education and Centers. "It's fun and rewarding for people of all ages and skill levels — and it gets people outside!"
High population
The top five most frequently reported species were northern cardinal, dark-eyed junco, mourning dove, downy woodpecker and blue jay. The most numerous bird nationwide was the American robin. Counters tabulated 1,850,427 robins. Most of those, 1,450,058 to be exact, were counted at a huge roost in St. Petersburg, Fla.
Observations such as these demonstrate that the GBBC provides a valuable snapshot of where birds are in mid-winter. "When thousands of people all tell us what they're seeing, we can detect changes in birds' numbers and locations from year to year," said Janis Dickinson, director of Citizen Science at the Cornell Lab of Ornithology.
"An isolated event such as the dead birds in Arkansas may be within the range of normal ups and downs for an abundant species like the red-winged blackbird," Dickinson said. "But the count can serve as an early warning system for worrisome declines in bird populations that result from more widespread problems."
Decline
Dickinson said past GBBC counts showed a drop in reports of American crows since 2003, coincident with some of the first widespread outbreaks of West Nile virus in the U.S. Once ranked among the top four or five most frequently-reported species, crows are still among the top ten birds reported in the Great Backyard Bird Count but they have dropped in ranking since 2003.
This "signal" is consistent with data from the more intensive Breeding Bird Survey, as well as studies demonstrating declines of 50 percent to 75 percent in crow populations in some states after outbreaks of West Nile virus.
Maps from the count have also captured the paths of migrating sandhill cranes and recorded the dramatic spread Eurasian collared-doves. Introduced to the Bahamas in the 1970s, the species was reported in just eight states during the 1999 GBBC. A decade later, it was reported in 39 states and Canadian provinces.
Participation
Last year, New York ranked first (5,719) in the number of checklists submitted. Southern states, as might be expected, reported the most species. Texas came in at 347 species, followed by California (319), Florida (277) and Arizona (231).
Anyone can take part in the Great Backyard Bird Count, from novice bird watchers to experts. Participants count birds for as little as 15 minutes (or as long as they wish) on one or more days of the event and report their sightings online. It's easy, free, and fun.
Results are updated hourly on animated maps and colorful graphs for all to view. This near-instant feedback allows participants to see almost immediately how their observations fit into the continental perspective. Results from previous GBBCs are also available online.
Photos
Pat Leonard, a spokesperson for the Lab, says they also receive thousands of digital photos each year from all over the country. To see some of the best recent photos and the winners of the GBBC photo contest, visit www.birdsource.org/gbbc/gallery.
In addition to results, the GBBC website includes a variety of other useful birding information — vocabulary, photos, birdwatching and bird feeding tips, and vocalizations. It's a valuable resource for all birders, especially students. The GBBC is a terrific way to contribute to a better understanding of birds.
For more information about the GBBC or the Lab of Ornithology, contact the Lab at 159 Sapsucker Woods Road, Ithaca, NY 14850, www.birdcount.org or call 800-843-2473.
(Send questions and comments to Dr. Scott Shalaway, RD 5, Cameron, WV 26033 or via e-mail at his website, http://scottshalaway.googlepages.com.)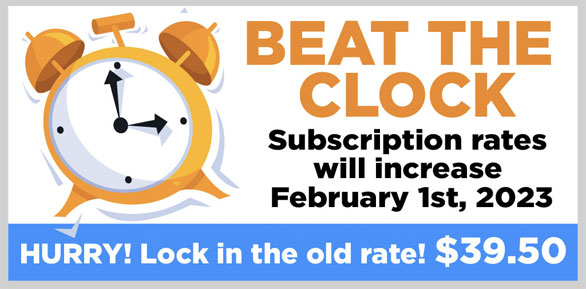 STAY INFORMED. SIGN UP!
Up-to-date agriculture news in your inbox!