BELOIT, Ohio — The future of agriculture is alive and well, if the record attendance at the annual West Branch FFA awards banquet April 24 is any indication.
The banquet drew 300 people, the largest crowd in the chapter's history, according to chapter co-adviser Mike Bardo.
"That's a testimony to our students and the community," said Bardo, who oversees the chapter with fellow teacher Greg Sharp.
Chapter leaders
Chapter president Heather Kitzmiller and vice president Dustin Elder, both seniors, received the chapter's top awards.
Kitzmiller received the Star Chapter Farmer award and Elder earned the Star Agricultural Business award.
Winning the Outstanding Junior Award was Amanda Smith, the chapter's incoming president. Hannah Miller was named Outstanding Sophomore.
The chapter also conferred an Honorary Chapter Farmer award upon local farmer Delmar Karlen, who donated time and equipment to help the chapter work its fields, and also supported the group's work in many ways during the years his two sons were members.
Story Continues Below Photos
Lots of Greenhands
Helping push the evening's attendance were 50 greenhands, the largest group of first-year ag students in the school's history.
Austen Shoemaker earned the Star Greenhand award, based on academic achievements, FFA projects and participation and other community activities.
During the program, Devon Wutrick and Kevin Benning recited the FFA creed, which all greenhands must learn as part of their FFA participation.
Proficiency awards
Chapter members earning proficiency awards in the various categories include:
Placement in production, Dustin Elder; beef production and beef showmanship, Becky Glasser; outdoor recreation, Kevin Kitzmiller; fish and wildlife, Tyler Bates; horse production, Julia Conny;
Forest management and soil and water, Jordan Rohaley; dairy production, Austen Shoemaker; dairy judging, Billy Grammer; home improvement, Cody Neiser; ag electrification, Adam Blackwood;
Swine production, Eli Dunn; swine showmanship and swine judging, Amanda Smith; sales and service, Heather Kitzmiller; landscape management, Joe Rutana; ag processing, Darby Elder;
Ag mechanics, Jeff Stryffeler; forage production and small animal production, Amy Burt; poultry production, Eli Dunn; dairy showmanship, Ryan Kiko; livestock production, Taylor Pidgeon.
Passing it on
Chapter members benefit from three livestock chains, where the winner of an animal commits to passing on an offspring from that animal to keep the chain going.
West Branch graduate Jeff Karlen returned to present a Holstein calf from the chain to winner Ryan Kiko. Dustin Elder passed the next beef calf to chain winner Darby Elder, and Eli Dunn announced two recipients of the gilt chain, Jordan Rohaley and Chelsea Shafer.
Other awards
Lola Deckerd was recognized as the chapter's top salesman in the fruit sale.
Other top sellers were: Hannah Miller, Karen Steiger and Coty Thomas.
New officers
Leading the chapter during the 2008-09 school year will be: president, Amanda Smith; vice president, Darby Elder; secretary, Courtney Stowe; treasurer, Hannah Miller; reporter, Jordan Rohaley; and sentinel, Josh Bricker.
In addition to Kitzmiller and Dustin Elder, retiring officers include: Amanda Smith, Amy Burt, Julia Conny and Nathan Bauman.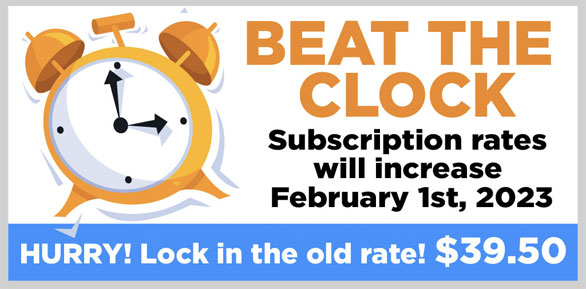 STAY INFORMED. SIGN UP!
Up-to-date agriculture news in your inbox!