CEDAR CITY, Utah – A rare autographed card of James Marshall, the discoverer of gold that sparked the California gold rush of 1849 and opening the western half of the United States to colonization, eventually realized $2,425 in a July auction conducted by America West Archives.

Bidding for the rare western autograph did not reach its reserve in the auction and was then auctioned on eBay for the winning amount on a $2,500-$3,000 estimate.

Another western autograph in the summer auction included an 1892 letter signed by former Sheriff and Texas Ranger Pat Dolan which realized $319 on a $300 estimate.

An 1864 Nevada Territory mining stock signed by John Carpender, noted judge and friend of California gold discoverer James Marshall, hammered at $482.

Historical pieces. Other unique and historical ephemera in the auction included a certified receipt from Oklahoma Territory signed by a deputized guard for transporting Indian prisoner "Pen-e-she" which was shackled at $220.

An 1865 California Volunteer Civil War soldier's appointment of an attorney from Fort Union, New Mexico Territory hammered at $275.

An 1861 Nebraska Territory letter describing crude living conditions and crop disasters sold for $160.

The writer warned of Civil War fighting nearby, stating he left Kansas because "there will all wayes be troubel there with Missourians – they are fiting and stealing from each other – along the (state) lines they was expecting a battel at Fort Scott with sesationists and if they whip the Union men there they will try to make for Lawrence and if they do they will have a terabel time I am affraid."

An 1879 Idaho Territory bill of lading for the shipment of freight to Montana Territory by "mule train" brought $110; a one page 1900 letter on "United States Indian Service" letterhead from the Crow Agency in Montana and signed by the Indian Agent hammered at $120; a rare and attractive New Mexico Territory stock certificate for the "Las Vegas & Hot Springs Electric Railway, Light & Power Co." chugged away at $285 on a $300 estimate.

Fall auction. In the fall auction, old west autographs continued to see active bidding. A handwritten four-page letter dated 1864 from Central City, Colorado Territory and signed by Colorado pioneer and politician Henry Teller sold for $363.

A military "Abstract of Payments" document dated 1871 and signed by Indian Wars military General Alfted Terry sold for $300.

An 1864 receipt from Colorado Territory and signed by William Russell, noted western freighting millionaire and co-founder of the famous "Pony Express" sold for $820 on a $1,000 estimate. Russell has been dubbed "the Napoleon of the West" by the national media for his business acumen.

Military bill. An 1866 military bill of lading showing the shipment of military goods between Fort Sedgewick, Colorado Territory and Fort Casper, Dakota Territory by a wagon train of 14 wagons rolled away at $264 on a $200 estimate.

An 1866 military letter from Camp Douglas, Utah Territory to the Post Trader at nearby Fort Bridger brought $137.

A formal presidential mineral patent dated 1883 for a mining claim in Montana Territory, which included a full page map of the claim boundaries with a proxy signature of President Grover Cleveland, found paydirt at $132.

Another 1890 letter on "United States Indian Service" letterhead from Indian Territory and addressed to "Hanging Judge" Issac Parker at Fort Smith, Ark., and signed by an Indian Agent, brought $247.

More items. An uncommon oceanic shipping bill of lading dated 1853 from Boston and listing the shipment of cargo to California sailed off at $209 on a $150 estimate; a group of five circa 1900 photographs of the Eureka, Utah, mining district brought $132.

Highlights of antique stocks and bonds in the fall auction included a rare 1863 Comstock Lode, Nevada Territory mining stock in the "Mazeppa Gold & Silver Mining Co." which struck paydirt at $467.

Another 1863 Comstock Lode certificate in the "Enterprise Gold & Silver Mining Co." brought $517.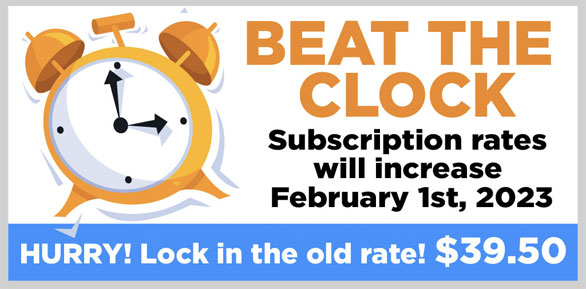 STAY INFORMED. SIGN UP!
Up-to-date agriculture news in your inbox!