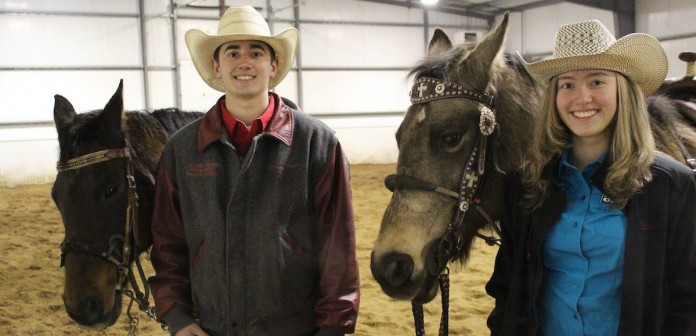 SALEM, Ohio — Like other young athletes, Jared Jarvis and his sister, Emma, spend their off-season practicing and getting ready for competition.
Unlike other athletes — their sport involves a huge variable that can change from day to day — from calm and gentle, to mischievous and stubborn.
The Jarvis siblings are part of the Ohio High School Rodeo Association and they participate in dozens of rodeos across Ohio, as well as a few in other states.
Their busy season is during the warmer months, when most weekends are filled with at least one competition. But long before the first event of the season, they and other young cowboys and cowgirls have already recorded countless hours of training and preparation.
Getting prepared
For Jared and Emma, much of that training takes place at Pure Gold Stables, a recently renovated, state-of-the-art equestrian facility located between Salem and Lisbon on state Route 45. During winter, the two practice with their horses, Pistol and Beau, on a weekly basis at Pure Gold.
And, they spend part of each day caring for their horses, at their family's beef farm, located just outside Salem. The goal is to improve their own skills, while conditioning the horses to perform as well.
But in the end, the behavior of the horse — and of the calf or goat they're trying to rope — are still wild cards.
"These guys have an animal involved, which is extremely unpredictable," said Rita Jarvis, their mother and the rodeo association secretary. "And for the breakaway and roping events, you have a calf or a steer that you're trying to catch, that may or may not go the way that they're supposed to go."
Rita grew up around horses as a child, but it was her children who started the family tradition in rodeo. They include Olivia and Logan (college age), Jared, a high school senior, and Emma, an eighth-grader.
Being competitive
For Emma, whose favorite events are roping and barrel racing, the thing that drew her to rodeo was the experience of competing. She tried other activities, including cheerleading, but found her true passion through rodeo.
"A lot of people in my grade like to say that it's not a sport, — but it's a sport," she insists.
While the goal is to place well and win, Emma said participants also help each other out, during and after the rodeo.
"We're a big team together," she said.
For Jared, rodeo was something that "came natural" to him, and was something he "thought was cool and just kept doing."
Because the Jarvis family has their own farm, they grow their own hay, and work throughout the year to save money to pay for rodeo fees, travel expenses, and to secure sponsors. The family is diligent, and they also collect scrap cans in their effort to raise cash.
Staying safe
Jared does not participate in the bull riding events, although he has given them a try. During one occasion, he ended up with a broken collarbone, and a better appreciation for sticking with horses.
But even horses can be dangerous — especially at the speed and agility at which rodeo competitors must ride. The biggest concern is a horse that falls onto the rider, or losing your thumb or a forefinger because you got it stuck in the rope when you were trying to catch a calf.
That's another benefit to off-season practice — working on safety.
"I feel like they're well prepared," Rita said. "The work that they do at home proves themselves to be able to handle the situation."
If a horse starts to fall, he can sometimes sense the rider's position and avoid falling on him, Jared said. But most of the time, "they're (the horse) trying to help themselves," he said.
As Emma puts it, "they save themselves before they save you, but they still try to help you."
Good with the bad
A good day of rodeo, in Jared's words, is when the rider and horse perform well. A bad day, conversely, is when you miss roping your calf, or when it's raining, because rain doesn't stop the rodeo.
As Emma puts it, "A good day would be not knocking any barrels or poles, and tying my goat and catching my calf. A bad day would be missing my calf, not tying my goat, knocking barrels and my horse not cooperating."
Fortunately, Jared and Emma have experienced more good days than bad.
Jared has qualified for nationals twice; he was reserve all-around last year and he had a couple second place finishes in the state.
Emma, who competes in the junior high division, was also reserve all-around last year, with second place finishes in pole bending and barrel racing.
While doing well and winning is certainly part of the pair's goals — the association is also a way of helping them and other members build some life skills, and potentially earning college scholarships.
A couple different scholarships are offered, and include $2,000 awards.
Another benefit of the association is making new friends and networking. The Jarvises have made friends across Ohio and in other states, and they keep in touch, whether it's in person, or through social media.
"I think that's what horses do — they bring people together," Rita Jarvis said.
Upcoming rodeo events:
• The Ohio high school state finals will be held in Urbana, June 12-13. The event is open to the public and admission is free. The top four event finishers qualify to go to nationals, which is in July, in Rock Springs, Wyoming.
• The 2015-16 Ohio High School Rodeo Association begins at the Ohio State Fair Aug. 8-9 in Columbus. To learn more about the Ohio High School Rodeo Association, visit www.ohiohighschoolrodeo.org.
• Pure Gold Stables, of Salem, is planning various schools, camps and shows, beginning in June. To learn more about Pure Gold Horse Stables, and the events coming up, visit www.puregoldstables.com. You can also contact the facilities manager at 330-429-3230.
STAY INFORMED. SIGN UP!
Up-to-date agriculture news in your inbox!