Editor:
One might ask why Kasich has given ODNR the right to go on a witch hunt for Ohio animal owners. ODNR can come to your home, search your barns and house because someone says you raise exotic animals.
We are living in a whole new state. Ohio has given animal rights groups the power to look in our homes. Where will it end? Can someone tell me what is next? Can some one tell me when the state had the right to come and take our animals?
The state of Ohio is now taking my income. The state of Ohio has taken my way of life. My grandfather died to free the Jews from Germany. My uncle almost lost his life to keep us free. Now Ohio allows a group of people to take our rights. Is this Russia or Cuba?
Ohio has allowed money from animal rights groups line state leaders pockets to get what they want. Take away a way of life. I voted for a leader who said no outside group will tell him how to run the state. Well, he did. The man I voted for said he would not hurt small business. He is killing my business.
Now ONDR can come search your home just because someone gave your address. I think the leader of Ohioans for Humane Farms has lions — lets check her house. Search her house, look in her closets, check out her dresser drawers.
Look out hunters one of the leaders of the stakeholder meeting is a PETA. She gets her airfare paid for by Ohio taxpayers. She wants horses to not have to pull a buggy down the road. She is not from Ohio but she gets to write Ohio law. I wasn't allowed to go to the meeting that affects my income but she is. Ohio has let her start writing Ohio law.
Hunting in Ohio is going to be outlawed. She wants no guns. She now is working with ODNR. They think she is a god. You will lose your guns just like I am losing my animals.
She is a PETA lawmaker writing Ohio law so if you think you can't lose your right to hunt, you are fool like I was. A fool thinking Ohio would never take my way of life, my income. They did. Now Ohio has allowed PETA and HSUS people to write our laws. Will the Amish think their way of life can't be taken? It will. She will take your buggy horses. Animal rights groups already think all Amish are puppy millers.
Animal rights people have changed the way we farm with the Standards Board. ODNR thinks with PETA's help they can shut down the exotic animal trade in Ohio, so ODNR jumped on the wagon. Just like the Ohio Farm Bureau did with HSUS. How many people renewed their dues? ODNR wants more power. Greed is killing this state. Greed will kill this Earth.
Butch Hash
Frazeysburg, Ohio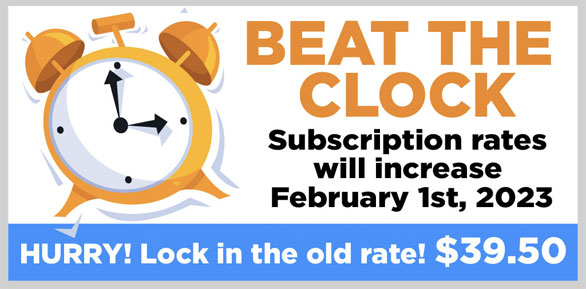 STAY INFORMED. SIGN UP!
Up-to-date agriculture news in your inbox!