UNIVERSITY PARK, Pa. — The U.S. Department of Agriculture's National Institute of Food and Agriculture has awarded a researcher in Penn State's College of Agricultural Sciences a $1 million grant for his investigation of intensifying organic grain production while balancing production and conservation goals.
The grant will enable John Wallace, assistant professor of weed science, to continue research aimed at increasing organic grain production using sustainable methods.
Wallace's research supports the adoption of coupled reduced-tillage and cover-cropping practices. Together, those approaches promote the intensification of domestic organic grain production without compromising environmental quality and economic viability of organic farms.
The research team will conduct a cropping system experiment that will quantify tradeoffs among provisioning, regulating and supporting services within experimental systems that use alternative cover-cropping and reduced-tillage practices.
Experimental systems will differ in tillage intensity and tillage frequency with a three-year grain rotation. The researchers also will partner with Pasa Sustainable Agriculture, a nonprofit association that provides education and support to farmers, to help extend their innovative and citizen-science-based Soil Health Benchmark Study to 30 organic grain farms, Wallace said.
"That will allow us to explore the relationship between soil health, tillage intensity, tillage frequency and other cash- and cover-crop management practices on Pennsylvania farms," he said. "Members of our on-campus and county-based agronomy extension team will lead efforts to conduct three farmer case studies that support on-station and on-farm research objectives."
The long-term extension outreach goal, according to Wallace, is to facilitate the increase in knowledge of sustainable-intensification practices by fostering peer-to-peer learning via existing organic grower networks and other outreach activities.
The researchers plan to develop and deliver outreach programs and materials related to the project to a broad audience of farmer cooperators and an advisory board comprised of organic grain farmers, extension educators, and representatives of governmental agencies, nongovernmental agencies and the organic grain industry through interactions with organic crop grower networks.
The grant is part of the Organic Agriculture Research and Extension Initiative, a USDA-NIFA competitive grants program. The latest round of the initiative distributed $17 million in awards to help fund research, education and extension projects to improve yields, quality and profitability for producers and processors who have adopted organic standards.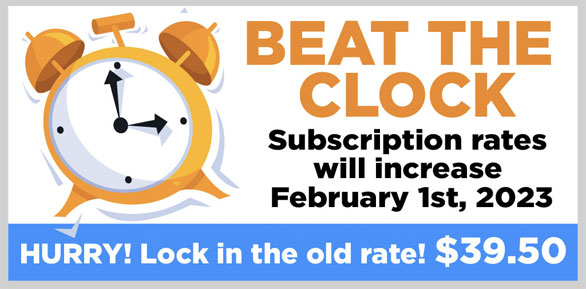 STAY INFORMED. SIGN UP!
Up-to-date agriculture news in your inbox!