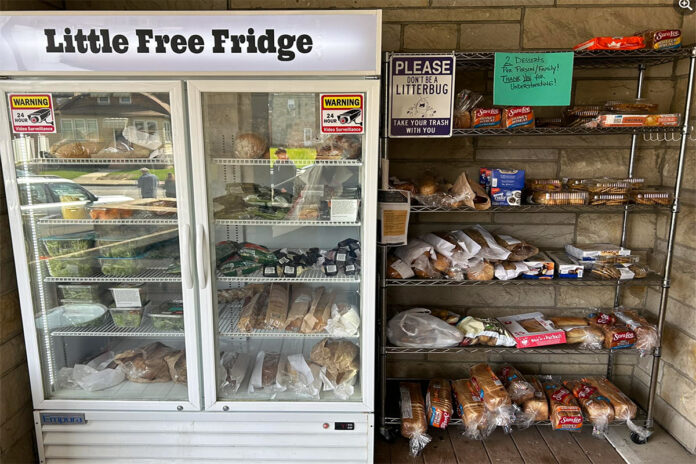 ALIQUIPPA, Pennsylvania — Brenda Jean Dudek struggles to make ends meet as a home health care specialist. Every day, she stops at the House of Prayer Lutheran Church, in Aliquippa, to pick up pantry staples.
"I would be lost if I didn't have this," she said, indicating the food on the big shelving unit standing outside of the church doors. "Other people would be lost too."
Dudek is picking up food for the senior citizens she cares for.
"I help out as much as I can and I always grab something for myself. The people I work with are homebound," she said.
Dudek takes a couple packages of bread and explains that one of the bags of bread is for her and one is for her client.
"This place is a blessing to this community," she said.
Food rescue.
The church is part of a bigger food distribution network called 412 Food Rescue, which is based in Pittsburgh. 412 Food Rescue recovers and redistributes healthy food to food insecure people in Pittsburgh and the surrounding areas. It relies on an app, which indicates where extra food donations are located and where they can be picked up. With about 400 volunteers available at any given time, the food is quickly rescued; the app is only for nonprofits.
Donations can be from a grocery store or a restaurant. There are one-time donations and weekly donations, and according to HOP volunteer, Laura Halleman, you just click on the available donation and claim the rescue.
"I pick up three times a week, but there is no shortage of volunteers," Halleman said.
Last year, 412 Food Rescue distributed over 50,000 tons of food.
In need.
Aliquippa is in great need of food. The poverty rate for the
town of about 9,000 is more than 26%, whereas the U.S. average is 13%. According to the Food Research and Action Center, one in seven people in the U.S. go hungry, while 40% of food goes to waste.
"Although we put three tons plus of food into the community every month, it's still a drop in the bucket," said Denise Drabek, outreach coordinator. "The need has increased."
Halleman added: "We have four (412) food rescues every week and it's not enough."
The church has always provided a room full of staples for the community. About five years ago, it built and began stocking a Little Food Pantry box and placed it in front of the church. As the pandemic started and exacerbated food access, however, the Little Food Pantry box became insufficient and the church tried to keep up with the need.
One food storage room became two rooms. A refrigerator was added and then a freezer. The church offers a free weekly meal and is initiating the use of a small food truck to get to neighborhoods where people don't have transportation.
Free to all.
The food truck meals will be free as well. Drabek said families don't need to show anything when they pick up food.
"We usually have a line of cars waiting for the Friday afternoon delivery," Drabek said.
Halleman added: "It's so rewarding to bring food to people. In fact, if you look on the app it says in the last 30 days, we have picked up 350 pounds of food."
With the exchange of large amounts of food, Drabek and Halleman prefer to focus on the children in need.
"We have a school system where 100% of the children are eligible for subsidized lunch," Drabek said. "After school, they'll stop by and sit on the church steps and we distribute special snacks. We try not to make it awkward. If they need it, they get it. There's no need for an excuse as to why they're here."
The next step for the church is the Little Free Food Truck, which received a grant so it can prepare meals and take them out to the community.
"It's gearing up for the spring. It's going to be a daily meal service," Drabek said.
Dudek said she loves what the church is doing.
"This place is so important to the community for people who are really, really hungry," she said, "There is good in the world."
STAY INFORMED. SIGN UP!
Up-to-date agriculture news in your inbox!