BIDWELL, Ohio — Two cattle enterprises, spread out over 340 acres in Bidwell, Ohio, make one of the largest cattle operations in Gallia County. Around 600 head of Charolais and Angus cattle graze the rolling hills of southeastern Ohio, split between two family companies.
Ed, Fred and Ray Vollborn, along with their sister Kay Ervin, own Vollborn Farms — a commercial cattle operation of natural feeder calves and replacement heifers. Fred and his son, Luke, own and operate Vollborn Cattle Company — a purebred Charolais, Charolais composite and Angus cattle operation.
The Vollborn family is being honored Jan. 21 at the Ohio Cattlemen's Association annual banquet as the Commercial Producer of the Year, an award sponsored by Farm and Dairy.
Home farm
The home farm — where it all began — was purchased by the Vollborn brothers' grandfather prior to the 1900s. The farm was around 156 acres in the early days, and cattle, hogs and poultry made up the farmstead, from what the brothers can remember growing up. Their dad raised registered Shorthorns.
Today, Vollborn Farms focuses on raising mostly Angus cattle for the Maine-based Pineland Farms Natural Meats program, which contracts with Whole Foods and other grocery stores. "We've always tried to market added value cattle," said Ed. "The natural program added onto what we were already doing."
The program requires all calves to be raised without antibiotics, no added hormones or steroids and fed feed containing no animal byproducts. The Vollborns must also follow a strict vaccination regimen and care protocol.
"We are not 100 percent locked in to who we sell to," said Ed. They oblige long-standing customers by giving them first right of refusal, but the program allows them to be flexible where they market their products. One of the challenges of being a smaller producer is having enough head to put a truckload of cattle together to sell, Ed admits. But he was proud to announce most of the calves sold in the past year remained in Ohio to be fed out.
Purebred business
The other half of the Vollborn family herd is a purebred operation owned by Fred and Luke Vollborn. The father and son duo raise around 300 head of purebred and composite Charolais, as well as Angus and show cattle. Currently the Vollborns are preparing some cattle to take to sales in Virginia and Tennessee and have also sold their cattle in consignments in Ohio, Missouri and Kentucky.
Vollborn Cattle Company also offers a custom embryo program for other purebred cattle operations. The breeder supplies the embryo and the Vollborns furnish the recipient cow and raise the calf until it is ready to be delivered to the producer at 5 months of age. "We are completely an AI operation except for a few cleanup bulls," said Fred. Although tweaking their AI program has come with its challenges over the years.
"Humidity and fescue in the area contributed to low conception rates. Most of our forages are low in copper," he said. "In our embryo work, we found the best conception rates to be in the middle of December through February, when it's a little cooler," he said. But the Vollborns do calve all year round.
Conservation practices
While the Vollborns focus mostly on raising cattle, they do grow a small amount of corn — about 25 acres — used for backgrounding cattle. That 25 acres is picked so the cobs can used in the feed, keeping the cattle "lean and mean," said Ed, noting that's what the consumers want. In caring for the land, they use no-till and minimum tillage when necessary. Pastures have been improved by their use of lime and installation of feed pads for the cattle.
Fred just recently installed an access roadway through one of his main pastures, which he said will be a big help. "The ground doesn't freeze as much here, so we tend to have a lot of mud, especially this time of year," said Fred. The Vollborns also continue to develop natural springs on the property.
Family affair
Everyone in the Vollborn family has to juggle full-time, off-farm jobs to keep the family operation running, with the exception of Ray, who is the only one who has been full-time on the home farm over the years. Ed served as an Ohio State University Extension agent for 25 years and Fred managed Bob Evans Hidden Valley Ranch for 35 years. Fred's son, Luke, works for the Ohio Valley Electric Company.
But Fred and Ed agreed they would not be able to continue farming without Luke and the younger generation. The grandchildren, although still very young, also show interest in helping out on the farm where they can. It's one way they have been able to keep their costs down in a tight economy, by sharing the labor and equipment needed to run the farms.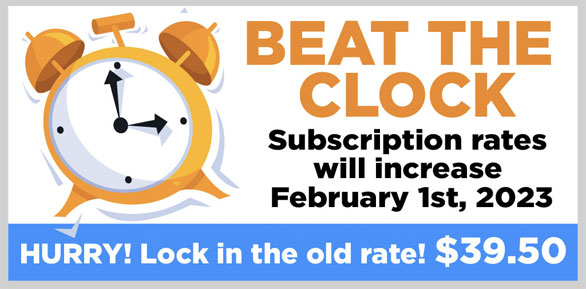 STAY INFORMED. SIGN UP!
Up-to-date agriculture news in your inbox!