"There are times when it is hard to believe in the future, when we are temporarily just not brave enough. When this happens, concentrate on the present. Cultivate le petit bonheur (the little happiness) until courage returns. Look forward to the beauty of the next moment, the next hour, the promise of a good meal, sleep, a book, a movie, the likelihood that tonight the stars will shine and tomorrow the sun will shine. Sink roots into the present until the strength grows to think about tomorrow."
—Ardis Whitman
This has been, without overstating it, one of the worst winters in our collective memory. It would be a little too easy to get drawn down, to forget all the good stuff and the little happiness that life brings our way.
My fall on an icy sidewalk in February has totally sidelined me. A concussion left me confused, in pain, and incredibly out of touch, combined with a terrible whiplash in that forward fall. My knee, gashed and swollen, remains touchy and tender, so it stands to reason my addled brain remains so, too. We take so much for granted, don't we?
It is so in our human nature to accept the days in which all goes well as our due, sometimes even having the audacity to hash over what we consider boring. After this winter, I will take boring any day. I will spare you the worst of it, but this concussion has caused me to turn water on and walk away from it, forgetting somehow that I had turned it on. I have no memory of doing so, but my hubby told friends that I had switched a stove-top burner on high but didn't place a pan on it, then went in and curled up on the couch and fell asleep. Thankfully, he was here to see me do it.
My only purpose in sharing this is that I have always believed we are planted on this earth together for the simple reason of learning from one another while leaning on one another. Over my life, I've heard of people having a concussion and I've just assumed, "oh, a headache for awhile then, right?"
What I have learned is this: I still do not feel mentally healthy. It is a horrid feeling to have to grapple with focus, both in terms of my vision and mental clarity, when it has always come easily. Each morning I awake in pain, something foreign to me. But worse, it is nightmarish to suddenly feel that I am not 'me' and hope and pray that time and patience returns me to myself.
Writing, which has always come easy, has become challenging. I tire quickly, and with fatigue comes confusion. Doctors, including a highly-regarded Columbus neurologist, have assured me that with plenty of rest and healing over time, I will find myself still inside of this brain and body.
So, as we all await spring and warming sunshine, remember to concentrate on the simple joys and the miraculous workings of every little thing that makes you who you are.
It is definitely worth celebrating.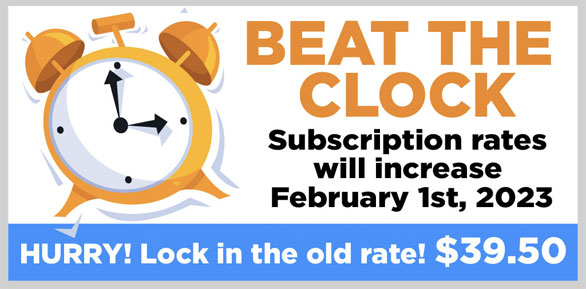 STAY INFORMED. SIGN UP!
Up-to-date agriculture news in your inbox!