"In my Father's house are many mansions: if it were not so, I would have told you, I go to prepare a place for you. And if I go and prepare a place for you, I will come again and receive you unto myself. That where I am, there you may be also." (John 14:2-3.)
When we speak of "Father's House," we call it heaven. "We know if our earthly house of this tabernacle were dissolved we have a building of God, a house not made with hands, eternal in the heavens." (I Cor. 5:1).
I recall when I was growing up that I would look up into the sky on a clear night and look at the stars in all their beauty. While I gazed at the stars, I would think to myself 'what is heaven really like?' I tried to imagine it and how beautiful it must be. I thought to myself, 'is it really a place of beauty and peace?'
I often heard our pastor speak of heaven in his sermon and he described it in such a way that I did not want to miss going there at the end of my life on this earth.
The older I get the more I think about heaven. "Heaven, the treasury of everlasting Joy" (William Shakespeare).
Just imagine eternal life with Christ in heaven. There will be no tears, no sorrow, no pain, no parting and no more death. All will be peace. We will never hear of wars, crimes or violence.
The Bible says in Revelation 22:5, "There shall be no night there. The deaf will hear again, the blind will see and the lame will walk."
Thomas Moore said, "Earth has no sorrow that heaven cannot heal."
As beautiful as heaven will be my greatest desire is to see Jesus face to face.
"There is a river, the streams whereof shall make glad the city of God" (Psalm 46:4). "Heaven is for all who believe and repent of their sins and accept Jesus Christ as their Lord and Savior." "Repent ye, therefore, and be converted that your sins may be blotted out" (Acts 3:19).
"The thief cometh not, but for to steal, and to kill, and to destroy: I am come that they might have life, and that they might have it more abundantly." (John 10:10).
THINK ABOUT IT!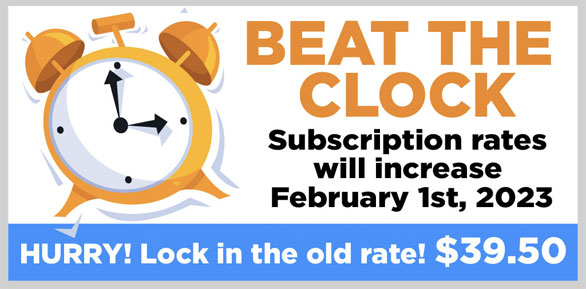 STAY INFORMED. SIGN UP!
Up-to-date agriculture news in your inbox!