Anyone tried to buy a new work truck lately? If you have, you've probably come to the realization that truck manufacturers don't consider trucks to be work vehicles any more. They add so many amenities that the average pickup truck today is much more luxurious than a top of the line Cadillac was fifty years ago — with a price to match.
Last fall, I actually saw a new Ford 350, crew-cab dually with all the bells and whistles and a sticker price of more than $50,000. Many of today's truck buyers wouldn't dream of scratching up the beds of their expensive trucks by actually hauling a load, and you can see why when they cost so much.
Change
I was recently leafing through a 1937 magazine and came across an article titled The New Line of GMC Trucks, which brings home the difference in the way the American buying public looked at trucks then and now.
In 1937, GMC trucks were produced by the General Motors Truck and Coach Division of the Yellow Truck and Coach Manufacturing Company. General Motors Corporation owned a controlling interest in Yellow Truck and Coach and bought them out completely in 1943.
The article points out that, "All [GMC] models have advanced sharply in appearance value with new streamlined contours that are regarded as fully matching the progress achieved by the stylists of the 1937 passenger cars."
A new half-ton capacity light truck with a 112-inch wheelbase was available for just $395, while a one-and-a-half ton cab-over-engine truck (with no bed) cost $830. The half-ton pickup truck featured a 230 cubic inch, 6-cylinder OHV engine that put out 86 horsepower.
According to the article, the truck and the engine featured many refinements, such as improved water pumps and full-length water jackets, electro-hardened aluminum pistons, and sturdier crank shafts, an inverted fuel pump to [reduce] vapor lock, improved clutch facing " … and other advancements which truck operators will quickly appreciate."
Features
Back in those far-away days, pickup trucks had a three-speed, floor shift transmission, one vacuum windshield wiper that stopped every time the accelerator was pressed, a fake leather covered bench seat, and a top speed of maybe 45 miles per hour.
Radios were mostly unheard of in trucks, and the cabs were so noisy, with their cardboard headliners, that one probably couldn't have heard them anyway. Heaters were available, along with the little fan attached to the steering column to keep the windshield free of mist and frost, but the only way to cool off in hot weather was to open the windows, including a crankout windshield.
Trucks were to haul stuff — although I remember more than one farmer during the 1940s who, unable to afford both a car and a truck, packed his family, all dressed in their Sunday best, into the tiny, dirty cab of his pickup and headed off to town or church.
Today
Out of curiosity I checked the price of a new GMC pickup truck today, even though it's very difficult to find a basic, unadorned work truck today. It's not really clear which of today's machines are comparable to a 1937 model. A GMC Sierra 1500 is (I think) considered a half-ton truck, although GM doesn't designate it that way; they refer to it as 6400 GVW or gross vehicle weight, but a GMC Canyon (GVW 4850 pounds) is probably closer to the actual size of the 1937 half-ton.
A regular cab, 2-wheel drive GMC Canyon truck, with a 2.9 liter 4-cylinder engine of 185 horsepower and a five-speed manual transmission, runs a little over $17,000. A similar GMC Sierra 1500 model, with a Vortec 4.3 liter V6 engine that puts out 195 horsepower and a 4-speed automatic transmission, costs close to $21,000.
The $395 price of a 1937 GMC equals almost $6,000 in today's dollars, around one-third of what a basic modem truck costs. However, a new truck comes with a raft of features that a 1937 buyer never dreamed of, which, along with the increased cost of materials and higher wages for the folks who build the thing, accounts for the difference.
Bells and whistles
For instance, a Sierra 1500 has tinted windows, halogen headlights, two outside mirrors, two windshield wipers with washer, four-wheel antilock brakes, stainless steel muffler and tailpipe, power steering and a highly efficient, fuel-injected engine.
Safety features include front and side airbags, daytime running lights and a tire pressure monitoring system. Inside, the Sierra sports heated or cooled air, cruise control, seat belts, coat hooks and cup holders, a "driver information center," cloth headliner, day and night rearview mirror, 12-volt power outlets, tilt steering wheel and two sun visors, one with a vanity mirror. There are warning tones for everything (which mayor may not be a good thing), and I defy you to buy any new vehicle without an AM-FM radio, even though it will cost extra.
A new 1937 truck was probably warranted for 30 days or 1000 miles, and the valves would have probably needed to be ground a couple of times and the rings and bearings replaced before 75,000 miles had been reached.
Warranty
A 2011 model is guaranteed for three years or 36,000 miles (including corrosion), with five years or 100,000 miles on the engine and drive train. Piston ring replacement and valve grinding is unheard of today. Modem tires last at least twice as long as in 1937 and flats are virtually nonexistent.
So, I guess that even though a new truck today is much more expensive to buy than 75 years ago, it's probably worth it. We can tool along at 70 miles per hour in air-conditioned comfort, while listening to great music on the sophisticated sound system, and all we have to worry about is making the payments.
(Send suggestions, comments or questions to Sam Moore in care of Farm and Dairy, P.O. Box 38, Salem, OH 44460-0038; or via e-mail to: editorial@farmanddairy.com.)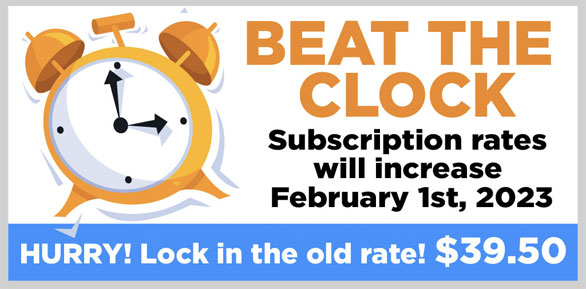 STAY INFORMED. SIGN UP!
Up-to-date agriculture news in your inbox!