A lot of information crosses our doorstep. Some we publish; some we pitch. Some we file for future reference, never sure what or when might make us dig into that folder.
But some information needs to be shared. Here's some tidbits that are too interesting to squirrel away.
Ohio agriculture. The top five agricultural commodities produced in Ohio in 2003 were: soybeans, corn, dairy products, greenhouse/nursery, and chicken eggs. These five commodities total 69 percent of the state's farm receipts.
The top five counties, in terms of 2002 agricultural sales, were: Darke County (7.1 percent of state's total receipts at $304.2 million); Mercer (6.5 percent, $277.4 million); Wayne (3.7 percent, $158.6 million); Licking (2.5 percent, $105.7 million); and Lorain (2.3 percent, $97.8 million). (USDA)
Pa. agriculture. The top five Pa. agricultural commodities in 2003 were: dairy products, cattle and calves, greenhouse/nursery, chicken eggs, and mushrooms. These five commodities total nearly 71 percent of the state's farm receipts; dairy alone accounts for 33.9 percent.
The top five counties, in terms of 2002 agricultural sales, were: Lancaster (18.8 percent of state's total receipts, $798.3 million); Chester (8.9 percent, $376.8 million); Berks (6.7 percent, $287 million); Franklin (5.1 percent, $218.4 million); and Lebanon (4.5 percent, $191.1 million). (USDA)
Balance tipping. Although USDA indicates we're looking at record agricultural exports this year, the ag trade surplus is shrinking.
The surplus – ag exports minus imports – was $9.1 billion. For 2005, the USDA is forecasting $2.5 billion.
Fifty percent of the increase in U.S. imports over the last decade have been horticultural products like fruits and vegetables. (USDA)
Fill 'er up. While U.S. households have been getting smaller, the number of vehicles per household has increased.
Average household size went from 3.3 in 1960 to 2.6 in 2000, a decline of more than one-fifth. At the same time, vehicles per household rose form just over 1 to about 1.7, an increase of almost two-thirds. (U.S. Department of Transportation)
Heard on the street: If 10 percent of the adults in China and India purchase automobiles, the price of gasoline in the USA will go to $15 per gallon (ag economist David M. Kohl).
eBoom. the online exchange, eBay, has 114 million registered users, and 48 million people have bid, bought or listed with eBay in a recent 12-month period. It's total sales volume? $29.1 billion. Billion, with a B. (The Motley Fool)
Out of production? The percentage of total U.S. cropland that is noncultivated has continued to increase since 1982.
Noncultivated cropland accounted for 15 percent (57 million acres) of cropland acreage in 2002, up from 11 percent (44 million acres) in 1982. (National Resources Inventory/USDA-NRCS)
Diversity vs. monoculture. Many small farms specialize in a single commodity, but high-sales small farms, large family farms, and very large family farms tend to produce multiple commodities. (USDA)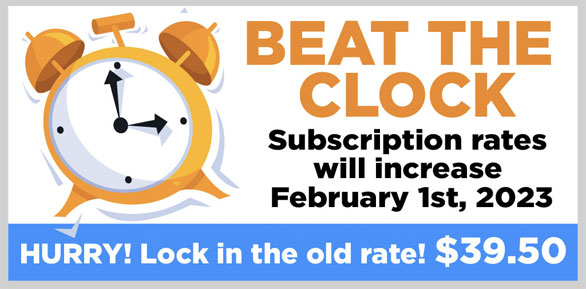 STAY INFORMED. SIGN UP!
Up-to-date agriculture news in your inbox!